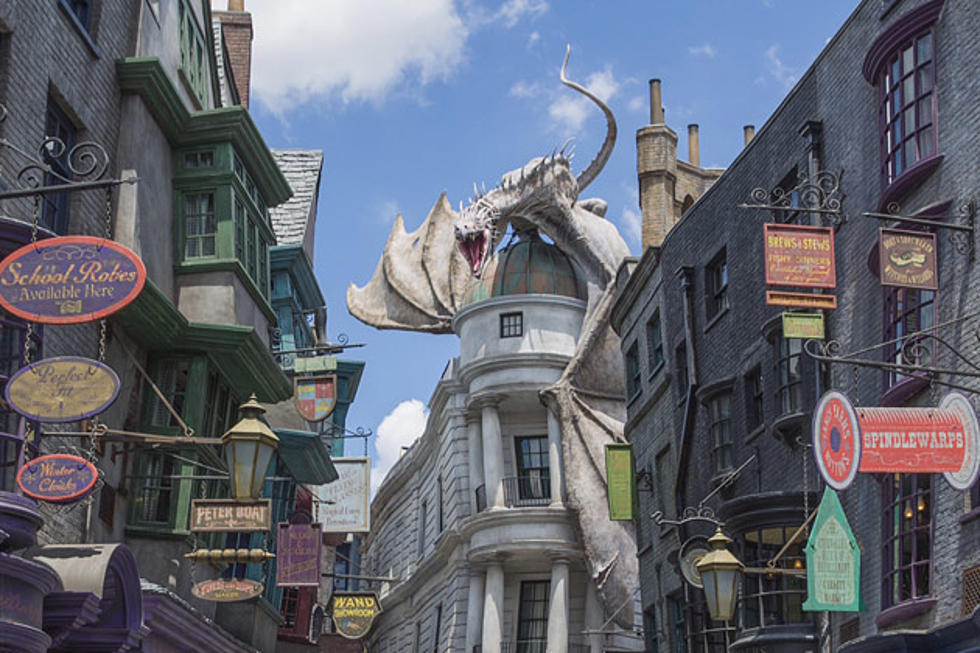 Diagon Alley: Everything You Need to Know About Universal Orlando's Wizarding World of Harry Potter Expansion
Universal Orlando
Diagon Alley in The Wizarding World of Harry Potter at Universal Orlando is now open for muggle business. The new attraction at the park (at a reported cost of over $250 million) brings two new rides, lots of shops, magic wands, restaurants and bars and a giant fire-breathing dragon. In advance of the Diagon Alley opening, we took a tour of the new attraction and tested out all the new features. Below is a quick guide to everything you'll need to know about Diagon Alley.
Hogwarts Express
While the main new ride at Diagon Alley is Harry Potter and the Escape From Gringotts (which we'll get to below), the other flagship attraction is the Hogwarts Express, the train that takes young wizards and witches from London to Hogsmeade. And, just like in the books, Hogwarts Express runs from a replica of London's King's Cross railway station, across the park to Hogwarts, serving as a monorail connecting the two Harry Potter parks (and eliminating what would otherwise be a really long and sweaty walk between Hogsmeade and Diagon Alley).
Now, because Diagon Alley is located in Universal Studios and the Wizarding World of Harry Potter is located in Universal's Islands of Adventure - two parks that require separate admission tickets - to actually ride Hogwarts Express means you're going to need the "Park-to-Park" pass that allows you to visit more than one park in one day. For a single-day ticket, this would run you an extra $40.
The King's Cross station looks remarkably like the London underground and even features some easter eggs for fans of the movie who are paying attention to the fake billboards lining the walls. It actually feels as big as an underground station, too. One of J.K. Rowling's mandates was that no line for any ride should extend out into the common park area. (It clogs the Diagon Alley streets and deters people from waiting.) So, Hogwarts Express has an astounding 2.5 miles of queue line to accommodate enough people. (That's approximately 6,500 people and an estimated 4 years waiting in line. Just kidding. We think?) We have no idea if that line would ever be that long, but it's an idea of just how big the interior of King's Cross is, if it's fitting 2.5 miles of lines.
The ride itself looks a lot like the Hogwarts Express from the film. It's brand new, but wisely doesn't look brand new. The exterior of the train has been intentionally distressed, scuffed and chipped to make Hogwarts Express look like a train that has been running for many years.
Inside, you get inside your own compartment, with bench seating that fits between 6-8 guests. There's a window and the door, but instead of looking out the window to see the park as you drive by, you're actually watching a filmed segment of what it would be like to drive from London to Hogsmeade. Even the frosted pane of glass on the door shows silhouettes of Harry, Ron and Hermione and even Dementors. It's a particularly neat effect and one that highlights the trip as more than just a functioning trip across the park.
Harry Potter and the Escape From Gringotts
While Hogwarts Express is technically a ride, it's also mostly an attraction, shuttling guests between two locations. The only new coaster at Diagon Alley is Harry Potter and the Escape From Gringotts. Like many of the coasters at Universal Orlando, this is an indoor 3D ride, but unlike some of the other rides, this isn't just a motion simulator. The ride moves much more than either the Transformers or Harry Potter and the Forbidden Journey (the existing ride inside the corridors of Hogwarts). It's a roller coaster with surrounding 3D screens and practical sets. The ride features new footage from some of the 'Harry Potter' cast including Helena Bonham-Carter as Bellatrix, Warwick Davis as Griphook and even an appearance from He Who Shall Not Be Named.
Now, we'd like to be able to tell you a little bit more about the ride itself from first-hand knowledge, buuut after Davis and Evanna Lynch (Luna Lovegood) declared the ride open, the ride halted on its very first run and never reopened. We were told that Escape From Gringotts would be ready for its grand opening but that technicians would continue working on the ride and it wouldn't run again during our preview.
What we did get to do was tour the lobby of the bank, which is impeccably designed. Huge 20-foot crystal chandeliers hanging from the beautifully painted domes in the ceiling. A number of animatronic bank tellers all clacking away as your make your way down the hallway and through what will eventually be the queue. Waiting on line is never fun, but at least here, there's a lot to look at and marvel in as you're standing around. (And, bonus, it's air conditioned!)
The exterior of the Gringotts building in Diagon Alley has one of the coolest features in all of The Wizarding World. Up atop the building is a massive 60-foot dragon, the same dragon that guards the vaults at Gringotts. As if just looking at it in all its glory weren't enough, every so often it bursts out a roar and a giant ball of fire from its mouth.
During the preview, the fire breathing was not on regular intervals, but we were told that they were working on the specific timing so that guests would know when to expect it (and have their cameras ready).
The Leaky Cauldron
The popular pub and inn from the books comes to life in Diagon Alley as one of the main restaurants for guests to gather and eat. Like many of the "restaurants" at Universal Orlando, you have to wait in a queue, not unlike riding an attraction. This is just to get up to the counter to place your order and be seated at bench-style seating. Not ideal to be waiting on another line just to get some food, but this seems to be the norm across Universal Orlando, so it's something you'll have to get used to if you're visiting the park.
The fare is London-themed with local takes on fish and chips, steak and Guinness stew, and bangers and mash that are actually quite delicious and certainly a step-up from most food at the resort. (And, hey, we were in London recently and it's just as good as the food overseas!)
In addition to the food, there's also a selection of beer including standards like Amstel Light and London Pride, but also two new custom-brews: Wizard's Brew and Dragon Scale. Both are delicious, but on the heavier side, which is something to keep in mind on a hot and humid Florida day. As for pricing, eating at The Leaky Cauldron isn't cheap. A beer will cost you $8.50 and for our party of six, the total was $175. But, you're eating some well-prepared food and also enjoying the experience of sitting inside the halls of The Leaky Cauldron. (The sign outside even features an iron cauldron with a crack in the side that slowly drips water out.)
Additional Shops and Restaurants
There are nine new shops in Diagon Alley, which, if it didn't all look so damn cool, would have this feeling more like a mall, than a new attraction. There's Weasley's Wizard Wheezes (a toy store), Borgin & Burkes ("Dark objects and sinister items"), Madam Malkin's Robes for All Occasions (wizard robes), Quality Quidditch Supplies (Quidditch apparel and team souvenirs), Magical Menagerie (stuffed animals), Wiseacre's Wizarding Equipment (wizarding supplies), a second and much larger Ollivander's Wand Shop (the original is located over in Hogsmeade) and The Embankment.
(An interesting side-note: Because Diagon Alley was built on the grounds of the former 'Jaws' attraction, some of the material from 'Jaws' was recycled when building Wiseacre's Wizarding Equipment, the gift shop the Escape From Gringotts ride exits into.)
While it may seem that, hmm, there's a lot more shopping to do at Diagon Alley than there is actual rides or attractions...well, that's true! Diagon Alley is very much set up as a place to separate you from your money. But, here's the thing: it's so beautifully designed and constructed that you don't even mind. We went and spent very little (a wand, dinner at Leaky Cauldron and a "potion" at one of the kiosks) and didn't feel like we missed out on anything. The shops are so meticulously put together, that they, in and of themselves, feel like attractions, many of them features props or detailed replicas from the films and books.
As with the original Wizarding World of Harry Potter, Butterbeer is sold in both its warm and frozen varieties. But, one absolutely cannot leave Diagon Alley without sampling the brand new Butterbeer-flavored ice cream at Florean Fortescue's Ice Cream Parlour. We always found the actual Butterbeer to come on a little strong. What makes the ice cream so good is that it's cut with soft vanilla, so you get the creamy, butterscotch taste of the Butterbeer without the overwhelming sweetness. It's, quite frankly, delicious and on a warm day, the perfect treat.
If you didn't get enough to drink at Diagon Alley, or need a quick refreshment, there are two additional watering holes in Diagon Alley: The Hopping Pot and The Fountain of Fair Fortune. Both sell the aforementioned "house" beers, specially brewed for just this attraction. There are a few non-alcoholic options as well, including Fishy Green Ale, which tastes almost exactly like it sounds: disgusting. The servers at the Fountain of Fair Fortune told us that it's an acquired taste that most people either love or hate. We can't imagine anyone enjoying this milk-based mint- and cinnamon-flavored fluid that includes floating fish eggs at the bottom (actually little balls of blueberry juice with a jelly coating that pop in your mouth). For the morbidly curious looking to experiment, it may be worth a shot, but be warned: you may need to ask for a glass of water to wash it down with.
Wands and Spells
One of the exciting new additions to Diagon Alley is the interactivity added to the wands from Ollivanders. The wands sold in Hogsmeade were cool and all, but let's be real: they were expensive toys. The Diagon Alley wands at the second and expanded Ollivanders shop (which can hold twice the amount of customers as the original) sells wands that, in addition to just looking cool, actually y'know, do stuff.
Through a sensor in the tip of the wand, wanna-be wizards and witches can perform 25 spells through both Diagon Alley and Hogsmeade. Want to light the chandelier in the window at Flimflam's Lantern? Or, repair a suit of armor at the blacksmith's? Now you can with a simple wave of your wand.
What you need to look out for at the park are the little markers on the pavement underneath the spots where you are guided where to stand and what spell to use.
We'll be honest: it takes some practice. Your first attempts will be met with frustration as you struggle to get it right (you are a muggle, after all), but fight the temptation to break your new wand over your knee. A helpful tip: don't wave your arm around, a simple flick of the wrist will do.
One thing to note is that the interactive wands will cost substantially more than the standard wands. The average price was $49.99, but we saw some limited edition wands that ran as high as $100.
If you're looking to visit Universal Orlando in the next few months to visit The Wizarding World of Harry Potter, and specifically Diagon Alley, expect long lines. As we write this, the wait at Escape From Gringotts is a whopping 375 minutes. While it's more money to spend, we can stress enough the importance and value of buying the Express pass that allows you to jump the line for a much, much shorter wait.
But, lines and heat and expenses aside, The Wizarding World of Harry Potter - Diagon Alley is one of the most impressive theme part attractions we've seen and a must for any Harry Potter fan (or, just anyone who loves the idea of Butterbeer ice cream).