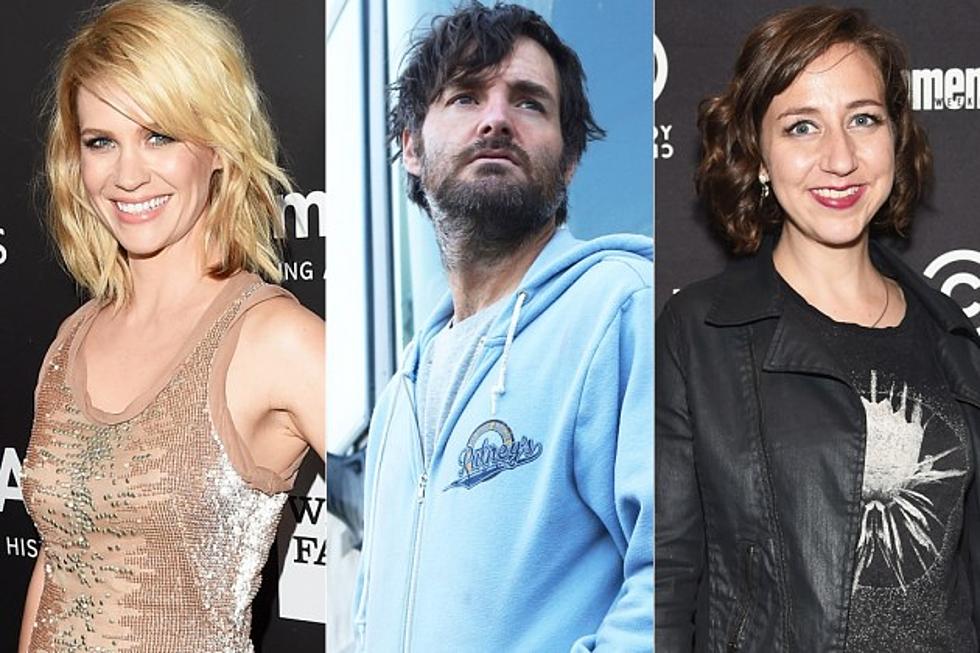 Will Forte's 'Last Man on Earth' Joined By January Jones, Kristen Schaal and More
FOX / Jason Merritt-Jamie McCarthy, Getty Images
Phil Lord and Christopher Miller aren't generally known for keeping their work under wraps, but thus far FOX's midseason comedy 'The Last Man on Earth' has been all-but airtight beyond 'SNL' alum Will Forte's central role in the series. Now, we learn that Forte is no longer the last living soul the title would suggest, as the cast has raptured 'Mad Men''s January Jones, comedian Kristen Schaal, Mel Rodriguez and more.
Per Deadline, Jones will take the 'Last Man on Earth' role of the "beautiful, intellectual and athletic" Melissa, a Midwestern girl-next-door with a good sense of humor and a devotion to her hometown professional sports team who developed her strong independent spirit growing up with three older brothers. Schaal will play a character named Carol, while 'Getting On''s Mel Rodriguez will play the "always optimistic" Todd, and Cleopatra Coleman will play med-student Erica.
Here's how FOX's official press release describes 'The Last Man on Earth':
From writer/producer Will Forte ("Nebraska," "Saturday Night Live") and directors/producers Chris Miller and Phil Lord ("The Lego Movie," "21 Jump Street"), THE LAST MAN ON EARTH is a new single-camera comedy about the life and adventures of the last man on earth. The year is 2022, and after an unlikely event, only one man is left on earth: PHIL MILLER (Forte), who used to be just an average guy who loved his family and hated his job at the bank.

Now, in his RV, Phil searches the country for other survivors. He has traveled to every city, every town and every outpost in the United States, Mexico and Canada, and has found no one, which leads him to the painful realization that he is almost certainly the last living being on the face of the earth. Sure, there are some positives that come with being the last person on earth. You can go live in the White House if you want. You can park in handicapped spots without an ounce of guilt. You can decorate your home with priceless works of art. You wanna wear a pair of tighty-whiteys and nothing else every single day of the year? Not a problem.

THE LAST MAN ON EARTH is a comedy about a man trying to make lemonade out of the most soul-crushing lemon there is. But if anyone can do it, Phil Miller can. He's not about to give up now. He is sad and so, so very lonely. But he'll get through this. Because there's a small kernel of hope that somewhere out there is another survivor. And maybe one day, they'll run into each other. That would be a good day. And if that survivor happened to be a woman? Well, then that would be a great day.
FOX hasn't revealed many other details about the series, though Forte himself will write and produce 'The Last Man on Earth,' alongside Phil Lord and Chris Miller, creative minds behind 'The LEGO Movie' and '22 Jump Street.' Both Lord and Miller also directed the pilot episode.
The network has since taken down its first teaser promo for 'The Last Man on Earth,' but what say you? Are you interested in the mysterious new comedy, now that Betty Draper Francis and Louise Belcher count themselves among the cast?