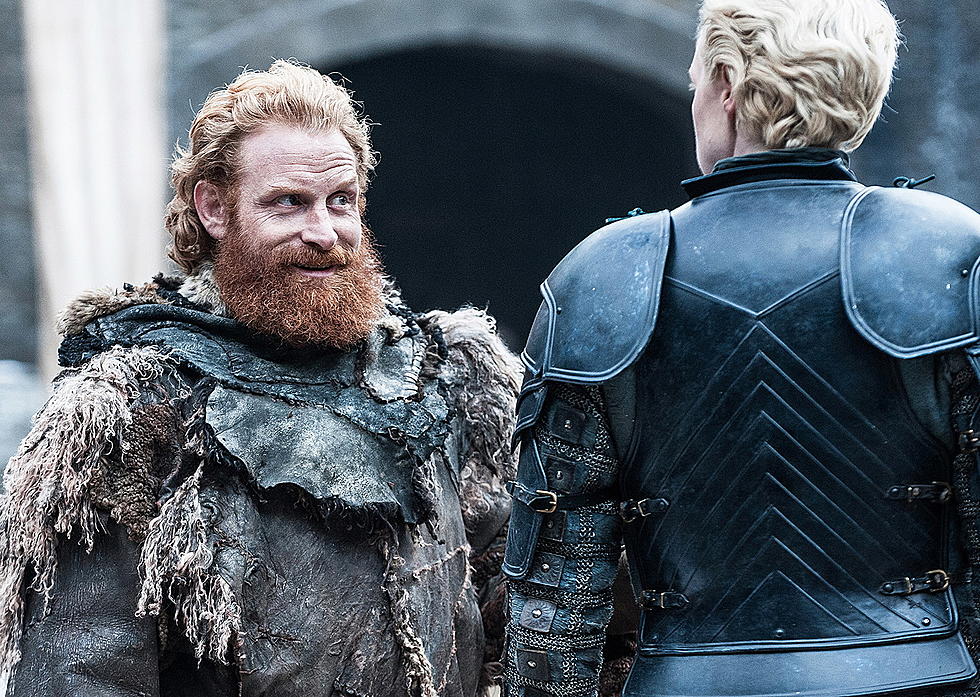 'Game of Thrones' Tormund Makes Sexy Bread-Eyes at Brienne in Real Life, Too
HBO
Christie dropped by Late Night With Seth Meyers (post-Game of Thrones, but just in time for Top of the Lake: China Girl), in the process discussing the Tormund-Brienne ship that began with Hivju exaggerating a Season 6 script direction for "Tormund gives Brienne a look." Brienne hasn't given in to the magnitude of those eyes just yet, and neither has Christie off-set, to hear her tell it:
He is into me, and he likes to continue being in character even off-set. So we'll be in an easy up, which of course is sort of a dark tent, with a sort of gas heater burning away, and he will start chewing a sandwich wildly at me, masticating wildly at me. Really kind of making love to that sandwich as he eyeballs me, so strong. Eyes like lasers pointing right at me.
The pairing of Tormund and Brienne is essentially our Cleganebowl, and impossible to ignore after Season 7 drew such attention to Tormund wanting to make "monster babies" with her, only to be given an offscreen fate as The Wall crumbled. We wouldn't be surprised if things got a bit tense in the final season, either, as Jaime will likely make a beeline for Brienne to join the fight, and a surviving Tormund isn't likely to be thrilled with their bond.