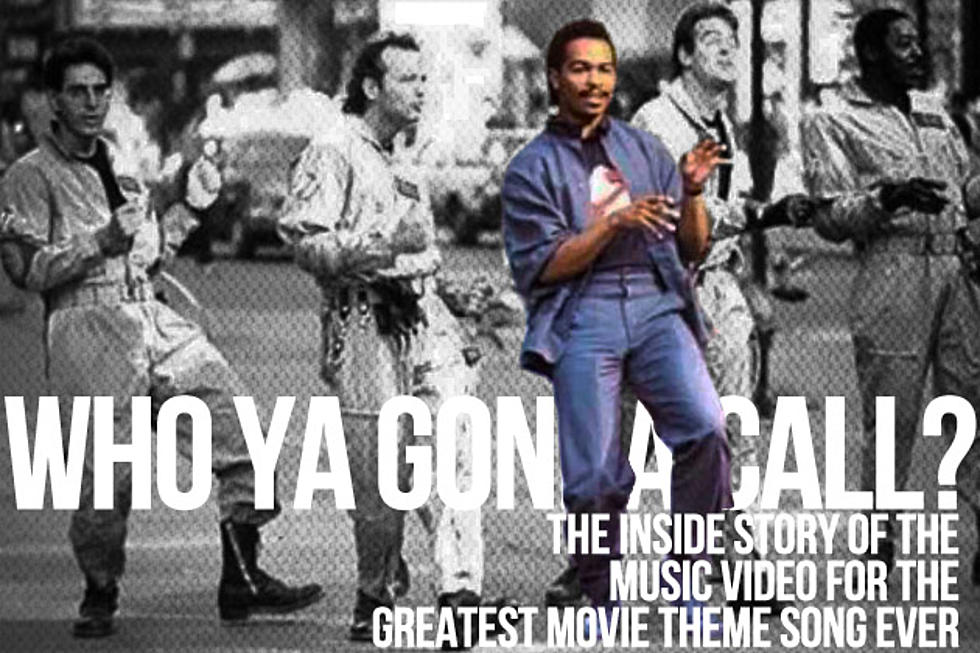 Who Ya Gonna Call? The Inside Story Of The 'Ghostbusters' Music Video
Sony Pictures
In early 1984, the team behind 'Ghostbusters' was fairly confident that they had a hit. Test screenings had gone well, but for director Ivan Reitman, something was missing. What Reitman wanted was a song, only 20 seconds or so in length, near the opening of the film as the then soon-to-be Ghostbusters -- Peter Venkman (Bill Murray), Ray Stantz (Dan Aykroyd) and Egon Spengler (Harold Ramis) –- enter the New York Public Library. Reitman wanted a song that used the term "Ghostbusters" in the title, which wasn't an easy assignment for the songwriters tasked with writing such a song. Reitman was not pleased with anything he was hearing.
Who Ya Gonna Call?
Super producer Clive Davis didn't want his gold record-producing R&B artist Ray Parker Jr. anywhere near a song about ghosts. Parker had made a fine career of songs about, well, romancing women, and the thought of Parker romancing a specter from the afterlife didn't really appeal to Davis' business senses.
'Ghostbusters' didn't have a music supervisor, so it was the head of the music department at Columbia Pictures at the time who introduced Ray Parker Jr. to both Reitman and the film's co-producer, Joe Medjuck. "The head of music had trouble convincing Clive Davis, who was running Arista, to let Parker do it," Medjuck remembers today.
"He wasn't in love with the song," remembers Ray Parker Jr. "All of my songs are romance songs, so in Clive's defense, we had built an entire career … of me singing to girls. So, all of a sudden, out of nowhere, Clive gets a phone call and I'm singing about a ghost. So, he just thought that was a little strange."
If he can get Bill Murray and those guys in it, it will be funny and it won't be like trying to sing to a ghost romantically...
Medjuck agrees that it took some persuading, with the team pleading to Davis, "No, no, this movie is really good. It's going to be a hit!" Adding, "I think I noticed later that he takes credit for it."
Parker remembers his first meeting with Ivan Reitman, "It was just supposed to be the opening number of the library scene and he really wanted the song with the word 'Ghostbusters' in it. And I guess they hired a lot of people to do it and nobody came up with anything that Ivan liked. He was kind of melancholy and 'I don't care' at the meeting. And he sort of explained to me what he wanted, so I took a crack at it and I just gave him a minute or so of music on a cassette. He called me -- it must have been 3:30 or 4:30 in the morning -- he was so excited and said, 'This is just really wonderful.'
Reitman liked Parker's 20-second intro so much, he pushed Parker into expanding it into a full-fledged single – a single that would be backed by an accompanying music video. But who would direct the video?
When There's Somethin' Strange in the Neighborhood
In 1984, music videos were still a fairly new phenomena and on the day of the soundstage shoot – which producer Michael Gross remembers being at A&M Studios in Hollywood, which was the old Charlie Chaplin Studios – all the pieces were in place. The song was finished. Actress Cindy Harrell (who, today, is the mother of 'Magic Mike' actress Cody Horn and is married to Disney CEO Alan Horn) would play the female lead opposite Parker. But, the video didn't really have a proper director.
"It was a fairly new thing then, people using music videos as promotions for movies. It's hard for Ivan to sit around and watch someone else direct something," says Medjuck, who also has a small role in the video. "Ivan just sort of took over, as he is wont to do."
When Ray Parker Jr. arrived on the set, Reitman told him, "Ray, you're going to have a famous video because you're going to have Ivan Reitman direct your video and I've never done a video before or after. There won't be another one. This is it."
In the first part of the video, Harrell enters a spooky-looking house. Inside, the house appears almost drawn in neon. Medjuck took note that the set was still being built just moments before filming started, with an old technique used to make the drawn look. "There's a thing done with a very old-fashioned technique where they paint on glass and shoot through the glass so the house looks like it's drawn. And they did it in no time at all while we were there, it wasn't like they prepared it in advance. We were sitting there and the guy started drawing this on the glass. Ivan set up the camera and we shot it."
I Ain't Afraid of No Ghost
Ray Parker Jr. -- who remembers asking himself, "Am I going to look a little silly here?" -- appears from a wall, a ghostly spirit prancing around as he sings the lyrics, inter-spliced with scenes from the film. Then, a little over a minute into the video, Chevy Chase appears in a neon window yelling "Ghostbusters!"
A few seconds later, Irene Cara (of 'Fame' fame) does the same thing.
"Believe it or not, that was one of my ideas because I was scared to shoot the music video," admits Parker. "Because I was worried what Clive Davis was going to think. And Ivan took the ball and ran with it and got tons of cameos. To me, if he can get Bill Murray and those guys in it, it will be funny and it won't be taken like me trying to sing to a ghost romantically, or whatever."
Don't Get Caught Alone. No, No.
Over the course of the video, excluding the cast of the film, there are 12 cameos from assorted celebrities, including the likes of Jeffrey Tambor, Peter Falk, Melissa Gilbert, Al Franken, Teri Garr and John Candy.
Most of the cameos were called in favors (for instance, Teri Garr had just been in 'Tootsie' with Bill Murray) -- but the way some of these cameos came to be didn't happen through, let's say, the usual channels. Joe Medjuck explains how a two-second shot of John Candy saying "Ghostbusters" while looking frightened was obtained:
"I remember distinctly going to get John Candy, because he was shooting a movie called 'Brewster's Millions' and we found out where they were shooting. And Ivan and I and a couple of other people, a cameraman, just sort of went to the location. And I remember them stopping us, trying to not let us in. And I said, 'No, no, I'm the producer.' I didn't say the producer of what! And we just sort of pushed our way in to see John, who was a friend of ours -- he had been in 'Stripes' and, at one time, had meant to be in 'Ghostbusters.' We went to the set and John had a moment off-set and we go, 'Yell Ghostbusters! We went around with just a boom box with the song on it. We'd say, Here's the song, yell Ghostbusters when everyone says Ghostbusters there.' And we got John to do it."
George Wendt, who is one of the many, many cameos that appears throughout the 'Ghosbusters' video (when Wendt was told it was the 30-year anniversary, his immediate reaction was, "Thirty years? Oh my God.") shares his story of being asked to appear in the video while he was busy shooting the Jon Cryer/Demi Moore comedy, 'No Small Affair.' A cameo that he did for free, which got him in some hot water with the Screen Actors Guild.
"I was shooting with Jerry Schatzberg and Demi Moore, it was a Columbia picture, 'No Small Affair' at what used to be the Burbank studios -- it was Columbia and Warner Bros. And Ivan Reitman stopped over at the stage and asked if I could stop over at his office at lunch. So, at lunch I went over to his office and I sat there and they played the track. And I said 'Ghostbusters,' and that was pretty much it. The weird thing was I think we all got in trouble with the Screen Actors Guild after the fact, after it came out. You know, it sounded like a giggle, it sounded like fun, so I just did it. It took less than five minutes. But, I guess it was such a big hit as a music video, I guess SAG decided that would be a good project to maybe try to take a stand against to organize music videos. I can't blame SAG for trying to make a stand to organize music videos, which was a relatively new format back then. Not much came of it, we just got letters saying that's not cool, don't do that again and if you do that again you'll be on secret double probation. But, I get it. I'm a union man. I'm OK with it. It just never occurred to me that it would be a problem."
(Though, on the other hand, there are cameos that even Medjuck can't quite remember why that person was there, "Carly Simon, I don't remember who knew her or why we went to her.")
I Think You Better Call...
The video culminates with Ray Parker Jr. dancing up New York City's Broadway Ave., with Bill Murray, Dan Aykroyd, Harold Ramis and Ernie Hudson – all wearing their Ghostbusters uniforms – strutting right along with him.
Parker remembers, "I just showed up and the next thing I know they blocked off Times Square and it was like, 'Alright, perform the song. Here's the guys in the movie, they're behind you, they're your background singers.'"
Medjuck adds, "We were in New York during the press junket for the movie and that's when the guys were there and we could do the stuff on Broadway."
Parker remembers there were a lot of people circulating on the New York City streets, "I remember thinking, of all the times to shoot, Friday afternoon at 1pm, it's right in the middle of as many people as you can get. So, they just took a shot of blocking it off right in the daytime."
"None of the stuff on the street was planned," admits Medjuck. "My guess is that we didn't have a permit. We shot a day of the movie without a permit."
Bill Murray, being Bill Murray, decides to do an impromptu breakdancing routine in the middle of Times Square.
"No, that wasn't scripted," remembers Parker. "He just got down there and did it and next thing I know, there were his feet. So I'm like, 'Oh, he's trying to do that breakdance thing, he needs a spin. He's a little older, I have to spin him a little bit.'"
Bustin' Makes Me Feel Good
Until fairly recently, the 'Ghostbusters' music video was in jeopardy of disappearing forever. (It's now widely available online.) Because the video was considered a promotional spot, the actors in the video weren't paid – which meant the video couldn't appear on any home video releases of the film.
The legacy of the Ghostbusters video is complicated. First, there's the lawsuit filed by Huey Lewis against the song for sounding too much like 'I Want a New Drug' (that was settled out of court and Parker still isn't allowed to discuss the settlement). But, of course, the song did hit number one on Billboard's Hot 100 and became a true sensation.
Before the 'Ghostbusters' video, Parker couldn't get his music anywhere near MTV. As he recalls, "I remember I couldn't get on MTV at all until that song. That song broke it down for a lot of people. If you were black, you couldn't get on MTV period. It wasn't like a secret. I think Michael Jackson came out with 'Thriller' and I came out with 'Ghostbusters' and those were the first two videos on MTV that changed the world."
Ray Parker Jr. still owns the 'Ghostbusters' shirt that he wears in the video, "Absolutely. I don't wear it out," then quickly adds, "because I have a bunch of other ones I can wear out. The original stuff is sitting in a closet."
Parker will always be remembered for that song – a song that was supposed to be nothing more than a 20-second intro – and to Parker's credit, he seems more than happy with this fact, "That phrase, 'Who ya gonna call?,' it's like saying 'What's Happening?' or 'Hello.' It's an unbelievable thing. I don't care what country I go to on the planet Earth, even 30 years later, if you just say 'Who ya gonna call?,' everybody can answer you."
Mike Ryan has written for The Huffington Post, Wired, Vanity Fair and GQ. He is the senior editor of ScreenCrush. You can contact him directly on Twitter.