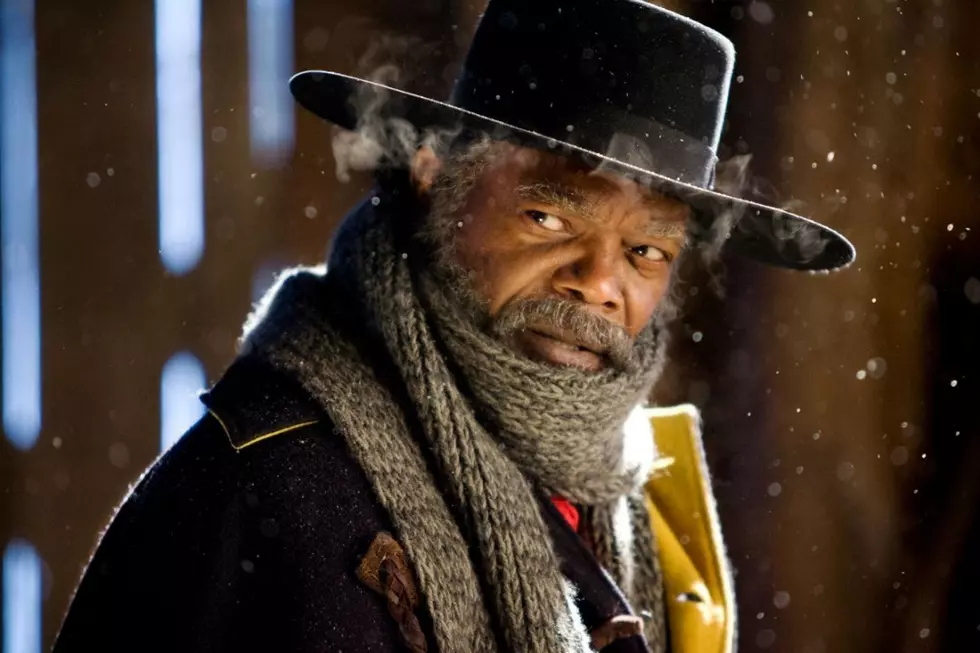 'Hateful Eight' Pirates Apologize For Leaking Tarantino's New Movie
The Weinstein Co.
The issue of piracy has been causing something of a kerfuffle lately in light of the recent leak of an authorized screener copy of The Hateful Eight onto the Internet. A group of no-goodniks known as Hive-CM8 somehow came into possession of a high-quality copy of Quentin Tarantino's latest film and proceeded to make it freely and readily available for whomsoever may want it, which an estimated 300,000 users did. This unanticipated piracy on the unregulated high seas of the Internet was the source of much much frustration among distributors The Weinstein Company and Tarantino himself, both of which clearly see the potential of this leak to harm box-office receipts.
And it appears that the pirates themselves have only now realized the full consequences of their actions, seeing as they've issued a full apology clarifying their stance on the scourge of (their own) piracy. Read on for the statement (where we'll issue one giant sic) from the Internet collective Hive-CM8:
We didnt plan to comment at all on recent events, but we feel now that we should.

Sorry to disappoint M but there was no hack or any such thing . We got the copies sold from a guy on the street, no decryption was needed. we were definately not the only ones. cpl other movies have been on the net days before, not done from us So we wanted to share this movies with the people who are not rich enough or not able to watch all nominated movies in the cinema.

Of course this files are not representing the movies how they can be enjoyed in the cinema

As said in our nfo, please support the producers and watch all movies in the cinema on a big screen, like you should do anyhow. The Producers need the money from ticket sales to get back the production costs.

As for Hateful Eight Movie:

We feel sorry for the trouble we caused by releasing that great movie before cinedate even has begun. we never intended to hurt anyone by doing that, we didnt know it would get that popular that quickly

The Hateful Eight is an excellent,thrilling and entertaining Western that combines terrific direction,a fantastic cast,a wonderful script,beautiful photography and a memorable score. All of those elements make The Hateful Eight an unforgettable film that is Quentin Tarantino at his best.

Since everyone is now talking about this movie we dont think the producers will loose any money at cinedate, and we tell you now why. we actually think this has created a new type of media hype that is more present in the news,radio and in the papers than starwars, and the promotional costs for this were free

If lets say 5% of the people planned to watch this movie at cinemadate, due to this media push we unintenionally created, we believe that now 40% of the people will watch this movie in the cinema cause everyone is talking about it and everyone wants to see the movie that created so much noise. this will push the cinema tickets sale for sure.

we really hope this helped out the producers in the longrun, so that the production costs are covered and more

we also think that the hateful 8 movie is the top candidate for the awards and will win by a mile over others thx tarantino for this wonderful movie

sorry it was around christmas we didnt plan that at all either, we wont do another movie before its cinedate, and we def wont go up to 40 as planned, we think we have done enough already.

cheers
There's a lot to consider here, even after sifting through all of the grammatical errors and misspellings. The rationale of "We had no idea people would actually want to download this hotly anticipated movie we uploaded totally for free!" doesn't quite hold water with me, and a lot of this caviling really only makes their offense worse. These folks clearly enjoyed the film — just peep their brief yet effusive hot-take there in the middle — and so now they're trying to assuage their guilt by recommending everyone who stole the film also go see it in theaters? If they wanted people to see the film in theaters, why would they have made the other option available at all?
The final paragraphs conclude with a wholly unnecessary prognostication on the film's Oscar chances (at least, we assume; the apology cites only "the awards"), but it's that last line that really cuts to the core of what's going on here. Before this limp, confusing, half-hearted apology, Hive-CM8 truly had done enough already.