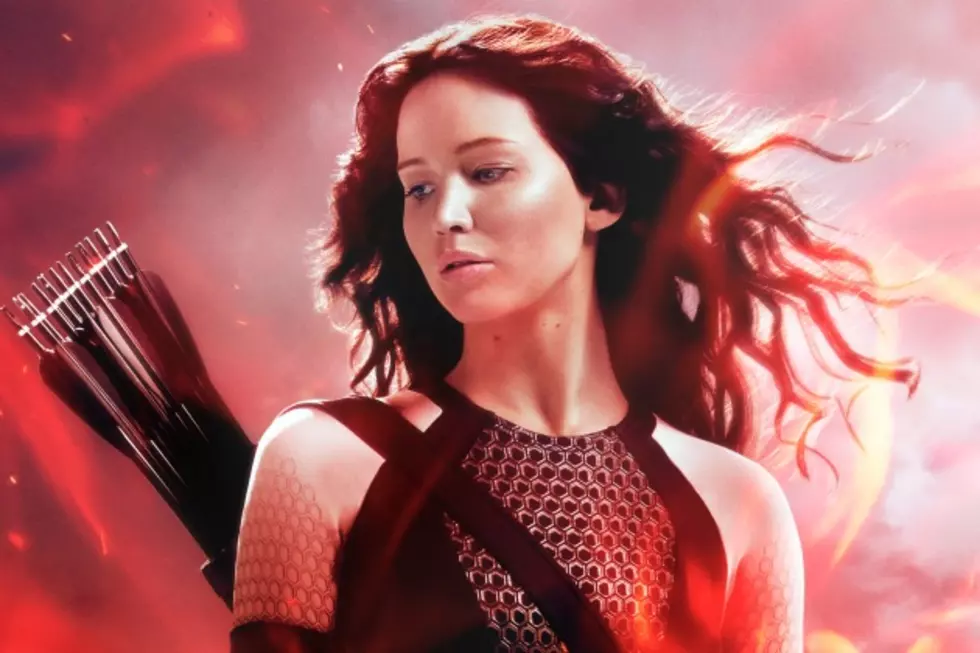 'The Hunger Games: Mockingjay' – Everything We Know About the Upcoming Sequels
Lionsgate
The "Girl on Fire" set the box office ablaze over the weekend as the Jennifer Lawrence-led 'The Hunger Games: Catching Fire' burned up and estimated $161 million in domestic ticket sales. It surpassed the opening-weekend number for the original 'Hunger Games' film, but fell a bit short of the 'Iron Man 3' opening number, which still stands as the highest opening of 2013.
The future of the 'Hunger Games' series isn't in doubt. Long before 'Catching Fire' opened, Lionsgate already set the wheels in motion for an adaptation of 'Mockingjay,' the third and final book in Suzanne Collins' YA literary series, to be split into two parts. And since large chunks of filming on 'Mockingjay' have been completed, we know a good deal about the upcoming sequel. Such as …
When Will We See Katniss Everdeen Onscreen Again?
You are going to have to wait a year – almost to the day.
After taking over the franchise from Gary Ross, director Francis Lawrence agreed to helm 'The Hunger Games: Mockingjay, Part 1,' which is scheduled to open in theaters on Nov. 21, 2014. 'Mockingjay, Part 2' will follow the following year on November 20, 2015. The original cast will be back for their roles – Jennifer Lawrence as Katniss, Josh Hutcherson as Peeta, Liam Hemsworth as Gale, Woody Harrelson as Haymitch, Donald Sutherland as President Snow, Elizabeth Banks as Effie, Stanley Tucci as Caesar, Willow Shields as Primrose, and Paula Malcomson as Mrs. Everdeen. 'Catching Fire' additions Jeffrey Wright as Beetee, Sam Claflin as Finnick, Jena Malone as Johanna, and Philip Seymour Hoffman as Plutarch will also return.
But there will be major changes.
'Mockingjay' Will Be Bigger Than 'Catching Fire.'
Well, "longer" is more accurate.
Taking a page from the 'Harry Potter' and 'Twilight' series, Lionsgate split the final book into two films … allowing them to charge fans twice to see one story.
Based on box-office figures from the weekend, it seems to be a genius move. 'Catching Fire' opened to similar numbers as the original 'Hunger Games.' It is on track to pass the $400M earned by the first film (domestically). If both 'Mockingjay' movies can cross that line, that's a hefty profit for Lionsgate.
After 'The Hunger Games: Mockingjay – Part 1' storms theaters next November, you are going to have to wait a whole 'nother year to see the conclusion. 'Mockingjay – Part 2' opens in theaters on Nov. 20, 2015.
'Mockingjay' Also Will Be Smaller Than 'Catching Fire.'
In 'Catching Fire,' when Katniss first enters the Arena, the screen's ratio format switches to IMAX (in the proper theaters), giving fans an enormous view of the Capitol's current killing field. The gimmick works quite well for 'Fire,' though Lawrence has already said he won't rely on it for 'Mockingjay.'
When I signed on to do the movie, I knew very early on that the arena portion would work very well with IMAX. The switch to IMAX hits you hard. It's stunning. … [But] it was technically challenging. The noise of the camera invades the scene — it sounds like an old projector and there's lots of clicking. The actors had to perform normally and then after the shoot, we brought them back in to do the dialogue again. That way we could have a nice clean version that would match the lips.
There will be more technology used in the third film, but there won't be IMAX scenes. We are shooting the third one digitally because there are more claustrophobic, underground scenes that won't be suited for IMAX.
So fans won't have to pay extra for an IMAX ticket. Will that affect the overall box-office take for 'Mockingjay' parts two and three?
Who Are The New Faces In 'Mockingjay?'
Julianne Moore is the biggest name. The Oscar winner has been cast as President Coin, a major figure in the evolving narrative.
Beyond Moore, 'Mockingjay' cast 'Game of Thrones' beauty Natalie Dormer as Cressida, a film director who joins the revolution against the Capitol. While Lily Rabe originally joined the 'Mockingjay' cast as Commander Lyme, the role was recast with Gwendoline Christie, as Rabe's theater commitments proved too much. And in a crucial bit of casting, relative newcomer Stef Dawson landed the part of Annie Cresta, love interest of Finnick Odair (Claflin), whom me met in 'Catching Fire.'
Other new additions include Eugenie Bondurant as Tigris, Michelle Forbes ('True Blood') as Lt. Jackson, Patina Miller as Commander Paylor, Evan Ross as Messalla, Wes Chatham as Castor, and Elden Henson as Pollux.
How Is 'Mockingjay' Going To End?
Spoilers be damned! Francis Lawrence already has revealed what the final shot of the fourth film is going to be!
Lawrence explained that he already had the final scenes of 'Mockingjay – Part 2' mapped out in his head. STOP READING IF YOU DON'T WANT TO BE SPOILED.
Lawrence told MTV that the very last shot of 'The Hunger Games' will be "a very small, minimal scene of Katniss hunting."
Hunting whom? Thanks to Lionsgate's shrewd planning, we'll have the next two years to figure that out.