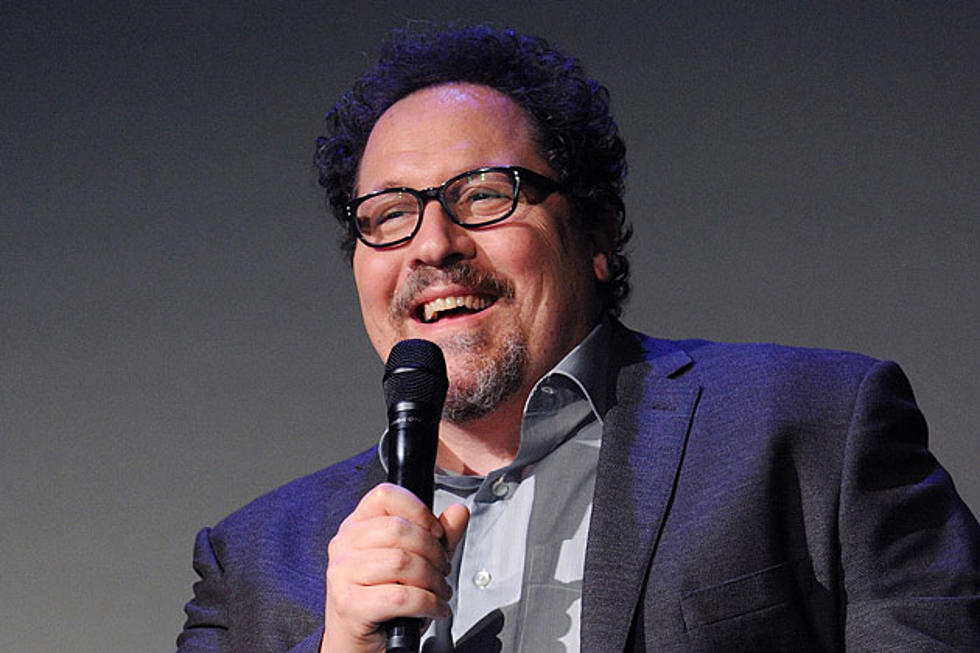 'Chef,' Paul Rudd Vomiting and 'PCU': Highlights from Jon Favreau's Apple Store Chat
Bobby Bank, Getty Images
On Wednesday evening at the Apple Store in Soho, I hosted a chat with Jon Favreau about his new film, 'Chef' (which premiered at SXSW and is playing this week at the Tribeca Film Festival -- opening May 9 in New York and L.A., then expanding on May 16), which is a return for Favreau to his indie roots that began with films like 'Swingers' and 'Made.'
Favreau, who has spent the last few years directing big-budget studio films like the first two 'Iron Man' movies and 'Cowboys & Aliens,' now directs and stars in a movie about a successful chef, who works at a popular restaurant, but longs for the days where he had more creative control over what he was producing. Yes, there are some parallels here.
The entire chat will be part of Apple's podcast series, but here are just a few highlights from the evening. Including if Favreau would ever confront a critic who gave him a negative review; his return to being a leading man in a film (as opposed to the guy Paul Rudd vomits on in 'I Love You Man'); and a question that I just had to sneak in about the upcoming 20th anniversary of the cult classic, 'PCU.'
On the possibly of confronting a critic who gave him a negative review, like his character in 'Chef' does:
I honestly don't – I'm like not that guy. If the review is really awful and mean, I just don't really look at it. The ones that kind of hurt are the ones that when they like you and they're trying to like what you're doing, and they feel disappointed. It's like a parent is disappointed in you. That's the worst. When they're angry, you can close them off, but when they just expected more, then you really feel kind of – that the one where it's tough to sleep at night. But I've never been angry. I always get sad, at worst – or humored.
I mean, the worst review I ever had was on the movie 'Made' and I framed it. And I put it up in my bathroom and looked at it every day when I went to the bathroom. It just ripped – it was just a hatchet piece, but it was done with such relish that I enjoyed it. It's interesting, I don't tend to take those things personally. Especially now with social networking, you can find somebody who loves you or somebody who hates you – you just click a few keystrokes and you can go down a rabbit hole way far.
On acting in a lead role again, as opposed to supporting characters like the one who gets vomited on in the face by Paul Rudd in 'I Love You, Man':
Well, it's my first love, you know? The funny thing about Paul Rudd vomiting on my face in 'I Love You, Man' was that I was filming that the weekend 'Iron Man 1' opened. So, here I was, my movie made like almost $100 million, and there I was number six on the call sheet getting Italian wedding soup spewed all over me. And, I had a hernia at the time, too, that I didn't want to own up to because I didn't want to stop production. So, there I was with a hernia belt, covered with artificial vomit from Paul Rudd – and it was that humility that I think kept me balanced and humble [laughs].
But, I love acting. And I got to work with Marty Scorsese on 'The Wolf of Wall Street' and that's been a lifelong dream of mine. And I love to watch other directors, because you learn so much. My whole apprenticeship in directing has been through acting. Most directors, you go to film school, you watch documentaries, you study up, you make short films. But, in the case of me, I was an actor so I actually got to be an apprentice to the directors that I worked for as an actor. And I could ask them any questions. And I could model myself after the people I respected and revered. So, I love acting because it makes me a better director, first of all. But, second of all, the bottom line is I started off as a kid who likes to be on stage and liked to get a laugh – and I like performing and I get a thrill out of it. It's like gambling. They can hate you; they can love you, but it's exciting and exhilarating. So, I hope to do it, but, again, it's I only want to do things I'm excited about.
On the 20th Anniversary of the cult classic 'PCU.':
That was, look, my favorite movie growing up was 'Animal House' and that was a bit of an homage, knockoff, pale copy – I don't know what you call it – but doing a frat house type comedy was a like a dream as a young actor. And to play a crazy dumb guy like Gutter, I just knew I could rip it up and have a great time. And there we were, we're shooting in Toronto. There I was, the start of my career. Like Chris Rock says, when you start off, you love going out of town because you get to stay in a nice hotel with nice stuff and everything is like a dream come true – you've got a per diem. As you get older and your stuff at your house gets nicer, you don't want to leave as much. Until, finally, your house is nicer than the hotel. Well, back then, the hotel was far better than the futon I was sleeping on in my flea-infested apartment in Hollywood.
And when you're an actor, you get days off. And the next thing you know, you're hanging out with all of the other actors who are excited to be there. It's like a paid vacation. And we had so much fun. I worked with a lot of good actors there – it was the first time I worked with Jeremy Piven, and Hart Bochner directed it. And it's a movie that, thanks to video and thanks to iTunes, people are checking it out and still seeing it. And I still get, once in a while, people shouting out to me or posting a clip on Twitter. But, I'm proud of it – it's part of what made me who I am today.