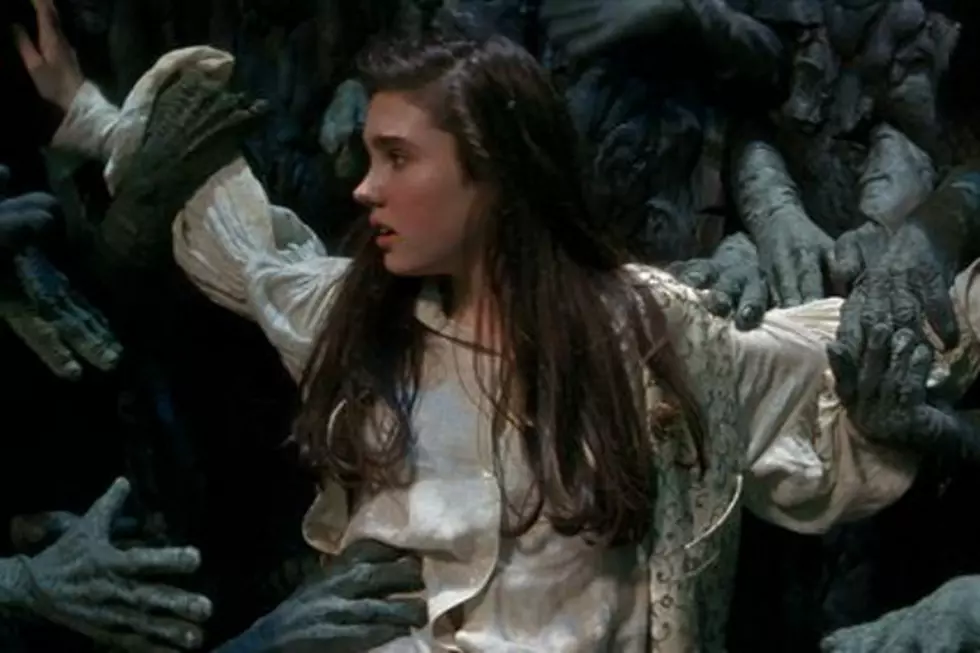 See the Cast of 'Labyrinth' Then and Now
Columbia
'Labyrinth' was a bit of a flop when it was released in 1986. But the Jim Henson-directed fantasy film has had a second life, thanks to VHS, DVD and Blu-ray, and has become a cult classic among kids old enough not to be afraid of goblins.
As testament to its belated success, primary human stars David Bowie and Jennifer Connelly have both commented on how often they are still recognized by children for their roles in the film.
See what the cast -- and the puppeteers behind 'Labyrinth's' wondrous creatures -- are up to these days.
David Bowie, Jareth the Goblin King
Then: Music superstar David Bowie forever imprinted the image of his giant hair and prominent codpiece in young impressionable minds as Jareth the Goblin King. He also performed most of the songs on the soundtrack, including the singles 'Magic Dance' and 'Underground.'
Now: The 66-year-old just surprised everyone by releasing his 24th studio album, 'The Next Day.' No stranger to acting, he's appeared in 'Basquiat' and 'The Prestige' and provided voicework for 'Arthur and the Invisibles' and a 'Spongebob Squarepants' movie. Bowie has been married to the model Iman since 1992.
Jennifer Connelly, Sarah
Then: Jennifer Connelly was 15-years-old when she navigated through Jareth's maze to find her baby brother. The acclaimed actress got her start as a print model and broke onto the screen in the 1984 Sergio Leone epic 'Once Upon A Time In America.'
Now: Connelly has an Academy Award for her role in a 'Beautiful Mind.' Next up is the fantasy film 'Winter's Tale' and the biblical drama 'Noah.'
Toby Froud, Toby
Then: Froud made his one and only acting appearance as Sarah's baby brother, conveniently named Toby. Froud's father Brian is a well-known fantasy illustrator whose creations were the influence for many of Jim Henson's 'Labyrinth' puppets.
Now: Time on the 'Labyrinth' set as an infant clearly had an influence on Froud because he went on to apprentice at the Muppet Workshop in New York and has worked on special effects for 'The Chronicles of Narnia: The Lion, The Witch and the Wardrobe' and 'ParaNorman.'
Shelley Thompson, Irene Williams
Then: Shelley Thompson played Sarah's stepmom who, as per fairy tale tradition, is a bit on the mean side. It was her biggest role to date.
Now: The Canadian actress is fairly well-known in her home country for her role in the popular mockumentary series 'Trailer Park Boys,' which ran between 2001 and 2007. She will be in the upcoming thriller 'Bunker 6.'
Christopher Malcolm, Robert Williams
Then: Sarah and Toby's dad was played by Christopher Malcolm. That same year he had a supporting role in 'Highlander.' The Scottish actor is best known for originating the role of Brad Majors in the stage version of 'The Rocky Horror Picture Show.'
Now: These days Malcolm is primarily a theatrical producer and has been behind West End and Broadway shows. He also played recurring character Justin on the British sitcom 'Absolutely Fabulous.'
Brian Henson, Hoggle
Then: The dwarf Hobble, who becomes Sarah's loyal friend, was voiced by Brian Henson and performed by puppeteer Shari Weiser. Brian, a puppeteer, is the son of Jim Henson and had worked with his dad on 'Fraggle Rock' and 'The Muppets Take Manhattan' and on his own on 'Little Shop of Horrors' and 'Return to Oz.'
Ron Mueck, Ludo
Then: The good-hearted beast Ludo was both voiced and performed by Ron Mueck. Mueck had got his start as a puppeteer and model maker on the Australian kid's show 'Shirl's Neighbourhood.'
Now: Mueck has become a sculptor specializing in hyper-realism. His works have been prominently displayed in art galleries all around the world.
David Shaughnessy, Didymus
Then: The voice of Sir Didymus, brave bridge defender and honorable knight, belonged to David Shaughnessy. (The puppet was controlled by Dave Goelz and David Barclay.) Shaughnessy had been a stage and TV actor in his native England.
Now: Lately, Shaughnessy has been directing the soap opera 'The Bold and the Beautiful' and continues to do voice work on shows like 'Robot Chicken.' He is the younger brother of 'The Nanny' star Charles Shaughnessy.
Frank Oz, The Wiseman
Then: Longtime Jim Henson collaborator Frank Oz was the puppeteer behind The Wiseman, who Sarah encounters on her journey. Oz's other characters include Fozzie Bear, Miss Piggy, Yoda, Grover and The Cookie Monster. Also an accomplished director, Oz was behind the camera for 'The Muppets Take Manhattan,' 'Dirty Rotten Scoundrels' and 'What About Bob,' among many others.
Now: Oz will reprise his voice role as Fungas in the upcoming Pixar film 'Monsters U.' The last film he directed was 2007's 'Death at a Funeral.'
Dave Goelz, The Hat
Then: Dave Goelz controlled the bird that had grown out of The Wiseman's head while Shaughnessy providing The Hat's voice. Another Hanson mainstay, Goelz is most famous for his portrayals of the Muppet Gonzo in various mediums.
Now: Goelz continues to play and voice Muppets such as Gonzo, Bunson, Waldorf and Zoot in both the Muppet feature films and other TV and media appearances. He will be one of the primary puppeteers for the 2014 movie 'The Muppets...Again!'