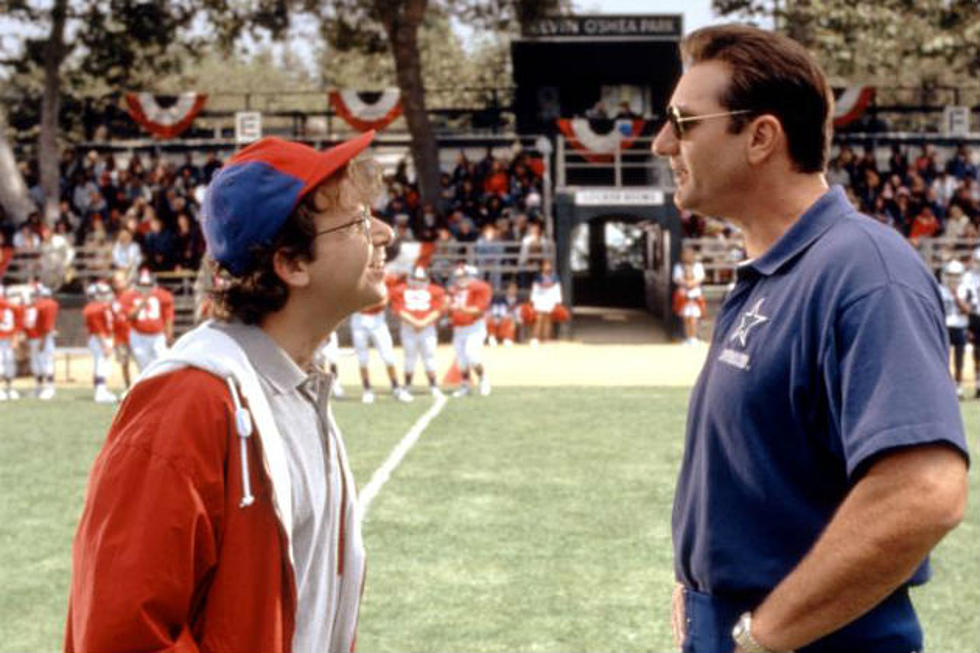 See the Cast of 'Little Giants' Then and Now
Warner Bros.
Released in 1994, 'Little Giants' followed brothers in the small town of Urbania, Ohio as they coach rival pee wee football teams -- one team, led by Heisman Trophy winner brother Kevin, and the other, led by underdog Danny and his unlikely group of nerdy kids. The comedy starred Ed O'Neill, Rick Moranis, and a group of talented child stars and became an instant family classic. 19 years later, we revisit the best damn pee wee football team from Urbania and see what they're up to now.
Rick Moranis, Danny O'Shea
Then: 'Ghostbusters' and 'Spaceballs' star Rick Moranis played Danny O'Shea, the underdog little brother who starts his own pee wee football team to prove himself to his big brother.
Now: Moranis left acting in 1997 following the death of his wife. His film credits include 'The Flintstones,' 'Honey, I Shrunk the Kids,' and 'Big Bully.' Since then, his only acting has been voice work on animated films like 'Brother Bear.' Moranis still releases folk comedy albums, like his 2013 release, 'My Mother's Brisket & Other Love Songs.'
Ed O'Neill, Kevin O'Shea
Then: 'Married with Children' star Ed O'Neill played Kevin O'Shea, the Heisman Trophy winner and former football player who coaches a successful pee wee football team and shames his little brother, Danny.
Now: O'Neill stars on the ABC sitcom 'Modern Family,' and provided the voice of Mr. Litwak in the Disney animated film 'Wreck-It Ralph.'
Shawna Waldron, Becky "Icebox" O'Shea
Then: Shawna Waldron made her acting debut as Becky, Danny's tomboy daughter who loves to play football and goes by the nickname "Icebox."
Now: A few years ago, a very grown-up Waldron starred in the sexy direct-to-video sequel 'Poison Ivy: The Secret Society.' She's also appeared in a number of B-grade horror movies, like 'Lizzie' and 'Night Lights.'
Devon Sawa, Junior Floyd
Then: Devon Sawa landed one of his first big roles as Junior Floyd, a football player and Becky's love interest.
Now: Sawa went on to star in 'Casper,' 'Now and Then,' 'Idle Hands,' and 'Final Destination.' He currently plays Owen Elliot on the CW series 'Nikita.'
Sam Horrigan, Spike Hammersmith
Then: Sam Horrigan played Spike Hammersmith, the terrifyingly strong -- and just plain terrifying -- new kid in town whom Kevin snags for his football team.
Now: Horrigan starred on the 90s sitcom 'Grace Under Fire,' and over the years has appeared on 'One Tree Hill,' 'Veronica Mars,' and 'True Blood.'
Alexa Vega, Priscilla O'Shea
Then: Alexa Vega made her acting debut in 'Little Giants' as Priscilla, Kevin O'Shea's youngest daughter.
Now: Vega starred in Robert Rodriguez's 'Spy Kids' trilogy and appears in his latest film, 'Machete Kills.' She's guest-starred on 'The Middle' and 'Royal Pains.'
Todd Bosley, Jake Berman
Then: Todd Bosley played Jake Berman, the snot-nosed (literally) little kid on Danny's team. He also appeared opposite Robin Williams in 'Jack.'
Now: Bosley played Howie on the final season of 'Scrubs' in 2009. Since then, he's guest-starred on 'House' and 'iCarly.'
Mathew McCurley, Nubie
Then: Mathew McCurley played Nubie, the brains behind the genius play known as the Annexation of Puerto Rico, which helps Danny's team win the big game.
Now: McCurley is the social media director for a video game company based in Los Angeles.
Jon Paul Steuer, Johnny "Viper" Vennaro
Then: Jon Paul Steuer played Johnny "Viper" Vennaro, but 'Little Giants' wouldn't be his only run-in with Spike -- Steuer originated the role of Quentin Kelly on 'Grace Under Fire,' but was replaced by Sam Horrigan.
Now: Steuer now goes by the name Jonny P Jewels and is the frontman for the glam rock band the Soda Pop Kids.
Marcus Toji, Marcus "The Toe"
Then: Marcus Toji played Marcus "The Toe," known for his incredible kick.
Now: Toji has made guest appearances on 'Party Down,' 'Happy Endings,' and 'It's Always Sunny in Philadelphia.'
Christopher Walberg, Timmy Moore
Then: Christopher Walberg played Timmy Moore, the little kid in the cowboy costume who sticks the athletic cup on his face. Oh, Timmy.
Now: Walberg, who now goes under the name Topher, plays synth for the band H-Beam.