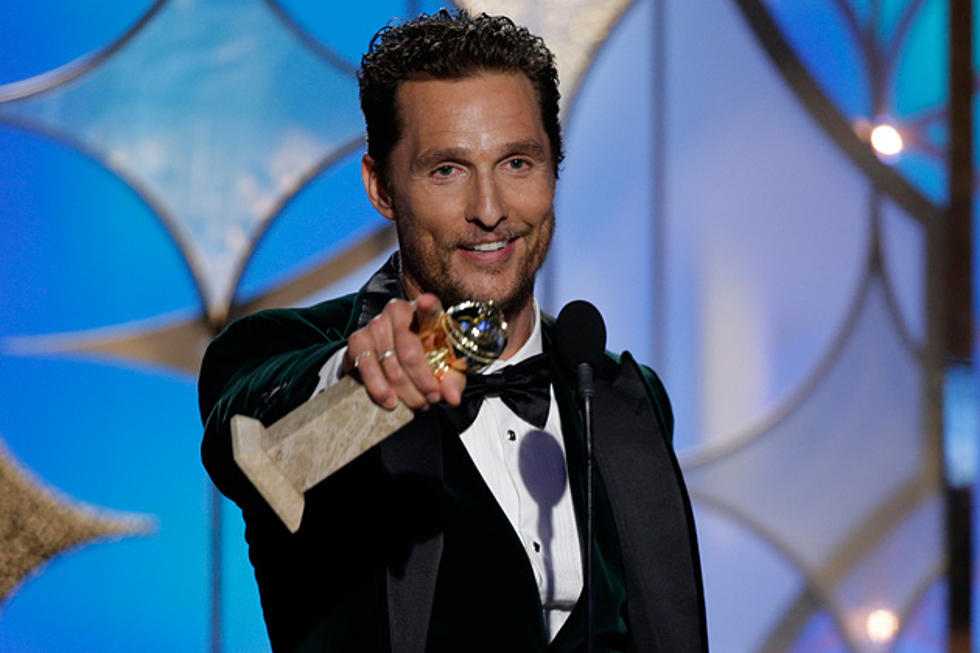 The Second Coming of Matthew McConaughey: The Story Behind His Reinvention
Getty Images
"Alright, alright, alright," said Matthew McConaughey as he took the stage Sunday night, January 12, at the 2014 Golden Globes. In an unexpected turn, the A-lister won the award for Best Actor in a Motion Picture, Drama for his acclaimed role in 'Dallas Buyers Club.' This is not to say it wasn't well deserved, but who would have thought that the man formerly haunted by 'Ghosts of Girlfriends Past' could best the likes of such Hollywood Foreign Press favorites as Chiwetel Ejiofor, Idris Elba, Tom Hanks and Robert Redford?
This marked McConaughey's first Golden Globe nomination and win, and, as the actor said in his acceptance speech, a 20-year endeavor to get 'Dallas Buyers Club' off the ground and into theaters. But, as he stood to face the camera in a slimmer physique than the classic McConaughey our '90s selves have come to know, it also marked the completion of a long journey (of nearly five years) resurrecting his career from a fading rom-com star to a serious awards contender.
By now, the story of McConaughey's breakout success is part of cinematic history -- after returning home from a year-long stay in Australia, where he worked 11 jobs and attempted to figure out what he wanted to do with his life, he headed to the University of Texas to pursue a law degree. However, he found himself diverting from this path as a sophomore and turning to film. "Even then I didn't want to be an actor," he recalled of his past while making the 'Dallas Buyers Club' rounds. "But as I look back, even when I would direct I would get over there and show the person what I wanted them to do. So I was kind of performing then and I was enjoying it."
"It wasn't until that summer," he continued, "in '92 between my junior and senior year, that I was in the right bar at the right time." He's referring to the moment he met Don Phillips, the casting director for such films as 'Fast Times at Ridgemont High' and 'Melvin and Howard,' and the one who would soon introduce McConaughey to 'Dazed and Confused' director Richard Linklater.
We got along right away, but I remember going in like it was a job interview, which it most certainly was. I ironed my shirt. I tucked my shirt in. I combed my hair. I even shaved. That was not the character of Wooderson, but I felt like I still had to present myself the right way. He was like, "Huh." Kind of like, "You're not this guy." I'm like, "No, but I know who this guy is." So I kind of kicked back, laid my shoulders back and slipped right into Wooderson. And Rick laughed. He said "I like that, that's good." Then he told me I got the job but said, "Do not shave. Let your hair go all scraggly." I was like, "What a great job this is!"
Everything about this role came to define McConaughey as an actor, both on and offscreen -- his charm, laid-back and borderline-narcissistic swagger, cut with comedic self-deprecation, and his swoon-worthy features. Years later, however, somewhere half-way through his career, that same persona would become his downfall.
In the last few decades, McConaughey became synonymous with the rom-com and action roles studios so freely offered him, all nicely packaged up with his real lifestyle of running shirtless on the beach, getting stoned, playing bongos and repeating that famous phrase from his 'Dazed' days, "Alright, alright, alright." Whether it was playing opposite Jennifer Lopez in 'The Wedding Planner,' opposite Kate Hudson in 'Fool's Gold,' opposite Sarah Jessica Parker in 'Failure to Launch' or opposite Penelope Cruz in 'Sahara,' it was always the same formula -- pit this actor's ripped physique with an interchangeable bombshell, give them some sort of dysfunctional relationship, and you have an instant feature film.
After a while, even the money of these blockbusters didn't appeal to him. Most of these rom-coms raked in more than $100 million at the worldwide box office, but even the opportunity to make such high figures couldn't mask the stench of the boring scripts, and McConaughey made a conscious decision to turn down these kinds of offers even at the risk of "humongous pay cuts." According to The Hollywood Reporter, he even turned down a $15 million paycheck to appear in a 'Magnum, P.I.' reboot.
Though the actor couldn't recall the existence of a finite moment when he decided to make a change, the man, who has kept diligent notes in journals throughout his life, attempted to look back and figure out where he was headed. "Honestly, I didn't have things that I was grabbing ahold of," he said. "Career was going fine. Enjoyed what I was doing. But I was like, 'Let's spice things up a little.'"
From 2009 (after 'Ghosts of Girlfriends Past' premiered with Jennifer Garner) to 2011, the actor didn't appear onscreen. "There was nothing; [I was] not asked to do anything," he recalled. "There were certain things I would say no to, and then they [studios] just quit sending those things. So it went from, 'Let's not send him what we think he's going to say no to,' to, 'OK, we get it.'"
"In a wild cyclical way I started to attract these other things." 2011 was the next time an audience would see McConaughey on the big screen in two of these "other things" -- the first being 'The Lincoln Lawyer,' in which he portrayed a morally questionable defense attorney who enters increasingly grey territory when his rich client (Ryan Phillippe) plans to beat the system, and the second reuniting with the man who kickstarted his career, Linklater, with a role in 'Bernie,' playing a prosecutor who goes after the beloved town mortician (Jack Black) when he tries to cover up his murdering of a wealthy but hated widow.
As McConaughey described, "Rick's the director, the only director I work with that can go 'Hey, I think I've got something for yah. Let's get together and talk about it.' The process of getting to the day of shooting is really fun for Rick and I. There's nothing formal about it all. We really play. It doesn't take us that long."
For 'Bernie,' this process took only a couple of days before the two decided to officially reunite for the first time since 'Dazed,' due in part to the screenplay adapted by Linklater from a Texas Monthly article by Skip Hollandsworth. "I thought it was the funniest thing on paper that I read, that had his hand," recalled McConaughey while making the SXSW rounds for the film. "... He actually pitched it to me for 50 minutes in his truck, and when I read it, I felt on page with the tone. I thought it was much more funny than I ever thought it was dark. I liked that it was dark comedy, but I was just laughing."
Now, on his new career redirection, the actor continued on with roles that walked an amoral line and defied what was expected of him. Whether it was William Freidkin's 'Killer Joe,' trashing his former image with a mother-killing role; Lee Daniels' 'The Paperboy,' where the director tried to make the heartthrob as "unattractive as possible"; or Jeff Nichols' 'Mud,' playing a fugitive with blood on his hands.
Then, as if reaching the final stage of a seven-step recovery program, his rebirth became official with his career-changing role of Ron Woodroof in Jean-Marc Vallee's 'Dallas Buyers Club.' Playing a Texan homophobe who contracts HIV and eventually becomes a pioneer of the AIDS movement in the '80s, McConaughey dropped 47 pounds, shedding what remained of his once glistening beach-ready bod. It was this transformation, said Vallee, that served as the driving force of the film.
McConaughey was the first one in mind for Ron Woodroof when producer Robbie Brenner was given the script, and it was the star's dedication to the character that would inspire his fellow actors and the production crew to follow suit. Aside from the physical aspect, which involved 98% dieting and 2% exercise, as he recalled, McConaughey poured over the real Ron Woodroof's journals, listened to hours of interviews between him and screenwriter Craig Borten, and covered his script with detailed questions and notes for the production crew, much like he does in his own journals.
"This was something I wanted to get made, but I knew it would be hard to get made." Eventually, it did; it just took a lot longer than was expected. McConaughey became attached to the role around 2010 and the film didn't see a release until the latter half of 2013, after numerous studios (more than 80, if you believe the actor's average) passed on financing the project. "Hollywood's not quick to really expound on the 'why not?'" he told press. "Usually the message that gets to me is, it's not for them. Period piece, AIDS drama? That one line hurt. I'm sure there were many desks where that one-liner was all they read." But, it was the cast and crew's commitment to Ron's story that kept them interested in making it happen when the film finally received financing years later.
Keeping detailed notes on the scripts that crossed his path, McConaughey remembers writing how 'Dallas Buyers Club' "had fangs" and that the scenes bled off the page. Funny enough, one of his next projects (after a small but noteworthy role in Martin Scorsese's 'The Wolf of Wall Street'), the HBO miniseries 'True Detective,' would receive the same description.
The series, co-starring Woody Harrelson, made its debut January 12 as McConaughey accepted his Golden Globe on awards night to critics praising the depth and tortured nature the actor brought to his character, Rust Cohle, one-half of a detective team on a 17-year investigation into a serial killer with occult overtones in Louisiana.
'True Detective' opens in 2012 with both a mustachioed Rust and the more Southern family man Hart (Harrelson) being interviewed separately by two new detectives who've come across a new crime with similar tones to the one this pair came upon back in 1995 when a naked prostitute was tethered to a tree and adorned with a back marking and an antlered crown. As time shifts in between the past and present, the series quickly evolves into a story of how these men have changed as individuals and as a unit over their years-long hunt.
Attracted to the "original" script by series creator and award-winning novelist Nic Pizzolatto, McConaughey first read for the role of Hart but was drawn more to the darker Rust. "I had gone back and I said I like this, I like Rust Cohle. I said, 'How about this guy? That's me.'" And, as his 'Dallas Buyers Club' co-star Jennifer Garner said of his acting abilities, that's what ranks him above the rest: "Part of what everyone is drawn to in Matthew is that he is someone who is so himself all the time."
That is what's great about McConaughey, that even with these transformative and atypical characters he becomes, he gets up onstage at the Golden Globes and reminds everyone he's still that 23-year-old star of 'Dazed and Confused' -- just a bit more mature, perhaps.
He will yet again tackle a new and drastically different role with this November's 'Interstellar,' Christopher Nolan's sci-fi epic that co-stars Anne Hathaway and Jessica Chastain. As he spoke to the press after winning his Golden Globe Sunday, "I have been choosing roles that shook my floor, that challenge me in a way that I go, 'Oh I'm not sure what I'm gonna do with this, but I can't wait.'"