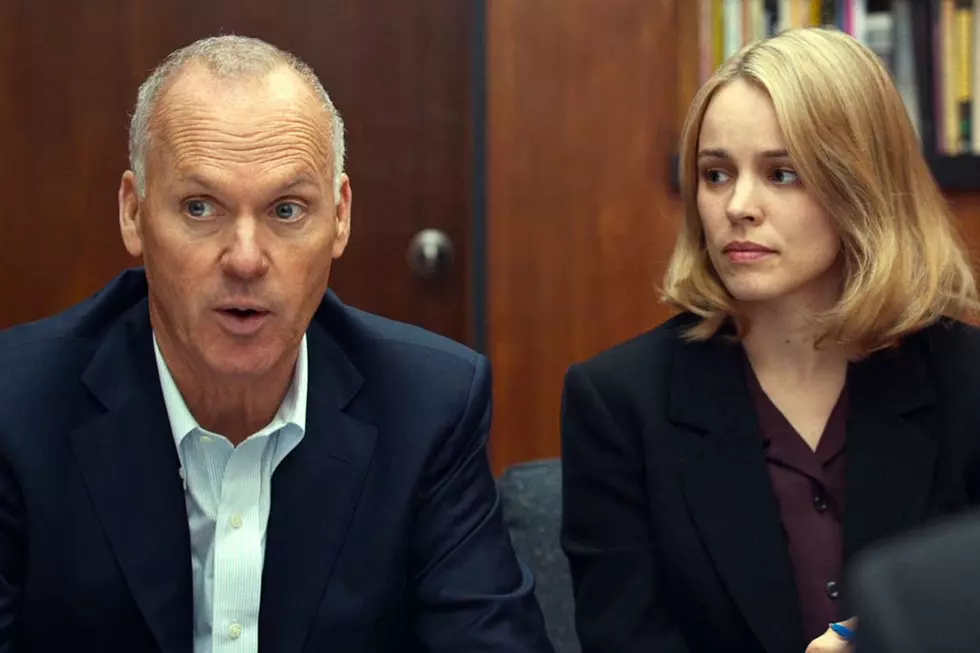 National Society of Film Critics Names 'Spotlight' Best Film of the Year
Open Road Films
The National Society of Film Critics, a group made up of fifty-three of the most esteemed, elite American film critics, recently convened for their 50th annual meeting to determine the finest films, performances, as well as other assorted creative and technical achievements in 2015. Though eight critics excused themselves from this year's voting due to not having seen all of the relevant films in consideration, the results still solidified the strength of some awards season front-runners and provided deserving underdogs with well-earned recognition. From atop their floating fortress high above the clouds, this powerful and mysterious cabal handed down their rulings on the best and brightest on film in the past year.
Perhaps the year's biggest crowd-pleaser and the only sure thing in an increasingly crowded and unsure awards season, journalism procedural Spotlight took the highest honor of Best Picture, with Todd Haynes' lesbian romance Carol and George Miller's lunatic action opera Mad Max: Fury Road trailing by a handful of votes each. Though recent developments in this award season — the Golden Globe nominations, for one — have indicated a cooling on the buzz for Spotlight's performances, the film itself still has plenty of horsepower, as does director Tom McCarthy, who tied Todd Haynes with 21 votes in the Best Director race, but ceded the award because Haynes appeared on a majority of ballots. Spotlight's straightforward approach, mature handling of a difficult subject, and meticulous research has earned it no shortage of admirers among movie types, and observers should expect this wellspring of support to carry all the way to Oscar day.
Speaking of spotlights, the acting categories managed to shed a little light on some fine performers who have otherwise fallen out of favor with major awards bodies. Michael B. Jordan, so fiery and movie-star charismatic as a boxer with something to prove in this fall's Creed, took the championship belt for Best Actor, with harrowing Holocaust drama Son of Saul's Geza Röhrig trailing eleven votes behind. Charlotte Rampling took the Best Actress prize for her work in the heartfelt relationship drama 45 Years, and while she's still considered something of a wild card in this year's overstuffed female Oscar race, this could be a nice bump for her. Brooklyn's Saoirse Ronan trailed her by a couple dozen votes, though in a more general sense, Ronan has been one of the few certainties in this year's scramble for awards gold. They were both followed by the masterful Nina Hoss for her arresting turn in the post-WWII thriller Phoenix. Meanwhile, in the supporting races, Mark Rylance continued his Bridge of Spies charge while Kristen Stewart adds yet another distinction to her brilliant performance in Clouds of Sils Maria.
Read on for the full list of winners below:
Picture: Spotlight (23)
Runners-up: Carol (17), Mad Max: Fury Road (13)
Director: Todd Haynes, Carol (21)
Runners-up: Tom McCarthy, Spotlight (21); George Miller, Mad Max: Fury Road (20)
Actor: Michael B. Jordan, Creed (29)
Runners-up: Geza Röhrig, Son of Saul (18); Tom Courtenay, 45 Years (15)
Actress: Charlotte Rampling, 45 Years (57)
Runners-up: Saoirse Ronan, Brooklyn (30); Nina Hoss, Phoenix (22)
Supporting actor: Mark Rylance, Bridge of Spies (56)
Runners-up: Michael Shannon, 99 Homes (16); Sylvester Stallone, Creed (14)
Supporting actress: Kristen Stewart, Clouds of Sils Maria (53)
Runners-up: Alicia Vikander, Ex Machina (23); Kate Winslet, Steve Jobs (17)
Screenplay: Josh Singer and Tom McCarthy, Spotlight (21)
Runners-up: Charlie Kaufman, Anomalisa (15); Charles Randolph and Adam McKay, The Big Short (15)
Cinematography: Ed Lachman, "Carol" (25)
Runners-up: Mark Lee Ping-bin, The Assassin (22); Mad Max: Fury Road (12)
Foreign-language film: Timbuktu (22)
Runners-up: Phoenix (20); The Assassin (16)
Non-fiction film: Amy (23)
Runners-up: In Jackson Heights (18); Seymour: An Introduction (15)