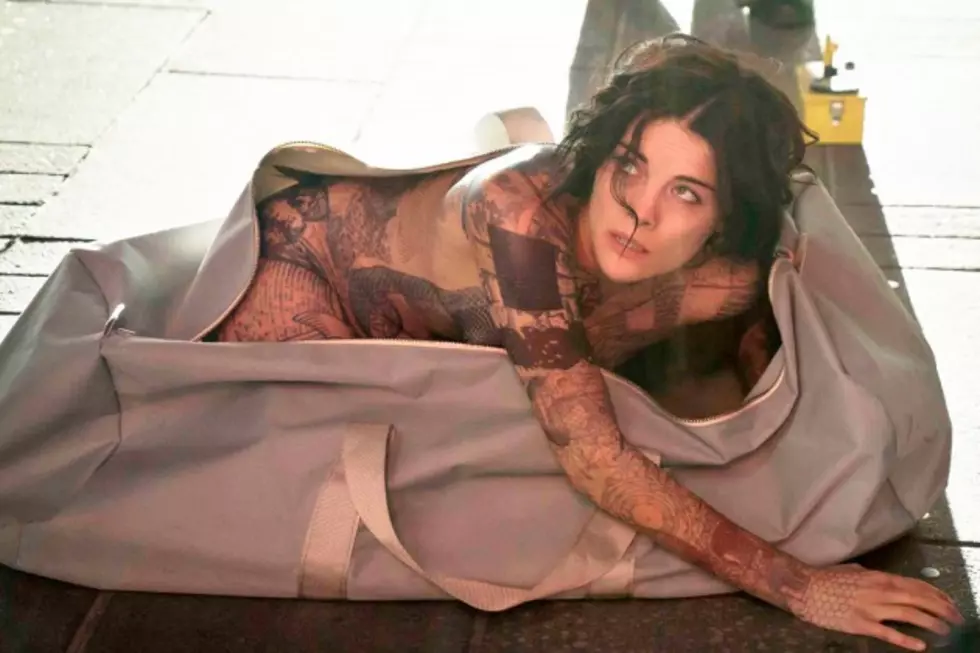 NBC Picks Up Three New 2015 Dramas, Or 'Why is Jaimie Alexander Nude in This Bag'?
NBC
Ah, May upfronts, where the networks seek to outdo one another in greenlighting the most shamelessly attention-grabbing pilots imaginable. Speaking of shameless attention-grabbing, how about Thor star Jaimie Alexander naked in a duffel bag, or what NBC likes to call Blindspot?
Far from ordering any Coach reboots (though look for franchise spinoffs in 2016!), NBC has become first out of the gate in greenlighting three new pilots to series for the 2015-2016 season. Not only has Dick Wolf earned himself another Chicago spinoff with Chicago Med, but so too will Melissa George play doctor (with sexy results) for Heartbreaker.
Of course, you wouldn't be here if not for a tattooed Jaimie Alexander waking up nude in a bag in Times Square for Blindspot, so enjoy descriptions of all three!
Blindspot

From executive producer Greg Berlanti ("Arrow," "The Flash," "The Mysteries of Laura") comes "Blindspot": A vast international plot explodes when a beautiful Jane Doe is discovered naked in Times Square, completely covered in mysterious, intricate tattoos with no memory of who she is or how she got there. There's one that's very clear, however: the name of FBI agent Kurt Weller, emblazoned across her back. "Jane," Agent Weller and rest of the FBI quickly realize that each mark on her body is a crime to solve, leading them closer to the truth about her identity and the mysteries to be revealed. Martin Gero will write and executive-produce with Greg Berlanti.

Cast: Jaimie Alexander, Sullivan Stapleton, Marianne Jean-Baptiste, Ashley Johnson, Rob Brown, Audrey Esparza, Ukweli Roach.

Chicago Med

Executive producer Dick Wolf delivers the newest installment of the compelling "Chicago" franchise, an emotional thrill ride through the day-to-day chaos of the city's most explosive hospital and the courageous team of doctors who hold it together. They will tackle unique new cases inspired by topical events, forging fiery relationships in the pulse-pounding pandemonium of the emergency room, and through it all, familiar faces from the Chicago police and fire departments will intertwine as this third team of Chicago heroes hits the ground running. Chicago Fire creators Derek Haas and Michael Brandt will write and executive-produce with Matt Olmstead and Dick Wolf.

Cast: Yaya DaCosta, S. Epatha Merkerson, Oliver Platt, Laurie Holden.

Heartbreaker (formerly Heart Matters)

Based on the real life and achievements of Dr. Kathy Magliato, this unique character-driven medical drama follows Dr. Alex Panttiere (Melissa George, "The Slap"), an outspoken world-renowned heart-transplant surgeon and one of the few women in her field. Stubborn and fearless, Alex always operates on her own terms. She revels in a racy personal life that's a full-time job in itself, manages the daily demands of skeptical faculty and dutiful interns, and pushes the boundaries of medical science to impressive new heights.

Cast: Melissa George, Dave Annable, Don Hany, Shelley Conn, Maya Erskine, Jamie Kennedy, Joshua Leonard, J. Louis Mills, Rudy Martinez, D.L. Hughley.
Drama! The only mystery greater than what put Jaimie Alexander nude in a bag is how Greg Berlanti finds time to sleep, between these and all the DC shows in the pipeline. Make a show out of that, stick him nude in a bag, and you've got yourself a spinoff, NBC!