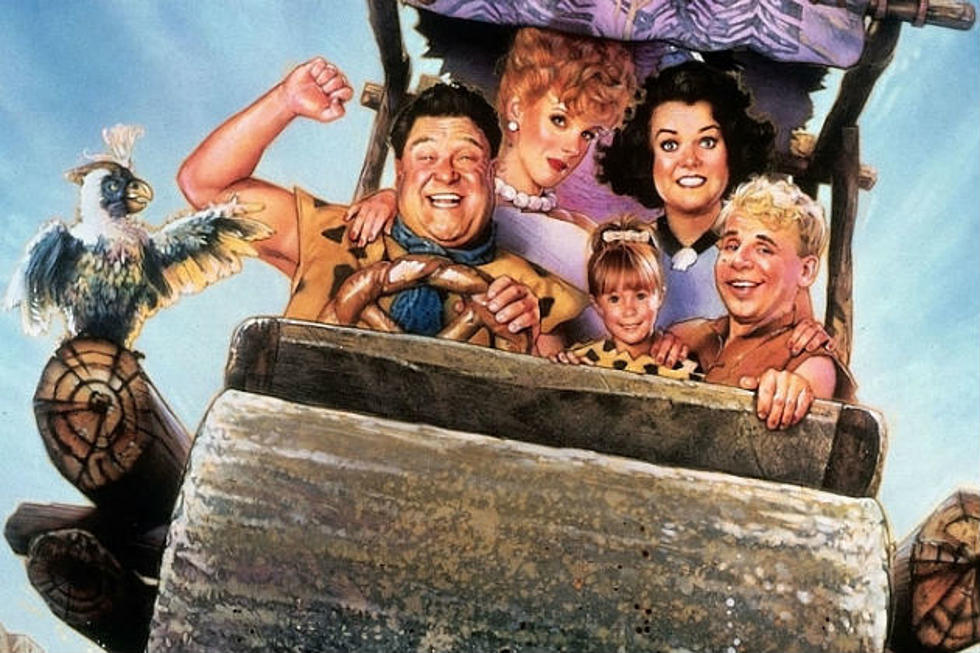 See the Cast of 'The Flintstones' Then and Now
Universal
In 1994, Steven Spielberg's Amblin Entertainment produced a live-action version of the classic animated series 'The Flintstones,' bringing the cartoon family to life on the big screen for the very first time with stars like John Goodman and Rick Moranis. The film was a massive hit at the box office, even though critics absolutely loathed it. Nineteen years later, we take a look back at the cast of this prehistoric family film and see what they're up to now.
John Goodman, Fred Flintstone
Then: John Goodman played Fred, the patriarch of the Flintstone family. Various iterations of a live-action 'Flintstones' film were in the works for years, with John Belushi offered the role of Fred at one point. If Goodman had turned the role down, this version would not have been made.
Now: Goodman, who has appeared in several of the Coen Brothers' films, including 'The Big Lebowski' and 'O Brother, Where Art Thou,' can be seen next in their new film, 'Inside Llewyn Davis.' He also recently reprised the voice of Sully for Pixar's 'Monsters University,' and stars in George Clooney's upcoming 'The Monuments Men.'
Elizabeth Perkins, Wilma Flintstone
Then: Elizabeth Perkins played Fred's wife, Wilma. Perkins was known previously for her roles in 'Big' and 'He Said, She Said.'
Now: Perkins portrayed Celia Hodes on the Showtime series 'Weeds' from 2005 until 2009. Since then, she's appeared in 'Hop' and 'The Lorax,' and starred on the short-lived sitcom 'How to Live with Your Parents (for the Rest of Your Life).'
Rick Moranis, Barney Rubble
Then: The character of Fred's best friend and co-worker Barney Rubble was short, so no actors over 5 feet, 6 inches were considered for the part. Danny DeVito was the first choice, but the actor felt he was too gruff, so he suggested 'Ghostbusters' and 'Spaceballs' star Rick Moranis.
Now: Moranis left acting in 1997 following the death of his wife. His film credits include 'Little Giants,' 'Honey, I Shrunk the Kids,' and 'Big Bully.' Since then, his only acting has been voice work on animated films like 'Brother Bear.' Moranis still releases folk comedy albums, like his 2013 release, 'My Mother's Brisket & Other Love Songs.'
Rosie O'Donnell, Betty Rubble
Then: Though many thought she did not totally look the part of Barney's wife, Betty, Rosie O'Donnell won the role by perfecting the character's signature giggle. Janine Turner, who appeared in the big-screen version of 'Leave it to Beaver,' was also considered for the part.
Now: O'Donnell hosted her own daytime talk show until 2002, and made guest appearances on 'Will & Grace,' 'Nip/Tuck' and 'Drop Dead Diva.' She has a recurring role on the ABC Family series 'The Fosters.'
Kyle MacLachlan, Cliff Vandercave
Then: 'Twin Peaks' star Kyle MacLachlan played the villainous Cliff Vandercave the vice president of the company where Fred and Barney work. Cliff tries to get Fred to unwittingly help him swindle money from the company.
Now: MacLachlan has appeared on 'Sex and the City,' 'Desperate Housewives' and 'How I Met Your Mother,' and portrays the fictional version of Portland's mayor on the IFC series 'Portlandia.'
Halle Berry, Sharon Stone
Then: The role of Cliff Vandercave's assistant Sharon Stone was written for -- no surprise -- Sharon Stone, but she had to back out due to scheduling conflicts. The role was also offered to Nicole Kidman, but went instead to Halle Berry, star of 'Jungle Fever' and 'The Program.'
Now: Berry is reprising the role of Storm in the upcoming 'X-Men: Days of Future Past,' marking her fourth time playing the superhero on the big screen. She also recently appeared in the horror thriller 'The Call' and in the Wachowski's time-spanning epic 'Cloud Atlas.'
Elizabeth Taylor, Pearl Slaghoople
Then: Legendary actress Elizabeth Taylor played Pearl Slaghoople, Wilma's mother and Fred's mother-in-law.
Now: Taylor passed away in 2011. Her many film credits include classics such as 'Butterfield 8,' 'Cleopatra' and 'Who's Afraid of Virginia Woolf?' Taylor was an outspoken and generous activist who donated her time and money to AIDS and HIV projects and charities. She remains one of the most beloved and brightest stars who ever lived.