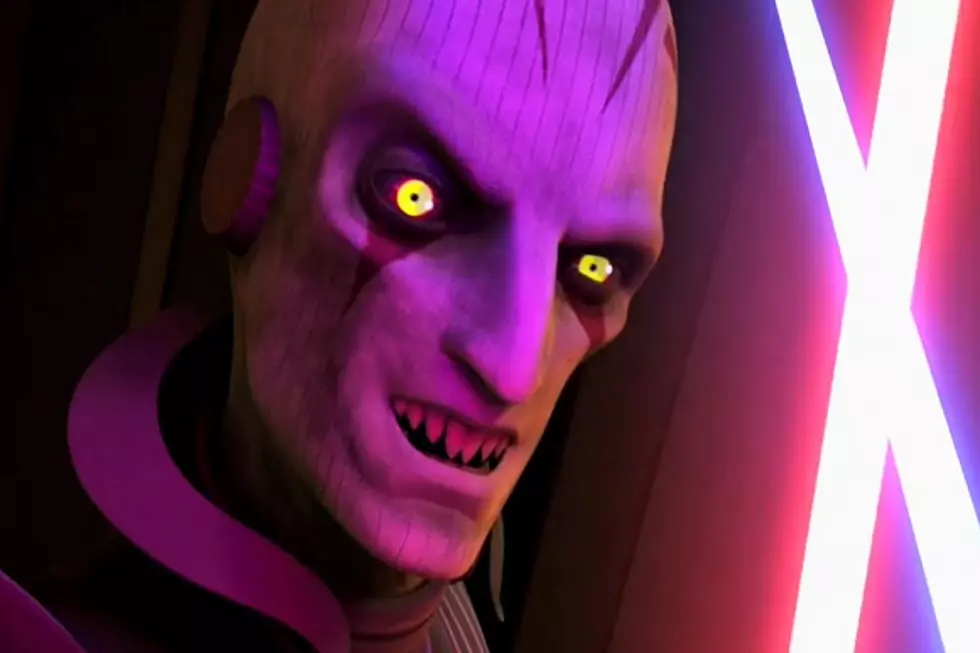 New 'Star Wars Rebels' Clip Pits Kanan Against the Jedi-Hunting Inquisitor
Lucasfilm / Disney XD
Disney's forthcoming animated 'Star Wars Rebels' will see a "Spark of the Rebellion" officially premiering this Friday on the Disney Channel (or right now, online!), but it may be a few weeks yet before the action really takes off on its proper Disney XD home. To wit, catch a brand-new clip beyond the premiere as Kanan takes on the villainous Inquisitor!
Courtesy of USA Today, the latest clip from 'Star Wars Rebels' offers up a new side of the duel between Order 66-survivor Kanan (Freddie Prinze Jr.) and the Jedi-hunting Inquisitor (Jason Isaacs), as the villain taunts Kanan's limited training. For the moment, we know few details of who trained the Inquisitor himself, though he displays his own formidable skills in easily deflecting Ezra (Taylor Gray)'s surprise attack, and continuing the fight.
Whereas executive producer Dave Filoni describes the character as an "evil version of Sherlock Holmes," Isaacs himself had this to offer of the Inquisitor:
Everybody he encounters is so far beneath his skill level that it doesn't tax him. I wanted him to enjoy the chase and enjoy the hunt. He's not in a panic, nothing's about to blow up. He can take on any number of adversaries and still have time to read the newspaper and get his nails done.
Picking up where the canceled 'Clone Wars' left off, here's everything we know from the official 'Star Wars Rebels' logline:
'Star Wars Rebels' continues the epic tradition of the legendary 'Star Wars' saga with all-new exciting, action-packed adventures. It is a dark time in the galaxy, as the evil Galactic Empire tightens its grip of power from world to world. As the series begins, Imperial forces have occupied a remote planet, ruling with an iron fist and ruining the lives of its people.

But there are a select few who are brave enough to stand up against the endless Stormtroopers and TIE fighters of the Empire: the clever and motley crew of the starship "Ghost." Together, this ragtag group will face threatening new villains, have thrilling adventures, and become heroes.
You can also check out out our full report from the 'Star Wars Rebels' panel at Comic-Con 2014, but what do you think? Will 'Star Wars Rebels' illuminate a new corner of the mythology we'd never known about? How might it all connect to 'Star Wars 7?' Watch the clip above and the latest trailers below, and give us your thoughts on 'Star Wars Rebels' in the comments!