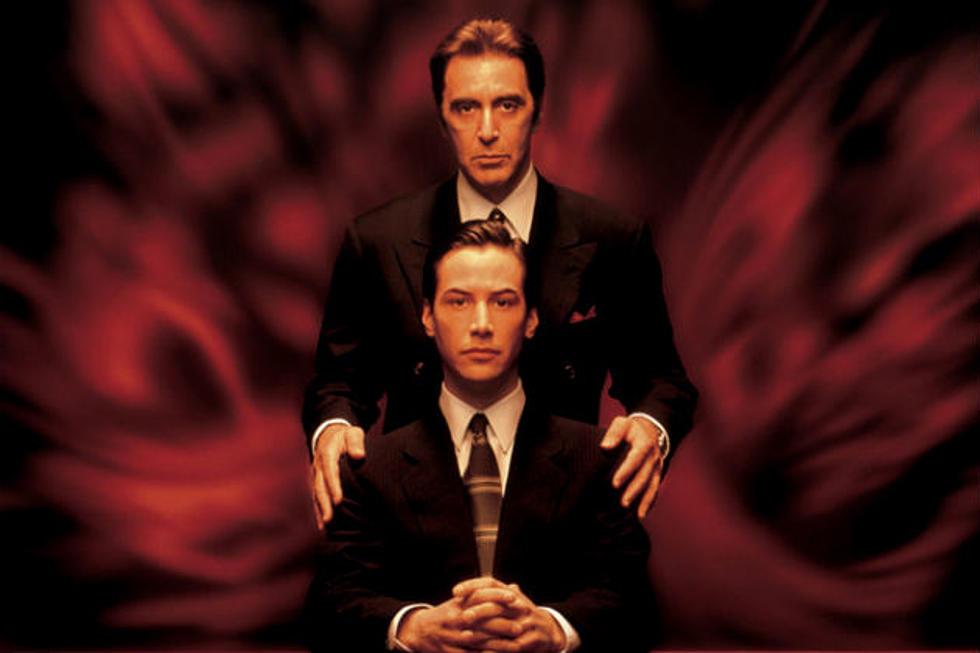 See the Cast of 'The Devil's Advocate' Then and Now
Warner Bros.
Released in 1997, 'The Devil's Advocate' starred Keanu Reeves as an up and coming lawyer who gets in way over his head when he's poached to work for a major firm in New York and discovers that his new boss (Al Pacino) is Lucifer himself. The film was a major success and helped launch the career of Charlize Theron, who went on to become one of Hollywood's biggest stars. 17 years later, we take a look back at the cast of this dark thriller and see what they're up to now.
Keanu Reeves, Kevin Lomax
Then: Keanu Reeves, star of films like 'Speed' and 'Point Break,' played Kevin Lomax, a hotshot southern attorney who defends bad people and is poached by big city lawyer John Milton to join his firm. The film was originally set to be directed by Joel Schumacher with Brad Pitt in the leading role.
Now: Reeves went on to become the star of the 'Matrix' trilogy, and has appeared in the films 'The Gift,' 'Constantine,' 'The Lake House,' 'A Scanner Darkly' and 'The Day the Earth Stood Still.' He became enamored with martial arts while filming 'The Matrix,' and became friends with Tiger Hu Chen, who would star alongside Reeves in Reeves' directorial debut 'Man of Tai Chi' in 2013. Reeves also recently appeared in the box-office bomb '47 Ronin,' and can be seen next in 'John Wick.'
Al Pacino, John Milton
Then: Al Pacino played John Milton, the New York lawyer who hires Kevin Lomax to work for him -- as it turns out, Milton (named after the 'Paradise Lost' author) is Satan himself and has some sinister secrets about Kevin and big plans for his latest hire. Pacino turned down the role five times, unsure if he could handle playing the part, and suggested actors Sean Connery and Robert Redford instead.
Now: Pacino went on to appear in 'Any Given Sunday,' 'Insomnia,' 'Ocean's Thirteen,' and the Adam Sandler comedy 'Jack and Jill.' He portrayed Jack Kevorkian in the HBO film 'You Don't Know Jack,' and re-teamed with HBO to play legendary music producer Phil Spector in 'Phil Spector.' Pacino recently appeared in the film 'Stand Up Guys,' and can be seen next in the David Gordon Green indie film 'Manglehorn.'
Charlize Theron, Mary Ann Lomax
Then: Charlize Theron was an up and coming actress whose previous credits included roles in 'That Thing You Do' and '2 Days in the Valley' when she was cast as Kevin Lomax's kindhearted wife, Mary Ann Lomax, in 'The Devil's Advocate.' Theron was hesitant to take the part as it required full-frontal nudity -- the very reason she previously turned down the lead role in 'Showgirls.'
Now: Theron's career took off after that, and she appeared in films like 'Reindeer Games,' 'The Italian Job,' and 'Monster' -- the latter of which earned her the Academy Award for Best Actress for her portrayal of serial killer Aileen Wuornos. She's also appeared in 'Aeon Flux,' 'Hancock,' and 'Young Adult.' Recently you've seen her in 'Prometheus' and 'Snow White and the Huntsman,' and you can catch her next in the Seth MacFarlane western comedy 'A Million Ways to Die in the West,' the dark crime thriller 'Dark Places,' and 'Mad Max: Fury Road.'
Judith Ivey, Alice Lomax
Then: Judith Ivey played Alice Lomax, Kevin's very religious mother who holds a dark secret about her son's past. Ivey, a Tony award-winning stage actress and theatre director, was also known for her role on the final season of 'Designing Women.'
Now: Ivey continued to appear on stage and direct plays, and has also starred in the films 'A Life Less Ordinary' and 'Flags of Our Fathers.' She had a recurring role on 'Will and Grace' and starred in the Stephen King TV miniseries 'Rose Red.' She's also guest-starred on the shows 'Big Love' and 'Grey's Anatomy,' and had a recent recurring role on 'White Collar.'
Connie Nielsen, Christabella Andreoli
Then: Danish actress Connie Nielsen made her American film debut in 'The Devil's Advocate,' playing Christabella Andreoli, Kevin's sexy and seductive new coworker at the New York firm.
Now: Since then, Nielsen has appeared in films like 'Rushmore,' 'Gladiator,' 'One Hour Photo,' and 'The Ice Harvest.' She starred on the short-lived Starz television series 'Boss' with Kelsey Grammer, which only ran for two seasons and was canceled in 2012. She now stars on the Fox series 'The Following,' and recently appeared in '3 Days to Kill' with Kevin Costner. She can be seen next in the Lars Von Trier sex anthology film 'Nymphomaniac.'
Craig T. Nelson, Alexander Cullen
Then: Craig T. Nelson, former star of the sitcom 'Coach,' played Alexander Cullen, one of Kevin's clients at the new firm -- a billionaire who is on trial for the murder of his wife, her step-child, and their maid.
Now: Nelson has since been seen in the films 'The Skulls,' 'The Family Stone,' 'Blades of Glory,' and 'The Proposal.' He's had recurring roles on 'CSI: NY,' 'My Name Is Earl,' and 'Monk,' and currently stars on the hit series 'Parenthood.' Nelson has also recently appeared in the films 'The Company Men' and 'Soul Surfer,' and guest-starred on an episode of 'Hawaii Five-0.'
Tamara Tunie, Jackie Heath
Then: Tamara Tunie played Jackie Heath, a wife of one of the members of Kevin's law firm -- Jackie befriends Mary Ann, but Mary Ann believes her new friend is tormenting her and trying to drive her insane. Tunie had previously appeared in the film 'Wall Street,' and starred on the shows 'As the World Turns' and 'NYPD Blue.'
Now: You probably know Tunie best as Dr. Melinda Warner from 'Law and Order: Special Victims Unit,' where she's been hanging out since 2000. She also had a recurring role on '24' and recently guest-starred on 'The Good Wife.' Her film credits include roles in 'Snake Eyes,' 'The Caveman's Valentine,' and more recently, 'Flight.'
Heather Matarazzo, Barbara
Then: Heather Matarazzo played Barbara, a young student who accuses her teacher of sexual assault in the trial Kevin is working during the opening of the film. Matarazzo was previously best known for her role in the indie film 'Welcome to the Dollhouse.'
Now: Matarazzo went on to star in the films 'Scream 3,' 'Saved!,' and 'The Princess Diaries' and its sequel. She also starred in 'Hostel: Part II,' and on the shows 'Now and Again' and 'Exes and Ohs.' She hasn't been acting as frequently in recent years, but has appeared in the indies 'Mangus' and 'Culling Hens.' You can see her next in two more indies: 'Malorie's Final Score' and 'Sidewalk Traffic.'
Chris Bauer, Lloyd Gettys
Then: Chris Bauer played Lloyd Gettys, the teacher Kevin is defending at the beginning of the film, who is accused of assaulting his student, Barbara. This was one of Bauer's first big roles -- he also appeared in 'Fools Rush In' and 'Face/Off' that same year.
Now: Bauer went on to appear in '8MM' and 'High Fidelity,' and played Frank Sobotka on season 2 of HBO's critically acclaimed series 'The Wire.' He reunited with his 'Devil's Advocate' co-star Judith Ivey for 'Flags of Our Fathers,' and has guest-starred on a ton of shows, including 'The Good Wife,' 'The Office,' and recently, 'Parks and Recreation.' But you probably know him best as Andy Bellefleur on the long-running HBO series 'True Blood.' You can see him next in the upcoming Brad Bird film 'Tomorrowland' with George Clooney.