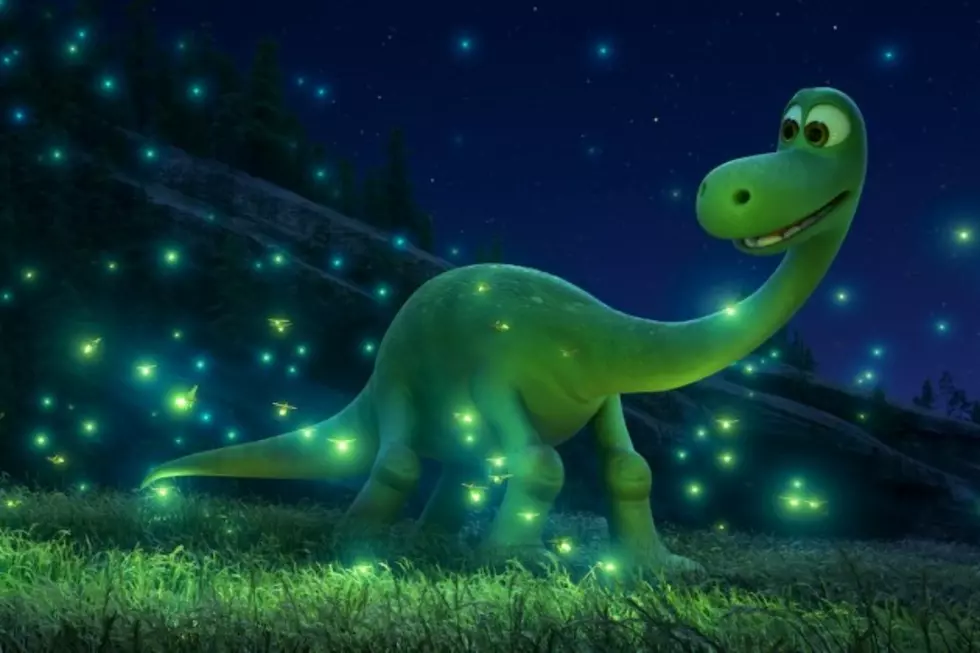 'The Good Dinosaur' Unleashes the T-Rex Gang in New Photo
Pixar
Along with new details on Finding Dory, Toy Story 4 and more, Pixar's D23 animation panel also offered up a preview of their next film, The Good Dinosaur. Directed by Peter Sohn, the new film takes place in a hypothetical world where dinosaurs weren't wiped out — and you really can't have a dinosaur movie without the T-Rex, can you?
During the Good Dinosaur presentation at D23, Pixar revealed a new photo from the film, featuring a T-Rex trio voiced by Sam Elliott, Anna Paquin and A.J. Buckley. Although they are indeed aggressive carnivores, the T-Rex gang will serve as friends to Arlo and his human companion, a boy named Spot. In the film, Arlo serves as the more intelligent character, while Spot is basically like his pet dog.
We caught a sneak peek of The Good Dinosaur a few months back, and it's essentially the same footage they showed off at D23. You can read our full report from the previous presentation here, but suffice to say, we were very impressed with Disney-Pixar's blend of photorealistic backgrounds and more conventional animated characters.
Here's the official synopsis for the film:
"The Good Dinosaur" asks the question: What if the asteroid that forever changed life on Earth missed the planet completely and giant dinosaurs never became extinct? Pixar Animation Studios takes you on an epic journey into the world of dinosaurs where an Apatosaurus named Arlo makes an unlikely human friend. While traveling through a harsh and mysterious landscape, Arlo learns the power of confronting his fears and discovers what he is truly capable of.
The Good Dinosaur also features the voices of Jeffrey Wright, Frances McDormand, Steve Zahn and Raymond Ochoa, and hits theaters on November 25.
The 50 Coolest Pixar Easter Eggs