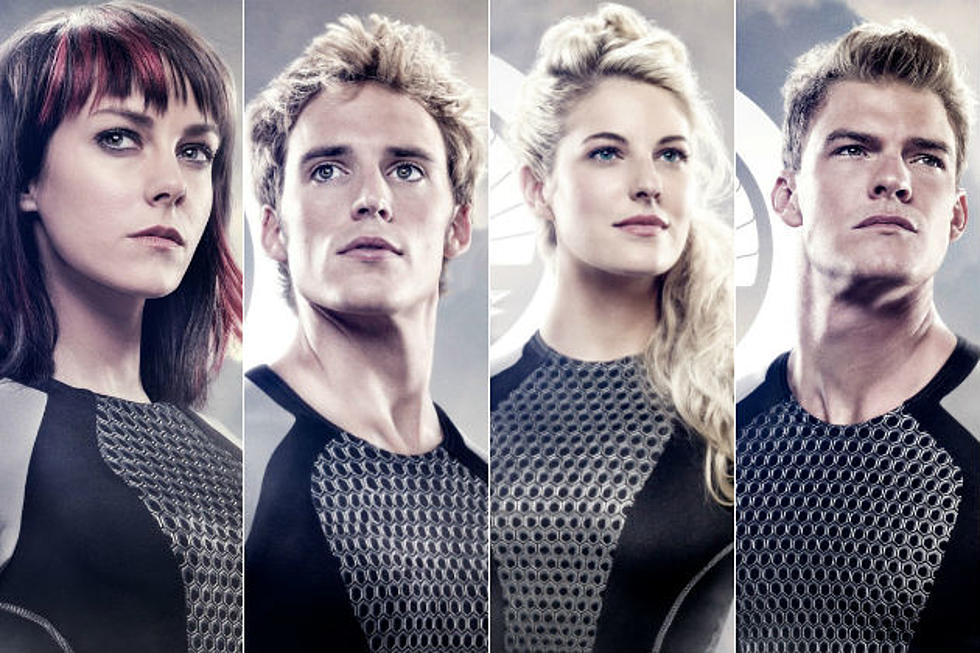 'The Hunger Games: Catching Fire' — Meet Your New Tributes!
Lionsgate
In 'The Hunger Games: Catching Fire,' the 75th annual Hunger Games tournament (known as the Quarter Quell) draws contestants from the existing pool of victors from the 12 districts. Katniss and Peeta go face to face with seasoned fighters and dangerous new foes, but also interesting new allies Finnick, Johanna and Beetee. Joining Jennifer Lawrence and Josh Hutcherson for the fight are new faces like Sam Claflin, Jena Malone and Alan Ritchson. Before you head off to see this exciting new sequel, get acquainted with the new tributes and find out where you've seen them before! 
Sam Claflin, Finnick Odair
How You Know Him: You might know Sam Claflin from 'Pirates of the Caribbean: On Stranger Tides,' in which he played captive missionary Philip Swift, who falls in love with a mermaid. He also played William in 'Snow White and the Huntsman.' The English actor was also featured on TV shows 'White Heat,' 'Any Human Heart' and 'The Pillars of the Earth,' and the British sports film 'United.'
In 'Catching Fire': Claflin plays fan-favorite character Finnick Odair in 'Catching Fire,' a handsome fellow tribute who seems untrustworthy, but may surprise you -- and Katniss. The actor was worried he wouldn't come off as swoon worthy as the book describes him to be, so he worked out like crazy for the part.
Jena Malone, Johanna Mason
How You Know Her: Jena Malone got her start as a child actress with parts in 'Contact' and 'Stepmom,' but her first big role came as Gretchen Ross opposite Jake Gyllenhaal in 'Donnie Darko.' Since then, she's appeared in films like 'Saved,' 'Into the Wild' and 'Sucker Punch.'
In 'Catching Fire': Malone plays Johanna Mason, the outspoken and brassy tribute from District 7 who proves to be an ally to Katniss, Peeta and Finnick.
Jeffrey Wright, Beetee
How You Know Him: Jeffrey Wright made an impression on audiences disappearing into roles like famed artist Jean-Michel Basquiat in 'Basquiat,' and Colin Powell in 'W.' (above left). You may have also seen him on the most recent season of 'Boardwalk Empire' as the evil Dr. Valentin Narcisse.
In 'Catching Fire': Wright plays Beetee, the tech-minded tribute who doesn't have much in the way of physical prowess, but makes up for it with amazing brain power.
Amanda Plummer, Wiress
How You Know Her: Amanda Plummer appeared in several hit '90s films, but you probably remember her best as psychotic characters like Honey Bunny in 'Pulp Fiction' or Rose in 'So I Married an Axe Murderer.' Her father is legendary actor Christopher Plummer.
In 'Catching Fire': She plays Wiress, the female tribute from Beetee's district who is similarly technologically inclined and a little mentally fragile. Together the two are dubbed "Nuts and Volts."
Lynn Cohen, Mags
How You Know Her: Lynn Cohen is best known for playing Magda, Miranda's (Cynthia Nixon) cleaning lady in both the 'Sex and the City' television series and films. She's also appeared in 'Munich' and 'Eagle Eye.'
In 'Catching Fire': Cohen plays Mags, the tribute from Finnick's district who volunteers herself so the love of Finnick's life won't have to risk her own.
Meta Golding, Enobaria
How You Know Her: Meta Golding played Agent Jordan Todd on 'Criminal Minds,' and has also appeared on shows like 'CSI,' 'Dark Blue' and 'Body of Proof.'
In 'Catching Fire': Golding plays Enobaria, the intimidating female tribute from District 2 who files her teeth down so she can rip her competitors' throats out.
Alan Ritchson, Gloss
How You Know Him: Alan Ritchson is a former model who first gained attention playing Arthur Curry/Aquaman on the Superman TV series 'Smallville.' Since then he's appeared on '90210' and 'Super Fun Night,' and was cast in the upcoming live-action version of 'Teenage Mutant Ninja Turtles' as Ninja Turtle Raphael.
In 'Catching Fire': Ritchson plays Gloss, the hunky, blonde tribute from District 1.
Stephanie Leigh Schlund, Cashmere
How You Know Her: Stephanie Leigh Schlund, also known as Stephanie Leigh, is a newcomer who has previously appeared on Lifetime's 'Drop Dead Diva' and in 'The Last Song' with Miley Cyrus. She also worked as a model for 'The Price Is Right.'
In 'Catching Fire': Schlund plays Cashmere, Gloss' sister from District 1.
Bruno Gunn, Brutus
How You Know Him: Bruno Gunn originally acted under the name Bruno Gioiello, appearing on shows like 'Oz,' 'Prison Break' and 'Lincoln Heights' (above left), and in films like 'Bad Teacher.' He also recently appeared in an episode of 'True Blood' as a vamp with Hep V.
In 'Catching Fire': Gunn plays Brutus, the aptly named tribute from District 2, known for his brutality and strength.