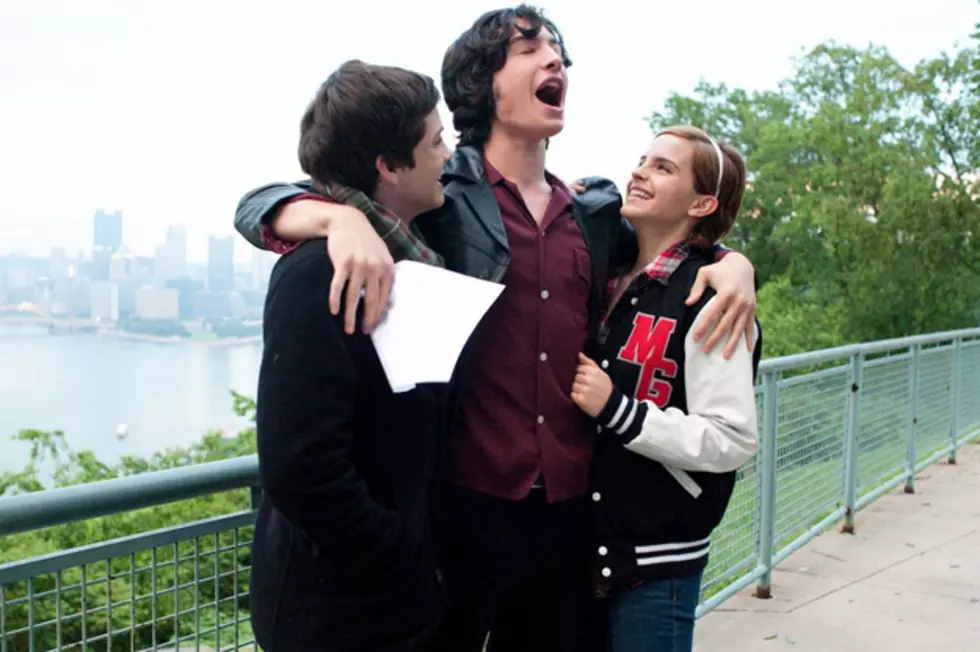 'The Perks of Being a Wallflower' Review
I've discovered this: as one gets older, no matter how contenting daily life may be, the desire to return to one's youth grows so great that even full knowledge of just how miserable the experience was has little extinguishing power. 'The Perks of Being a Wallflower,' a '90s period piece and the latest in a "warts-and-all" look at adolescence knows this, embraces it and even celebrates the horrifying moments of growing up as the ones most worthy of celebration.
Young Logan Lerman's Charlie, dorky in that Zooey Deschanel way, which means only when compared to other plastic Hollywood types, is about to enter high school. He takes prescription pills, writes letters to his best (only) friend who committed suicide last year and his parents frequently fret over whether he's still having troublesome visions.
But he's also a whiz in advanced English and has great insight into literature and the human condition. His teacher (Paul Rudd) sees it, but no one else does because he never opens his mouth. At least, not until he meets Patrick (Ezra Miller), an exuberant, gay senior who takes him under his wing and introduces him to a crowd of cool, freakish kids.
At first it is ambiguous if Patrick's friendship is real. His main concern is keeping Charlie quiet since he witnessed Patrick smooching football jock Brad (Johnny Simmons). Not that Patrick cares, but Brad is deeply closeted with a reactionary father. Charlie is eager to join the club under any pretense, not just because he is starving for companionship, but because he is in love with Patrick's step-sister Sam (Emma Watson.)
Watson, a reformed promiscuous girl (kinda) steals Charlie's heart and, in a way that is so infuriatingly true to life, neither reciprocates nor puts him in the friend zone. They quickly bond over music -- The Smiths, mostly, but XTC, Pavement, L7, Love and Rockets, New Order, Cracker and others round out the soundtrack. They have a chaste love (she's dating someone else) though she makes sure she's his first kiss, because she wants to make sure that's a moment that's special.
While Charlie still has bouts of Aspergian awkwardness, he finds his groove. He and his friends go out to see (and perform in) 'The Rocky Horror Picture Show,' they hang out in the basement, exchange secret Santa gifts and, basically, act like good kids. There are lengthy sequences of the kids just talking, shot unobtrusively and without much fanfare. At times like this it seems less than a movie about the early '90s than a movie from the early '90s.
Unfortunately, director Stephen Chbosky (upon whose novel the film is based) tends to balance these insightful, delicate moments with a great number of BIG MOMENTS that have an air of forced poignancy. Lots of close-ups, lots of voice-over, lots of 'Titanic' "king of the world" iconography, lots of David Bowie's "Heroes." (It actually irked me that a group of music snobs, for whom the phrase "top 40" is the ultimate insult, didn't recognize this song -- but the hunt to find the name of this tune in a world without smartphone apps is a nice callback beat.)
Each of the main characters suffer a dark moment, some more predictable than others, and while the movie lays one right after the other, it wisely does away with easy solutions. It's tough to be a troubled teen and 'The Perks of Being a Wallflower''s only suggestion is to just deal with it as it comes.
The strength of the film comes from the performances. Lerman is great, as is Mae Whitman as Charlie's chatterbox first girlfriend. Emma Watson has a marvelous smile and hypnotizing eyes and is quite effective as a living symbol of perfect love. But the true find, however, is Ezra Miller. Who knew the evil monster from 'We Need To Talk About Kevin' would be so much fun? It is a liberating role and he kills it. He's a major talent and, I suspect, this role will make his a significant star.
I'm not sure if this film will have emotional resonance with everyone who sees it. 'The Perks of Being a Wallflower' has more than a few moments where Lerman and Watson just blurt purple philosophy about love at one another and it can get kind of trying. But, y'know, that's kinda how kids who go see 'The Rocky Horror Picture Show' act. I should know, I was one of 'em.
'The Perks of Being a Wallflower' hits theaters on Friday, September 14, for a limited release.
Jordan Hoffman was the movies editor at Hearst Digital's UGO for four years and currently contributes to SlashFilm, MTV's NextMovie and StarTrek.com. He's made two marginally successful independent movies, is a member of the New York Film Critics Online and was named IFC's Ultimate Film Fanatic of the NorthEast in 2004. Follow him on Twitter at @JHoffman6.