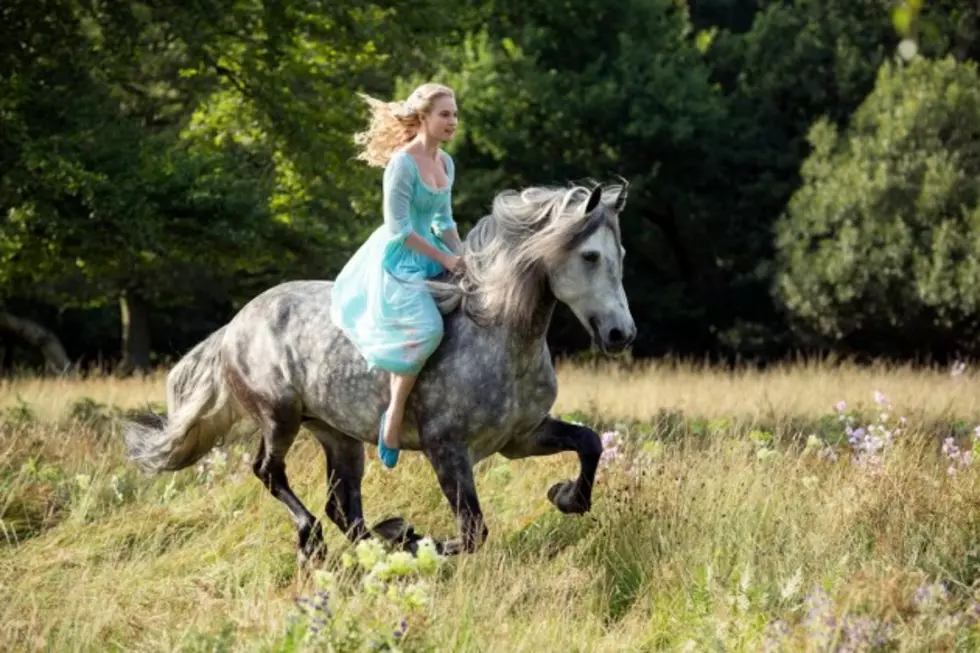 Weekend Box Office Report: 'Cinderella' Reigns Supreme as Liam Neeson Turns Into a Pumpkin
Disney
Suddenly, Disney's upcoming live action version of Beauty and the Beast is looking like a very wise move. After all, their new take on Cinderella shook the box office out of the doldrums, launching with numbers that feel more at home with the summer than March. Yes, it even took down that might spring movie season titan Liam Neeson.
Film
Weekend
Per Screen
1
Cinderella
$72,000,000
$18,726
$72,000,000
2
Run All Night
$10,300,000
$3,248
$10,300,000
3
Kingsman: The Secret Service
$6,200,000 (-25%)
$2,353
$107,373,000
4
Focus
$5,900,000 (-41%)
$2,067
$44,127,000
5
Second Best Exotic Marigold Hotel
$5,700,000 (-33%)

$2,819
$18,060,000
6
Chappie
$5,200,000 (-61%)
$1,624
$22,812,000
7
The SpongeBob Movie
$4,600,000 (-31%)
$1,730
$155,191,000
8
McFarland, USA
$3,700,000 (-29%)
$1,507
$34,982,000
9
American Sniper
$3,000,000 (-32%)
$1,499
$341,569,000
10
The DUFF
$2,900,000 (-39%)
$1,260
$30,317,000
With an opening weekend of $72 million, Cinderella proves that Disney's new commitment to reviving their most popular characters is an effective strategy. It worked for Maleficent last year and it worked here. Considering the family-friendly nature of the film and the fact that everyone actually seems to like it, it should continue to perform well until something much bigger comes along and knocks it off its perch. Unless something goes wrong, this is easily a $200 million dollar gross.
Things weren't so hot for the new Liam Neeson action movie Run All Night. Opening in second place with a rough $10 million, the film represents Neeson's lowest opening weekend since he reinvented himself as an action star. Between this and the ultimately disappointing final gross for Taken 3, Neeson's decision to retire from this genre is starting to look like a good idea.
The rest of the box office belonged to holdovers, with Kingsman: The Secret Service leading the pack. Coming in third place with $6 million, the film has comfortably passed the $100 million mark and has done so without the amount of hype or familiarity that accompanies other blockbusters. That's a huge deal. The fact that it's still hanging around the top of the box office while other more recent films have vanished is a testament to its staying power.
Less successful is Focus, which fell to fourth place with $5 million. Normally, $44 million after a few weeks for a moderately budgeted R-rated con artist movie would be a celebration, but when Will Smith is your star, it's a huge disappointment. Compare that to The Second Best Exotic Marigold Hotel, which came in right under it. Sure, it will ultimately make less money, but it was cheaper, stars mostly older actors and is entirely intended for older audiences. $18 million after two weeks is a victory. It's all about perspective.
And in sixth place, Chappie dropped like a stone to $5 million for the weekend, bringing it to a current gross of $22 million. The only reason we aren't talking about this as the first great bomb of 2015 is because Jupiter Ascending arrived first.