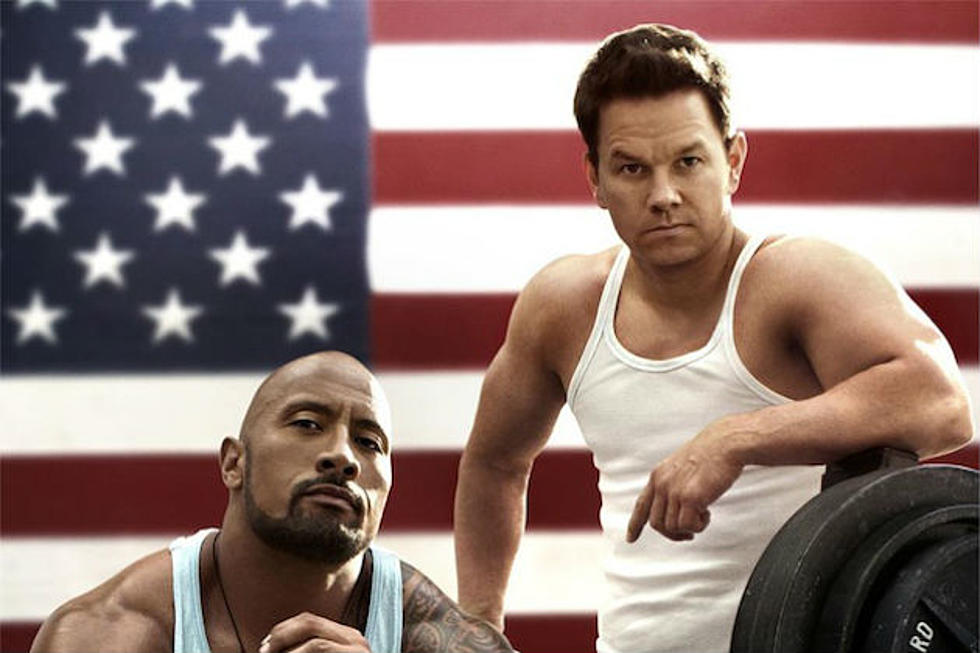 Weekend Box Office Report: 'Pain and Gain' Leads a Slow Weekend
Paramount
Some will call this a slow weekend, but it may be better to think of it as the calm before the storm. Next week, the summer movie season begins and people are saving their pennies for 'Iron Man 3,' so it's not really surprising that this was an uneventful couple of days at the multiplex. At least the folks behind 'Pain and Gain' can be glad that their film led an otherwise quiet weekend.
Film
Weekend
Per Screen
1
Pain and Gain
$20,000,000
$6,103
$20,000,000
2
Oblivion
$17,443,00 (-52.9)
$4,600
$64,731,000
3
42
$10,725,000 (-39.5)
$3,150
$69,079,000
4
The Big Wedding
$7,500,000
$2,848
$7,500,000
5
The Croods
$6,600,000 (-28.5)

$2,010
$163,025,000
6
G.I. Joe: Retaliation
$3,620,000 (-37.2)
$1,337
$116,396,000
7
Scary Movie 5
$3,457,000 (-43.8)
$1,265
$27,494,000
8
Olympus Has Fallen
$2,768,000 (-38.2)
$1,186
$93,076,000
9
The Place Beyond the Pines
$2,699,000 (-45.1)
$1,704
$16,205,000
10
Jurassic Park 3D
$2,310,000 (-43.0)
$1,250
$42,000,000
'Pain and Gain' will probably end up being one of the lowest grossing films in all of Michael Bay's filmography, but it's also the least expensive film he's made to date, costing an estimated $26 million. So it's perfectly okay that it's not going to do 'Transformers' or 'Armageddon' cash. If audiences like it, we're looking at around $60-$70 million at the end of the day and that's not bad for a passion project about 'roided out criminal numbskulls. In any case, it's certainly going to outgross 'The Island,' which remains the biggest bomb in Bay's career ($35 million gross against a $126 million budget).
In second place, 'Oblivion' took a stiff 52% drop to $17 million with a current total gross of $64 million. The Tom Cruise sci-fi film needs at least $120 million to even start to break even, so this was not the numbers everyone wanted or needed...especially with the summer juggernauts on the way. If this was a few weeks ago, it could be argued that 'Oblivion' would have enough power to push through and break $100 million, but with 'Iron Man 3' prepared to steal most of its audience next week, the film could be in trouble.
But enough doom and gloom! In third place, '42' continues to be one of the year's most surprising and quiet hits, earning another $10 million for a $69 million gross. The Jackie Robinson biopic has effortlessly flew past expectations, so the big question now is just how much of a hit this thing is going to be. $100 million? Maybe?
And then we get to fourth place, where 'The Big Wedding' bombed because it looked bad, got bad reviews and had next to no marketing. Next!
Below that, 'The Croods' has finally started slowing down with $163 million in the bank, but  the legs on this one have surprised us before. $200 million is still a possibility, especially since 'Monsters University' is still a few months away. After all, a lot of kids are going to get excited for 'Iron Man 3,' but not all of them.
In fifth place, 'G.I. Joe: Retaliation' is running on fumes, but the fact that it's knee deep in the $100-millions is enough to let everyone save face (although it somehow didn't do the business of its predecessor). Speaking of fumes, that stinky you smell is 'Scary Movie 5,' which plummeted to seventh place and will probably vanish from the planet by next week.
In the final stretch, we have 'Olympus Has Fallen' reaching for that $100 million (it'll probably make it, but if'll be close), 'The Place Beyond the Pines' breaking even with its budget and 'Jurassic Park 3D' stepping out of the top ten with a shrug.
'Iron Man 3' opens next week. Batten down the hatches.