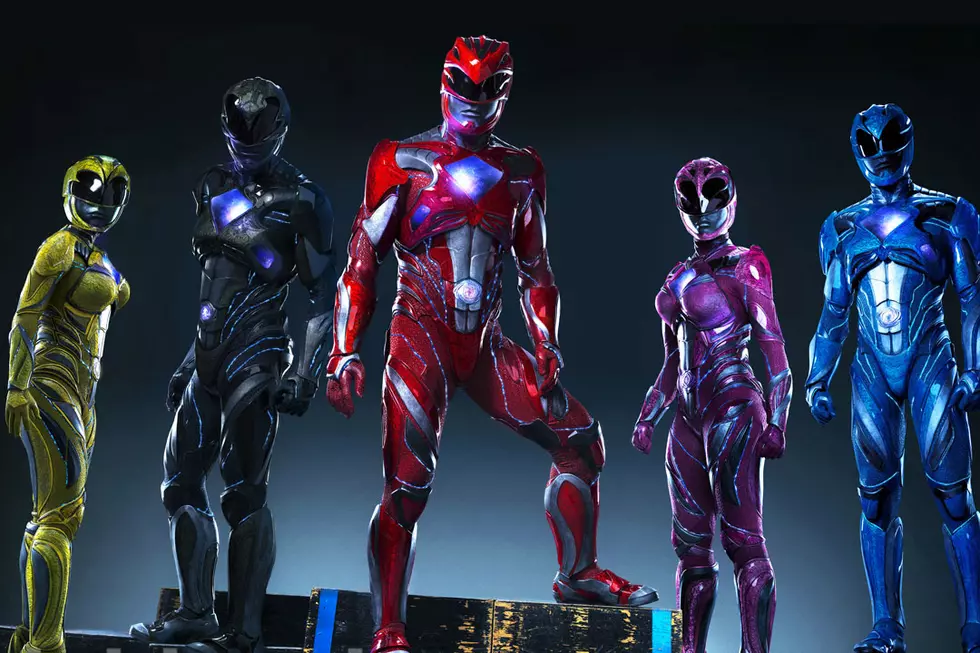 When Did March Become Part of Summer Movie Season?
Lionsgate
The high temperature in New York City last Sunday was 44 degrees. The official start of summer is still 113 days — almost four full months — away.
But in Hollywood, summer starts in two days.
That's when Logan, the latest X-Men spinoff, opens in theaters. And it's far from the only blockbuster hitting theaters this month. At least one "summer movie" opens every single weekend in March. On March 10th, Kong: Skull Island, a prequel to Godzilla (which opened in May of 2014), hits theaters. Seven days later, there's Disney's live-action version of Beauty and the Beast, which will almost certainly become one of the highest-grossing movies of the year. A week after that, we'll get Power Rangers, a lavish adaptation of the kids television series. And then March closes with Ghost in the Shell, with Scarlett Johansson in Hollywood's version of the most iconic anime of all time.
Five weeks in March, five tentpole films. That's more than get released during many actual summer months (Last August, for example, there were really only two: Suicide Squad and Pete's Dragon.) It's certainly the most extreme example to date, but for years now the summer movie season has acted like The Blob: Slowly but persistently expanding, devouring everything in its path. That begs the question: How did we get here? When did early March become the new Memorial Day?
For most of the early 2000s, March was a bit of an island in the movie calendar, isolated from the blockbusters of the summer and the dregs of January and February. The top March movies were typically children's films (Spy Kids, Ice Age, Agent Cody Banks, Robots), but there was also room for horror, comedy, and even a few mid-level dramas — movies like The Mexican with Julia Roberts and Brad Pitt or Hidalgo with Viggo Mortensen. March was traditionally a time for smaller movies with large potential; the first Matrix, for example, opened at the end of March in 1999.
The first movie to really shift March from spring to summer was 2007's 300, Zack Snyder's hyper-stylized adaptation of the Frank Miller graphic novel of the same name. On a budget of around $65 million, and with basically no famous actors, 300 became the first movie to open in March and gross more than $200 million at the domestic box office. 300 would be credited with broadening the comic-book movie genre, launching Gerard Butler's career, and pushing Snyder onto the A-list of directors. More quietly but arguably more importantly, it proved that March was a month that could support big movies, and in turn deliver big grosses, particularly because back then there was so little competition for that blockbuster audience.
If 300 started the trend, 2010's Alice in Wonderland cemented it. Tim Burton's epic live-action version of the animated classic was the first March movie to make $300 million in the U.S., on its way to grossing more than $1 billion worldwide. Alice's shocking success was largely attributed to the fact that it was the first major movie in 3D after Avatar, which set box-office records in late 2009 and early 2010. In April of that year, NPR published an article with the headline "March Is the New May," crediting the sudden influx of larger spring movies to the sudden popularity of 3D.
A 3D movie has topped the box-office charts for seven of the last eight weeks — and came in second by just a smidge in the eighth. All of which would be fine if the landscape were littered with 3D screens ... In other words, the summer is so crowded with 3D pictures that the only way to get much playing time is to open early. That's why movie producers are starting to see May as the new June — and March as the new May.
Summer movies' transition into March might have been one of technical necessity, but in 2017, 3D screens are both far more prevalent and far less of a selling point. (By 2015, there were over 16,000 3D movie screens in the United States; by 2014, analysts were predicting the end of the 3D bubble.) But the flow of blockbusters in the spring months hasn't slowed as the demand for 3D declined; if anything, it's increased. Last year, two different March movies grossed more than $300 million (Zootopia and Batman v Superman: Dawn of Justice). March 2017 could easily match that, along with two or three more films with domestic grosses in excess of $100 million grosses.
If studios first focused their attention on March because of the lack of competition, now there's arguably too much of it. So why stay? There's another issue at root here: Blockbuster fatigue. Google search that phrase (or the similar "summer movie season") and you'll find thousands of articles on the subject. Even before tentpoles planted their flag in March, the summer movie season was five months long; two months longer than the actual season it's named after. No wonder people get tired of these films; now that "summer movie season" has expanded into March, we're literally talking about half the year devoted to these lumbering cinematic beasts.
With all those summer movies, it's imperative for studios to get their product out early, before audiences begin to get tire of the nonstop assault of superheroes and aliens. It's like Ricky Bobby said: If you're not first, you're last. That's why this trend is only going to get worse. Next March there's six mega-movies scheduled: How to Train Your Dragon 3, Deadpool 2, Wreck-It Ralph 2, Tomb Raider, Robin Hood: Origins, and Steven Spielberg's Ready Player One. By that point, the summer movie season will have already begun weeks earlier — The Predator, Pacific Rim: Maelstrom, and Marvel's Black Panther will have all already opened in February of 2018.
It might be time to retire the term "summer movie season." There is no season anymore. There's just summer movies.