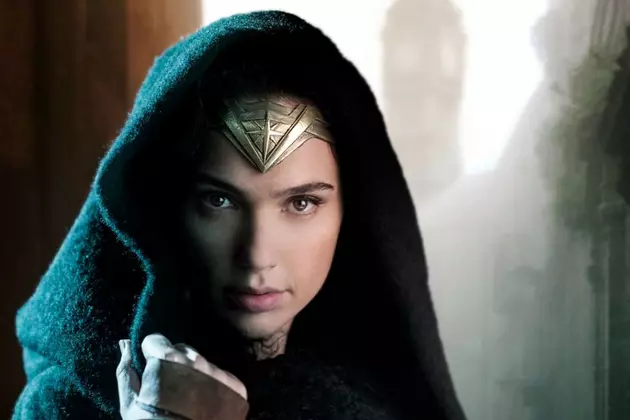 'Wonder Woman' Set Photos Take Gal Gadot and Chris Pine Back in Time
Warner Bros.
As has been heavily rumored since last year, we know that at least part of the Wonder Woman solo film will take place during World War I, a fact supported by the first set photo of Chris Pine and co-star Said Taghmaoui, and reiterated by the latest batch of images from the set of the highly-anticipated solo superhero outing. The new photos reveal what Gal Gadot's Diana Prince looks like in WWI-era civilian clothing and offer another look at Pine.
The photos below came from The Daily Mail and feature Gadot in civilian clothing, with a wool button-up jacket and matching dress in a look that combines the feminine style of the time with a slight military / utilitarian vibe.
Warner Bros. recently released the first official image from the solo film, featuring a cloaked and hooded Gadot as the iconic superhero, and while we've already seen the actress in full superhero costume via the Batman v Superman: Dawn of Justice trailer, this is our first look at how she'll appear among the people of our world.
It's also been rumored that Pine is playing two roles in Wonder Woman: that of longtime love interest Steve Trevor, as well as Trevor's grandfather, who travels to Diana's home of Paradise Island and brings her back to our world in the early 20th century. The younger Trevor will encounter Diana in present day and the two will team up.
As for the villains, it's been suggested that Wonder Woman will battle Ares and Circe, with Sean Bean and Eva Green reportedly eyed for those roles, though neither have been confirmed.