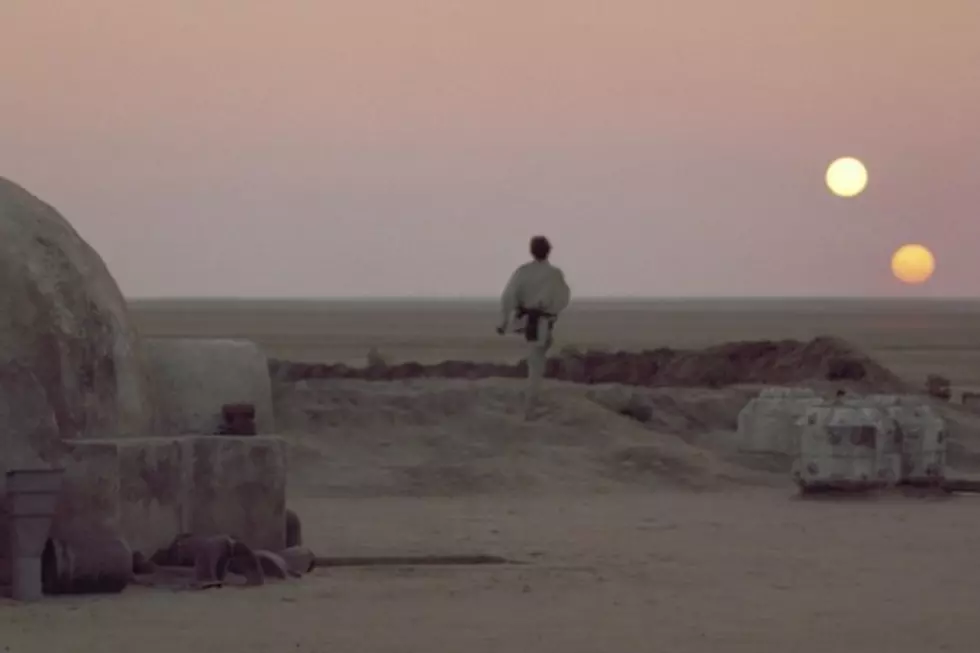 WookieeLeaks: The Most Important Planet in the 'Star Wars' Universe
Lucasfilm
ScreenCrush's WookieeLeaks is a weekly roundup of everything Star Wars! From Star Wars: Episode 7, to the upcoming spinoffs and the TV shows, if it pertains to that long ago, far away galaxy, we're covering it here, bringing you our expert analysis. This week, Oscar Isaac and explains why his uncle is in The Force Awakens, the new trailer gets teased, and the most important backwater planet in the galaxy shows up again.
The Next Star Wars: Episode 7 Trailer is Arriving Exactly When and Where You Expected
This week, it was revealed when the next trailer for Star Wars: The Force Awakens would premiere is the news shouldn't surprise anyone who has been paying attention for the past three months. In fact, it's exactly when early rumors have placed it and it's exactly where anyone who knows a thing or two about promotion would have guessed. The new Star Wars trailer will first premiere at a special panel at this year's Star Wars Celebration and it will be attached to every screening of Avengers: Age of Ultron on May 1.
This new confirmation arrived via Collider, but anyone who knows that Disney owns both Marvel and Lucasfilm could have told you. Why would they not premiere the new trailer at a convention dedicated entirely to Star Wars and Star Wars alone, where thousands of fans could create instant excitement? And why not attach the trailer to the only 2015 release that is as anticipated as The Force Awakens? It's just smart marketing and as we've written about before, no one is better at marketing than Disney.
If you're still looking for something a little more official, note that the official Twitter feed for Regal Cinemas tweeted about the trailer being with Age of Ultron, only for the post to get deleted a few minutes later. Someone jumped the gun (and the social media intern probably got a stern talking-to), but that should convince anyone that this is the plan ... and that Disney's corporate assassins are as frightening as you've imagined.
The next big question is when people who don't attend Celebration will get to see the trailer and if they'll have to wait until May 1. Our educated guess: it will be online before then. In fact, we imagine it will go online shortly after its premiere at Celebration to stave off the numerous crummy bootlegs that will surely surface in the days (Hours? Minutes?) after it's first screened. We're not going to promise you anything, but we think you'll be able to watch some new Star Wars footage in about two weeks.
The Most Important Place in the Universe is in The Force Awakens
When it was announced that some of Star Wars: The Force Awakens would be shot in Abu Dhabi, everyone immediately assumed "Oh, they're going back to Tatooine again." This was repeatedly denied. When the first trailer showed scenes set in a vast desert, everyone once again started chatting about Tatooine. This denied again. According to everyone officially involved in the production, the home planet of Anakin Skywalker is not in The Force Awakens. This is a completely different desert planet.
And then this image popped up on the official Star Wars Celebration website, teasing the panel that everyone knows is actually the screening of the next trailer.
The folks over at Star Wars 7 News thought that planet looked familiar, so they went to the Tatooine Wiki page and, lo and behold, it sure looks similar. Scratch that. It looks identical.
We're not going to take this as total confirmation that the desert planet in The Force Awakens is Tatooine, but director J.J. Abrams loves his little marketing games and he loves leaving clues like this out in the open. We wouldn't put it past him to deny that Tatooine is in the movie for six months and then reveal that it is in the movie through a little image tucked away on a convention website.
And let's say that this is Tatooine. Let's say the scummy, crime-infested backwater planet that Luke Skywalker was so desperate to escape from is in the new movie. That means that this insignificant nothing of a planet will be present in six out of the seven Star Wars movies. That would make it the most important place in the universe and the central hub of all activity in the galaxy. Not bad, little desert planet. Not bad at all.
Oscar Isaac and Ben Mendelsohn Chat About Star Wars
The great Oscar Isaac stopped by The Tonight Show to promote something that wasn't Star Wars, but that certainly didn't stop Jimmy Fallon from asking about his new role in the saga. And since the Disney snipers were watching, Isaac didn't say anything about the movie itself. Instead, he told a charming story about how his uncle, a huge Star Wars fan, visited the set and was given a small role in the movie.
J.J. Abrams: you are a frustrating marketer but you seem like a cool guy. You are welcome to come to our homes and drink our blue milk any day.
Speaking of wildly talented characters actors attached to the Star Wars universe, Ben Mendelsohn sat down with EW to talk about his Netflix series Bloodline and ended up fielding questions about the rumors that he was going to join Felicity Jones in Star Wars: Rogue One. Although he neither confirms or denies the casting, he did make it very clear that he's a lifelong fan of the saga.
In fact, his enthusiasm is palpable and totally endearing:
I'm the kid who had the whole set of trading cards. Enormous! I mean, I was born in 1969. The first one comes out in what, '77? The first Star Wars film was an enormously important. I grew up right smack-bang in the sweet spot of all of those. It's true cinema magic. It's fair to say that as a kid I would have been very happy to be Han Solo, and I would have been happy to have gone out with Princess Leia. If I could have had Chewie at my side through some difficult times, forget about it.

...

You want to be Luke, spiritually, but swagger-wise, you want to be Han Solo. Well, you want to be Luke ability-wise, because let's face it: he's got the whole Force thing going on. And it's strong. It's strong. It's hard to overstate what a big deal that initial trilogy was for me, so certainly any talk of anything, I'd be thrilled if they were thinking about stuff like that. I heard about all of this hoopla yesterday or something. Who knows? Certainly, that would be very exciting.
It's crazy that actors as good as Oscar Isaac and (hopefully) Ben Mendelsohn are starring in these new movies. The days of wincing through Hayden Christensen's acting seem so very, very long ago.
Yes, Star Wars: Battlefront Will be at Star Wars Celebration
File this one under "duh": footage from the upcoming Star Wars: Battlefront video game will premiere at Star Wars Celebration.
Of course it will. There hasn't been a proper Star Wars video game in a few years not and fans are chomping at the bit to get a glimpse of a major new release like this. The news that the first trailer played at this year's Game Developer's Conference to a positive response has only increased the anticipation. The fact that it didn't leak soon afterward is actually genuinely surprising.
Anyway, fan patience was rewarded when Electronic Arts officially announced the game's presence at Celebration:
It seems like such a long time ago (at an E3 press conference far, far away) since we announced we were working on Star Wars™ Battlefront™. Last year, we promised you would "See More in Spring 2015". Spring is coming.

We're thrilled to share that Star Wars Battlefront will be taking part in Star Wars™ Celebration next month in Anaheim, CA from April 16-19. We could not think of a better or more appropriate place to debut the game officially for the first time than the premier event that celebrates the Star Wars universe and the legions of fans who have fallen in love with it.

We'll have more information in the coming weeks. To stay on top of all of the latest Star Wars Battlefront news, follow our EA Star Wars social channels Facebook, Twitter, Instagram, YouTube and Google+, your official sources for information about all of the new Star Wars games from EA. We have a lot of exciting news to share with you about all the EA Star Wars games we are working on in partnership with Lucasfilm, so make sure you subscribe, follow and Like to get all of the latest and greatest info.
And if you thought fans were nutty before getting satiated with a proper announcement, they lobbed so many questions at EA at they were forced to put out another press release with even more details:
It has been hard to keep these secrets from the community, but we're excited to announce that we will be hosting a panel at Celebration on April 17th, kicking off at 10:30AM PT, where we will debut the official reveal trailer for Star Wars Battlefront. Make sure to get to the show early to secure your seat. But that is not all… All attendees will have a chance to see gameplay behind closed doors during the show at our official booth along with a few other activities starting that Friday.

Not going to the show? We know fans of Star Wars Battlefront span the entire globe, so we definitely do not want to leave you out in the cold without a tauntaun. Make sure to watch our official EA Star Wars channels and website during the show to be among the first to see our official reveal trailer and to learn more about Star Wars Battlefront.
Like with the new The Force Awakens trailer, you can expect whatever footage screens at Celebration to show up online soon afterward.