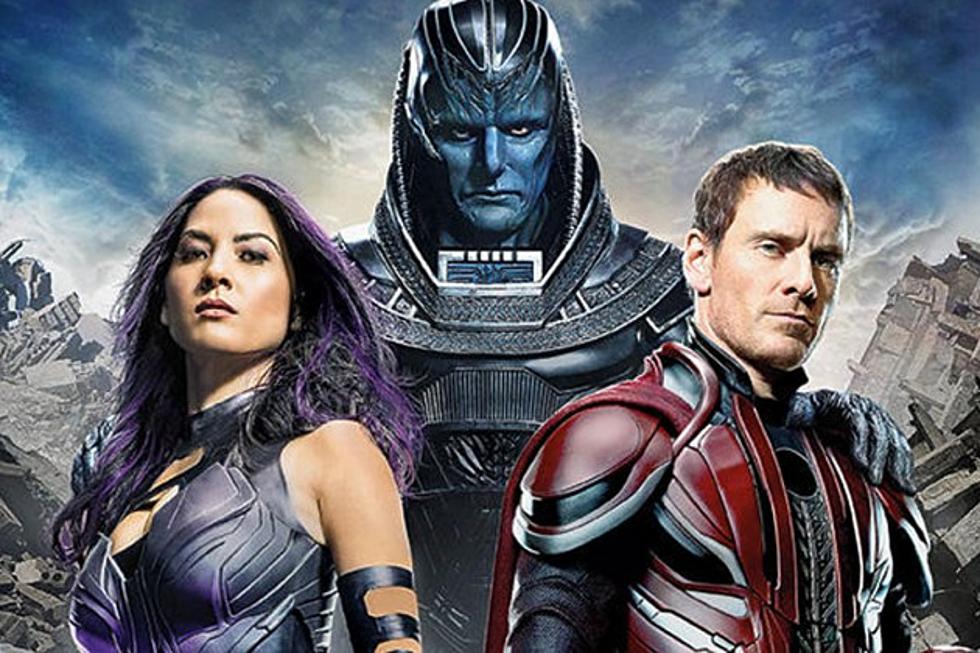 'X-Men: Apocalypse' First Look: Get a Closer Look at the Film's New Villains
Entertainment Weekly/20th Century Fox
Oscar Isaac? Is that you?
Yes, apparently it is. Isaac plays the title villain in the upcoming X-Men sequel, X-Men: Apocalypse. The character, an immortal mutant from ancient Egypt, is typically portrayed with an extremely elaborate harness, weird wire lips, and crazy blue and chalk-white skin. You had to wonder if director Bryan Singer would go another direction with Apocalypse to make Isaac more recognizable to viewers.
Via Entertainment Weekly and Heroic Hollywood, we've now got our first look at X-Men: Apocalypse and its cast. At first glance, that Apocalypse costume is mighty elaborate, and pretty close to the version in the comics, down to the wires, the helmet, and the elaborate shoulder harness. It's so ornate and detailed I genuinely don't recognize Isaac under all that stuff.
The other new cast member on the cover is Olivia Munn, who is both very recognizable as herself and recognizable as her character, Psylocke. Her costume (complete with red sash and sword) is maybe the most faithful to the comics in the entire history of Bryan Singer X-Men movies. At least as far as appearances go, she was a great choice for the role.
Y'know who doesn't look great though? Michael Fassbender as Magneto. Mags outfit in X-Men: Days of Future Past was probably the best Magneto costume yet. The one for Apocalypse, on the other hand, looks like a big, bulky mess. Yikes.
Below you'll also see shots of the new Storm (Alexandra Shipp), Cyclops (Tye Sheridan), Nightcrawler (Kodi Smit-McPhee), and Jean Grey (Sophie Turner). Plus, the debut of Jubilee (Lana Condor)! And more shots of Apocalypse who, supposedly is Oscar Isaac. Frankly, I'm not sure I believe it.
X-Men: Apocalypse opens in theaters on May 27, 2016.