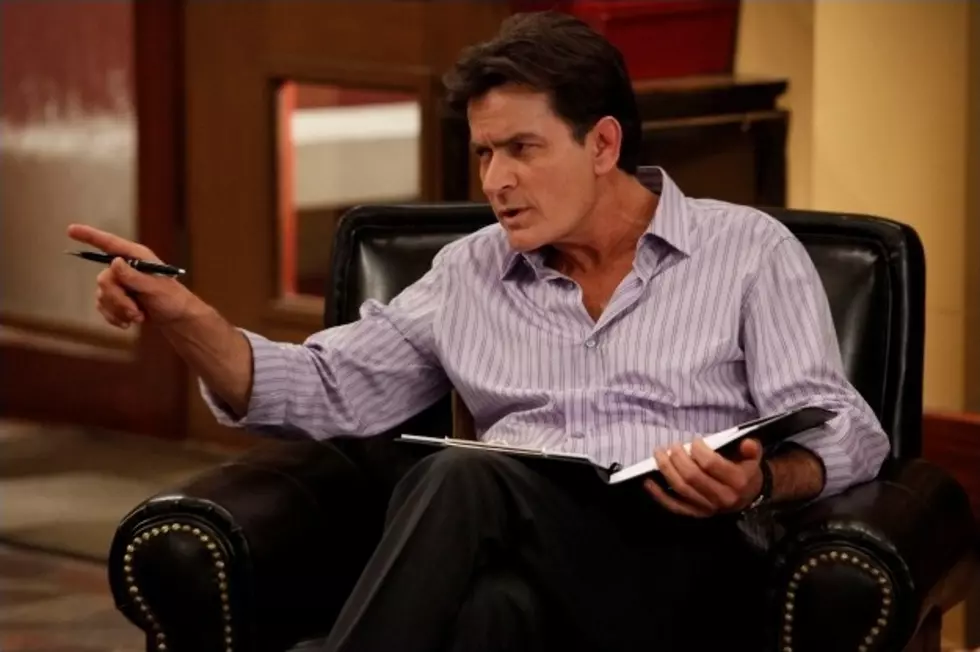 'Anger Management' Series Premiere Review: "Charlie Goes Back to Therapy"
Welcome back to TV, Charlie Sheen! 'Anger Management' season 1 unleashes its very first episode, as Charlie Goodson finds himself conflicted between an angry outburst at his ex-wife's new boyfriend, and his "friends with benefits" style relationship with Katie (Selma Blair), the only other therapist he trusts to help him manage his temper.
So, is 'Anger Management' more of the same from Charlie Sheen, following his endlessly debated exit from 'Two and a Half Men,' or is the show something new, winning and different for the actor?  What will season 1 of 'Anger Management' bring out in all of us?
Read on for your in-depth recap of everything you need to know about 'Anger Management' series premiere part 1, "Charlie Goes Back to Therapy!"
We open on Charlie Goodson (cough, Sheen) addressing the camera directly, ranting about how he can't be fired, and that replacements just won't cut it (gee, doesn't this sound familiar?), when the scene cuts to Charlie talking to a standup boppingbag, as a demonstration for the Anger Management session being held in his home.  Of the three patients, there's bigoted Vietnam veteran Ed, out and proud (but angry) Patrick, and Nolan, who's attracted to angry women!
Of course, enter Lacey, a beautiful (but angry, get it?) woman who immediately protests being there, and asks Charlie to sign the sheet so she can leave.  Already, she's off on the wrong foot by damaging Charlie's neighbor's lawn, but the neighbor can't really help letting her go.  As for her sin:  She shot her cheating boyfriend in the balls.  What's so angry about that?
Charlie explains a bit of his back-story, how he was once a baseball player who - upon moving to the pros - promptly overreacted to fan's grab of a pop fly, and accidentally broke his knee trying to break a bat over it.  Enter Charlie's daughter Sam, who's OCD is acting up on account of what her mother's new boyfriend Sean told her: there's no use in going to college these days, considering the unemployment rate among graduates!  Charlie does his best to convince her otherwise, but Sean's college-free career and Ferrari seem to speak just a little louder.
Later, Charlie and fellow therapist Kate end a session of their own (HINT HINT SEX), Charlie swearing that he'll always honor their completely loveless sexual relationship.  Before long, Charlie has to get going to have a talk with his wife's new man.  When he arrives, Sean is already present, sticking to his guns about Sam not needing to go to college, but when he steps over the line insulting the girl, Charlie nearly breaks a lamp over his face!  Sam arrives just in time to stop the disaster, but the incident isn't lost on Charlie.
Over at Charlie's favorite bar, he makes smalltalk with his bartender friend Grace Brett, before his wife arrives to remind him he nearly had an outburst, and screwed up her relationship in the process.  Later, Charlie councils a number of prison inmates pro bono, who don't really seem to understand the importance of controlling their anger, even as Charlie relays how it almost caught up with him recently.
Back at home, Charlie shoots down his neighbor's inquisition about hot patient Lacey, as Charlie realizes that he needs to go back to therapy, the only one he trusts to help him unfortunately being Kate.  Realizing he'll have to end their sexual relationship to receive treatment, Charlie visits her office, and nearly finds himself falling back into old habits before subtly shifting the affair into a therapy session.  Kate assures him that if he needs therapy, she'll help, but they'll have to maintain their ethics by keeping things platonic from now on.
Later, Charlie arrives back at his wife's home looking to apologize to Sean to make amends, though the man hardly seems in the mood.  Why, you ask?  Maybe because Jennifer just dumped him for being too opinionated!  So long, Ferrari.
The next day, Charlie shares a breakthrough in therapy with Kate that his anger was rooted in feeling like he's only around for his daughter half the time, and sheepishly asks for a hug at the end of the session.  Of course, we all know what hugging our ex leads to, and to justify the backslide, Charlie offers to become her therapist as well, circumventing the therapist's code on a technicality!  As the two prepare to study one another all over, Charlie whips out his box of condoms.  Class.
Bottom line, you know everything you already need to know about this series.  It's Charlie Sheen in a laugh-tracked three-camera sitcom, which is different for FX, but not really taking advantage of cable boundaries in the ways that 'Two and a Half Men' couldn't on CBS.  We certainly weren't laughing at Charlie's new effort, which - judging by the opening scene alone - reeks of a concept carried too far beyond a reaction to Sheen's firing.
So if you like Charlie Sheen and quippy jokes that get an invisible audience laughing, 'Anger Management' will be for you.  Us?  Well, we'll probably join the thousands of TV critics making jokes that 'Anger Management' will land us in actual anger management for frustration with its banality.  Seacrest out.
Did you like the premiere of 'Anger Management,' or did it make you want to punch a wall?  What did you think about the episode?  Join us  for another all-new episode recap of 'Anger Management' series premiere "Charlie and the Slumpbuster" on FX!