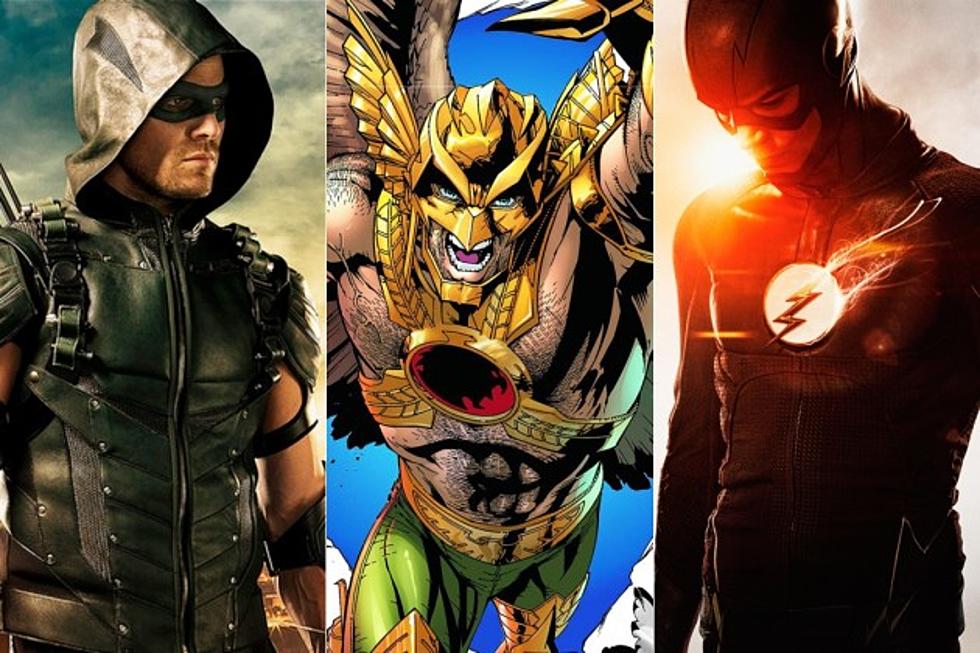 Hawkman Will Be Introduced on 'Arrow' or 'Flash' Before 'Legends of Tomorrow'
The CW / DC Comics
A few days ago, Arrow producers offered a bit more insight into the Legends of Tomorrow table-setting both it and The Flash would endeavor in their new episodes this fall. Not only does that apparently extend to the introduction of Hawkman as well, but so too do we have our first real character details of the Legends incarnation.
Both Arrow and The Flash's creative minds revealed at Comic-Con 2015 that Hawkman would join Ciara Renee's Kendra Saunders at some point for Legends of Tomorrow, though Entertainment Weekly reports that we'll likely meet Carter Hall on one of the mothership series first. That would track with The Flash's last-minute inclusion of Renee's character during the season finale, though few major details, casting or otherwise, have been revealed of our new Hawkman just yet.
That said, the report also offered a key aspect of the relationship between our Hawkman and Hawkgirl:
Described as charismatic and wise beyond his years, Hawkman is a natural-born leader with an abundance of charm and confidence—well, that's because he's 5,000 years old. Much like the comic book iteration, Carter retains his memories of his past lives each time he is reborn, though his lover (aka Hawkgirl) is born anew. In other words, Kendra Saunders will have no idea who he is at first.
So reads the official Legends of Tomorrow description:
When heroes alone are not enough… the world needs legends. Having seen the future, one he will desperately try to prevent from happening, time-traveling rogue Rip Hunter is tasked with assembling a disparate group of both heroes and villains to confront an unstoppable threat – one in which not only is the planet at stake, but all of time itself. Can this ragtag team defeat an immortal threat unlike anything they have ever known?
It stands to reason, then, that Hawkman may end up cast before long, but depending on his Legends of Tomorrow significance, who might be best to don the wings and mace?
Check Out 100 TV Facts You May Not Know!