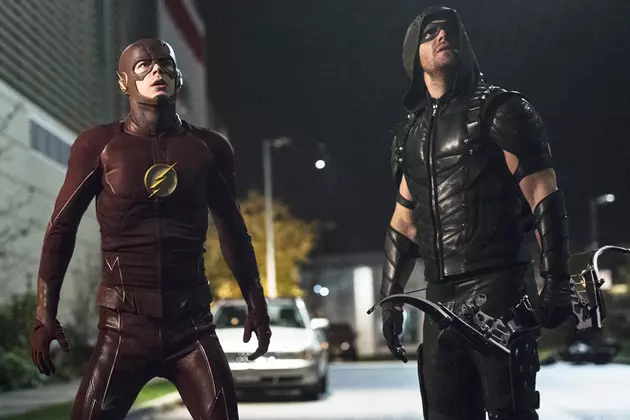 Stephen Amell Downplays 'Flash' Twist Affecting 'Arrow' Season 5
The CW
The fourth season finale of Arrow ended on a fairly low-key "Schism," disappointing a throng of fans who tuned into see if a time-turning Flash twist one-night earlier would ripple out across The CW's DC dramas. The Arrow finale went by with nary a mention of Central City, but star Stephen Amell thinks the emerald archer will be back to basics in Season 5, rather than dealing with time-travel twists from another series.
You're warned of full Arrow and Flash spoilers from here on out, but the only real twist permeating last night's "Schism" finale saw Oliver ascending to the office of Star City's mayor, while the majority of the team went their separate ways. Barry's name curiously never cropped up (it was a world-ending conflict, after all), but before we head down the rabbit hole of Barry's "Flashpoint" twist having erased the Scarlet Speedster from the timeline, Amell told ComicBook.com Arrow Season 5 was likely to keep things simple:
I don't know [about 'The Flash' finale]. I do know that we've done a lot of work on Arrow to introduce the other shows, for lack of a better term, and now that that's all done, we're focused on doing the things that we do well for Season 5 … Arrow is at its best when we're dealing with problems in Star City. We're not a time-travel show, we're not a multi-Earth show, though obviously [we do that] with crossovers and stuff like that. We're Arrow, we deal with Star City, and I feel like we'll be better off focusing on that.
Indeed, Arrow Season 5 marks a pivotal one for the series, to finally catch up flashback Oliver to the outset of Season 1, ostensibly completing the initial five-year vision. It wouldn't make much sense of Arrow to spend its early Season 5 hours kowtowing to a new status quo set by The Flash, though one certainly imagines the sci-fi spinoff (and its own less-grounded Legends of Tomorrow offspring) could tip its hat to changes having rippled through the various timelines.
Check Out 100 TV Facts You May Not Know!