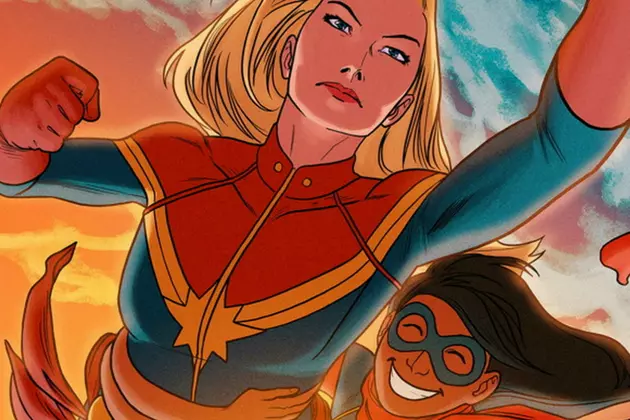 Brie Larson Discusses the Importance of 'Captain Marvel' to Young Fans
Marvel
It's tough to overstate the influence that superheroes can have on kids. While comics have evolved to a place where mature themes are regularly explored, pre-teens are more likely to see the simple transformations of the characters from outsider to superhero. Steve Rogers was a scrawny youth who became one of the all-time good guys; Peter Parker was a science nerd who now protects the streets of Manhattan. The things that made these characters stand outside their peers are ultimately what allowed them to become some of the most recognizable heroes of page and screen. There's real power in being able to tell our kids that what makes them different also makes them special.
This influence on children is one of the major reasons why people celebrated the casting of Brie Larson as Captain Marvel in the Marvel Cinematic Universe. It's not just that she is a tremendously talented actress; Larson has also been very outspoken about the opportunity presented to her to be a role model for young women out there. In a recent conversation with Space Channel (via Heroic Hollywood), Larson described the happiness it brings her to see young girls dressing up as Captain Marvel years before the movie has even been made.
The thing that's been the most exciting now is on social media I get sent a lot of pictures of young girls in the Captain Marvel costume and I'm excited to see more of that. She's such a great symbol for young girls, and realizing what a deficit we have, that we don't have more of those. I think it's really cool to see a girl in a Batman costume or a Spider-Man costume, but I'm really excited that there's a symbol of women. I think that's really important.
Larson really highlights the importance of Captain Marvel here. It's not that we don't want kids growing up emulating characters like Spider-Man or Batman; rather, we want to provide characters like Captain Marvel and Black Panthers for kids who don't see Steve Rogers and Peter Parker when they look at themselves in the mirror. In Larson, the Marvel Cinematic Universe has found one of the best candidates for the role, an actress who also understands that a comic book movie can be a lot more than just a fun summer movie to some of the youngest fans. Here's hoping this is only the first of many such movies.
Captain Marvel will hit theaters on March 8, 2019, so make yourself comfortable, because it's going to be a long wait.