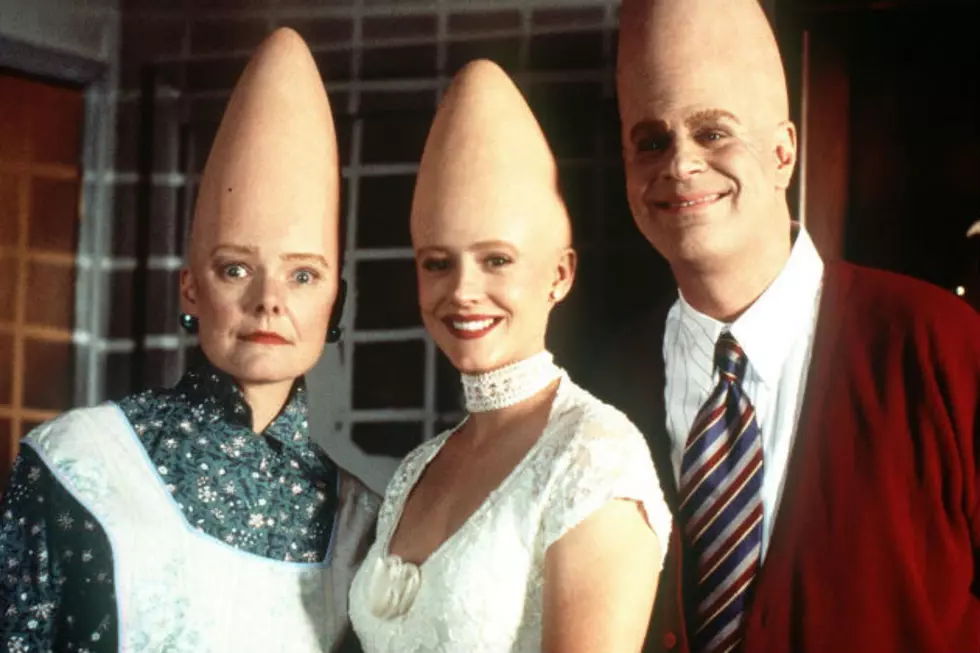 See the Cast of 'Coneheads' Then and Now
Paramount
Based on the classic 'SNL' sketch and released in 1993, 'Coneheads' starred Dan Aykroyd as the patriarch of an alien family, distinguished by their large, conical (and comical) heads. 20 years later, we look back at the cast of this classic comedy -- and one of the better 'SNL' films, featuring an all-star line-up of former members of the show -- and see what they're up to now.
Dan Aykroyd, Beldar Conehead
Then: Dan Aykroyd originated the role of Beldar Conehead on 'SNL' and reprised his role on the big screen for 'Coneheads.' Aykroyd's daughter visited the set and was so obsessed with the Conehead costumes that the production made one just for her and cast her as the younger version of Connie, Beldar's daughter.
Now: Aykroyd also starred in both 'Ghostbusters' films with fellow 'SNL' alumn Bill Murray, and continues to promise that a third 'Ghosbusters' film is forthcoming. He recently starred in 'The Campaign' and has his own line of vodka called Crystal Skull.
Jane Curtin, Prymatt Conehead
Then: Former 'SNL' star Jane Curtin reprised the role of Prymatt, Beldar's wife.
Now: Curtin starred on the sitcom '3rd Rock From the Sun,' and currently has a recurring role on the series 'Unforgettable.' She also made a small appearance in 'The Heat,' as Melissa McCarthy's mom.
Michelle Burke, Connie Conehead
Then: Michelle Burke, who made her acting debut earlier in 1993 in an episode of 'Parker Lewis Can't Lose,' played the role of Connie, Beldar and Prymatt's rebellious teen daughter. That same year, she also starred in 'Dazed and Confused.'
Now: Burke starred in the miniseries 'Little Men,' and took a break from acting in 2002. She returned in 2011, and has appeared in the Miley Cyrus film 'LOL,' as well as an episode of 'Criminal Minds: Suspect Behavior.'
Michael McKean, Gorman Seedling
Then: Michael McKean, known best for his roles in 'Laverne and Shirley' and 'This is Spinal Tap,' played Gorman Seedling, the INS agent out to prove the Coneheads are illegal immigrants.
Now: McKean has worked with 'This is Spinal Tap' writer and director Christopher Guest several times in films like 'Best in Show' and 'A Mighty Wind.' He's currently starring in Guest's HBO series, 'Family Tree,' and is married to actress Annette O'Toole.
David Spade, Eli Turnbull
Then: 'SNL' star David Spade played Eli Turnbull, Gorman's lackey and yes-man.
Now: Spade starred on the TV sitcom 'Rules of Engagement,' and has starred in several projects with fellow 'SNL' alum Adam Sandler, including recent films 'Hotel Transylvania' and 'Grown Ups 2.'
Sinbad, Otto
Then: Stand-up comedian and 'A Different World' star Sinbad played Otto, a friend to the Conehead family.
Now: Sinbad appared on 'Celebrity Apprentice' in 2010, and had a short-lived reality series on WE called 'Sinbad: It's Just Family.' The actor and comedian lent his voice to the upcoming Pixar film, 'Planes.'
Jason Alexander, Larry Farber
Then: The 'Seinfeld' star played Larry Farber, Beldar's boss.
Now: Alexander guest-starred on 'Community' in season 4, and appears in the upcoming film 'Heat.' He's also done some work behind the camera, directing episodes of 'Mike and Molly' and 'Franklin and Bash.'
Laraine Newman, Laarta
Then: Comedienne and 'SNL' veteran Laraine Newman originated the role of Connie Conehead, but for the film she played Laarta, wife of the president of the Conehead's home planet.
Now: Newman mostly does voice work these days, providing her talents to films like 'Toy Story 3,' 'Despicable Me 2' and 'Wreck-It Ralph.'
Parker Posey, Stephanie
Then: Parker Posey played Stephanie, one of Connie's high school friends. Joey Lauren Adams played Connie's other friend, Christina. Michelle Burke, Posey and Adams also starred as high school friends that same year in the film 'Dazed and Confused.'
Now: Posey recently had stints on 'Louie' and 'Parks and Recreation.' Like her 'Coneheads' co-star Michael McKean, she's also worked with Christopher Guest, appearing in 'For Your Consideration' and 'Best in Show.' She also recently starred in the HBO film 'Hemingway and Gellhorn.'