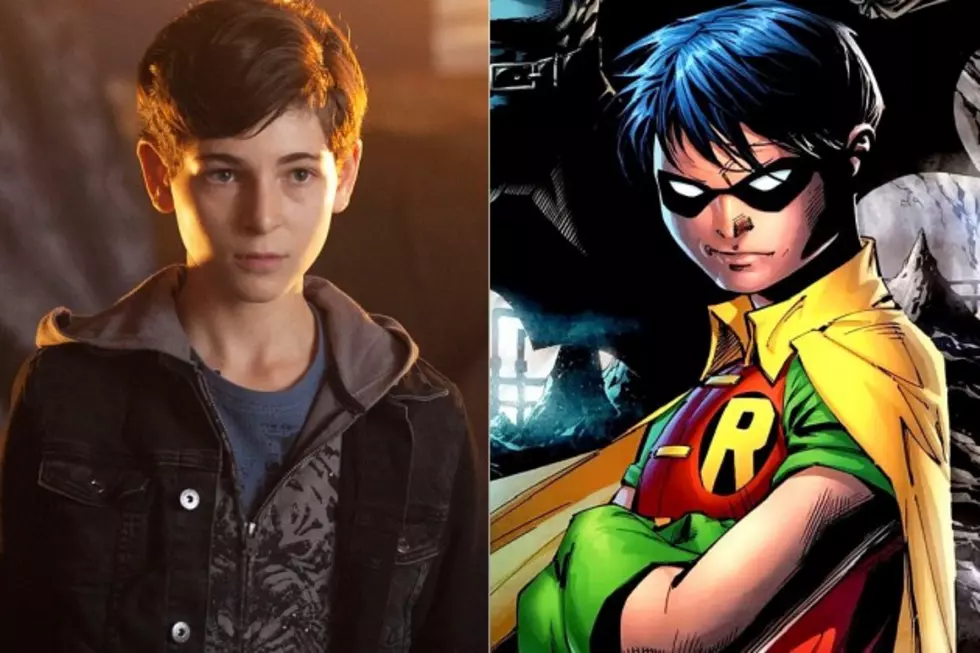 FOX's 'Gotham' Confirms Robin's "Prenatal" Grayson Family Origins, But No Harley Quinn
FOX / DC Comics
FOX's pre-Batman era origin story 'Gotham' remains as divisive a series as ever. On the one hand, legions of fans remind us each week to give the prequel drama time to breathe, yet howls of laughter can be heard from the same corners when 'Gotham' makes yet another attempt to set up characters it can't rightly use for decades to come. Enter the latest effort, as 'Gotham' producers confirm Robin's "prenatal origin story" is on the way! Yeesh.
While we'd previously heard from James Gordon (Ben McKenzie) himself  that the Grayson family was likely in line for an appearance later in 'Gotham''s first season, Entertainment Weekly confirmed with 'Gotham' executive producer Bruno Heller that Robin's parents would indeed take the spotlight in early 2015. How do you tell Robin's origin, while a 12 year-old Bruce Wayne (David Mazouz) himself remains tucked away in the Wayne library, flinging croissants at a young Catwoman (Camren Bicondova), you ask? Well…
We're going to do a prenatal origin story for Robin down the line…[but] there are no MRIs involved. There's an episode coming up where we learn how Robin's parents got together.
Whatever value there is to be had in finding out how the Grayson family came together (heh), Heller at least recanted suggestions from New York Comic-Con that famed Batman creation Harley Quinn would pop up anytime soon:
We haven't got Harley Quinn in it. Riddler's girlfriend is coming up. And Harley Quinn is definitely planned for later on, but so far no…You can't just keep pumping these characters into the show in a comic book sort of way, because you get the Super Friends effect — which isn't a bad effect, but then you have spaceships and need to go underwater and get wacky villains and the rest of it. You have to work as a character piece first. First it has to be real.
Of course, Heller's definition of "real" will also stretch to include a young Scarecrow and his father later on in the first season, Li'l Poison Ivy's long-awaited (okay, just us) return, and more Joker teases, all leading up to the inevitable moment where Bruce Wayne finally…leaves the library, and makes a sandwich. Nothing happens on this show, guys.
What do you think? Are you at least a little curious to see what 'Gotham' does with a "prenatal origin story" for the caped crusader's future sidekick? What other Batman characters can we squeeze into 'Gotham,' in zygote form, or otherwise?