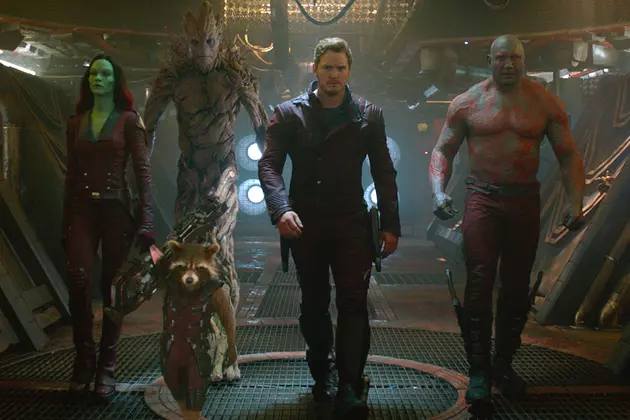 'Guardians of the Galaxy Vol. 2' Cast Can't Get Their Act Together in Behind-the Scenes Photos
Marvel
Over the last few days, James Gunn has been sharing some photos from the Guardians of the Galaxy Vol. 2 cast rehearsals, featuring a very grumpy Michael Rooker and a cast of total screw-ups who have to learn a thing or two from Dave Bautista. We still have a while to wait before we see the cast back in costume as the unlikely group of heroes, but these rehearsal photos make that wait a little easier.
Gunn took to Facebook (as always) to share some behind-the-scenes photos from rehearsal, praising the acting skills of Dave Bautista while shaming Zoe Saldana, Chris Pratt and Rocket Raccoon stand-in Sean Gunn:
When someone's screwing up a scene during rehearsals I show them Dave Bautista (Batista) as an example of good acting. With Zoe Saldana, Chris Pratt, and Sean Gunn. #GotGVol2

Posted by James Gunn on Monday, February 1, 2016
Gunn also shared this photo of Michael Rooker, who is returning to reprise his role as the blue-skinned Yondu. He looks a bit cranky:
And Bautista shared this photo in anticipation of filming, striking a solid Drax pose in the gym:
Also returning for the sequel are Vin Diesel as Groot and Bradley Cooper as the voice of Rocket, with Oldboy star Pom Klementieff joining the cast in a mystery role, and Kurt Russell in talks to play Star-Lord's dad. Guardians of the Galaxy Vol. 2 hits theaters on May 5, 2017.