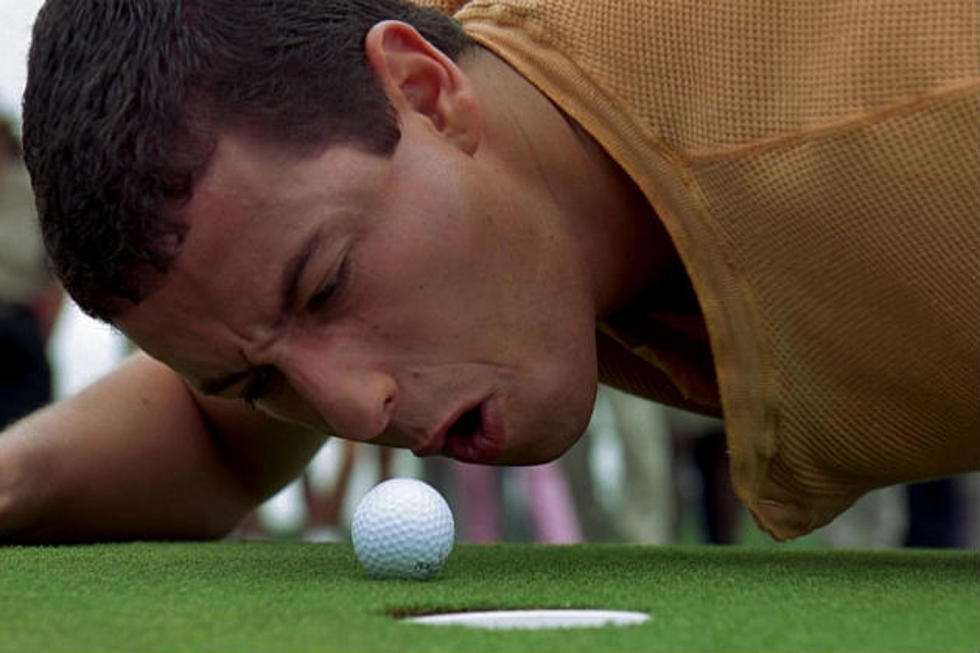 See the Cast of 'Happy Gilmore' Then and Now
Universal
In 1996, Adam Sandler followed up his hit comedy 'Billy Madison' with 'Happy Gilmore,' about a wannabe hockey player who realizes he can use his talents on the golf course to help save his grandma from losing her home. The film was another huge success for Sandler, and helped certify his status as an A-list comedy star and a guaranteed box office cash cow. 18 years later, we revisit the cast of this modern classic and see what they're up to now.
Adam Sandler, Happy Gilmore
Then: Former 'SNL' star Adam Sandler co-wrote the script and played the title character of Happy Gilmore, a failed hockey player who realizes his talents are better used on the golf course, where he can earn the money he needs to save his grandma's home. Sandler had previously appeared in the hit comedy 'Billy Madison.'
Now: Sandler has since starred in, produced, and written films like 'The Waterboy,' 'Little Nicky,' 'Mr. Deeds,' and 'Big Daddy,' and starred with Drew Barrymore in the romantic comedies 'The Wedding Singer' and '50 First Dates.' He also dabbled in drama, appearing in 'Punch Drunk Love' and 'Reign Over Me,' and starred in Judd Apatow's 'Funny People.' Sandler has more recently produced and starred in 'Grown Ups,' 'Jack and Jill,' 'That's My Boy,' and 'Grown Ups 2.' Up next, he'll reunite with Drew Barrymore for the rom-com 'Blended,' and appear in the films 'The Cobbler' and 'Men, Women and Children.'
Christopher McDonald, Shooter McGavin
Then: Christopher McDonald played Shooter McGavin, Happy's arrogant arch nemesis on the Pro Golf Tour and the current top player. McDonald was known for his previous roles in movies like 'Thelma and Louise' and 'Quiz Show.'
Now: McDonald went on to appear in the 'Leave It to Beaver' movie, as well as 'SLC Punk,' 'The Faculty,' 'The Skulls,' 'Broken Flowers,' and 'The House Bunny,' which was produced by Adam Sandler's Happy Madison company. He guest-starred on 'The Sopranos,' and had recurring roles on 'Boardwalk Empire,' 'Harry's Law,' and 'Happy Endings.' More recently he starred on the TV series 'Kirstie,' and appeared in the films 'Not Fade Away' and 'About Last Night.'
Julie Bowen, Virginia Venit
Then: Julie Bowen landed her first major acting role as Virginia Venit, the public relations director for the Pro Golf Tour who tries to keep Happy's attitude in line and becomes his love interest.
Now: Since then, Bowen starred on the shows 'Ed' and 'Boston Legal,' and had recurring roles on 'LOST' and 'Weeds' before landing the role for which she's currently best known: playing Claire Dunphy on the hit ABC sitcom 'Modern Family,' a role for which she's won two Emmy awards. She's also appeared in the films 'Jumping the Broom,' 'Horrible Bosses,' and 'Knife Fight,' and lent her voice to the upcoming animated film 'Planes: Fire and Rescue.'
Carl Weathers, Chubbs Peterson
Then: Carl Weathers, star of classic films like 'Predator' and the 'Rocky' series, played Chubbs Peterson, a former pro-golfer who had to retire when his hand was bitten by an alligator; he agrees to teach Happy how to play properly.
Now: Weathers reprised the role of Chubbs for Sandler's comedy 'Little Nicky,' and also lent his voice to Sandler's animated film 'Eight Crazy Nights.' He's appeared on the shows 'The Shield' and 'Psych,' and played himself in a recurring role on 'Arrested Development.' More recently, he appeared in the film 'American Warships,' and lent his voice to the animated series 'Regular Show' and the Pixar animated short 'Toy Story of Terror.'
Allen Covert, Otto
Then: Allen Covert played Otto, a homeless man whom Happy hires to be his caddy for the Pro Golf Tour. He'd previously appeared with his pal Sandler in both 'Airheads' and 'Billy Madison.'
Now: As a friend of Sandler's, Covert has been a frequent player, and has appeared in 20 films with Sandler total, including 'The Wedding Singer,' 'Big Daddy,' 'Little Nicky,' and '50 First Dates,' to name a few. He's also starred in the Sandler-produced films 'Grandma's Boy,' 'The House Bunny,' and 'Paul Blart Mall Cop,' and reprised the role of homeless Otto in the 2011 film 'Jack and Jill.' More recently he lent his voice to 'Hotel Transylvania' and appeared in 'Grown Ups 2.'
Kevin Nealon, Gary Potter
Then: Comedian Kevin Nealon played Gary Potter, an eccentric golf player who Happy plays with in his very first tournament. Like Sandler, Kevin Nealon was also a former 'SNL' star.
Now: Nealon reunited with Sandler for 'The Wedding Singer,' 'Little Nicky,' and 'Eight Crazy Nights,' and starred in 'Grandma's Boy,' produced by Sandler's Happy Madison company. He starred on the long-running Showtime series 'Weeds,' and has appeared on shows like 'Curb Your Enthusiasm,' and more recently, 'Franklin and Bash,' 'Drunk History,' and 'The League.' Recently he had a supporting role in the Sandler film 'Just Go with It,' and will reunite with Sandler again for the upcoming film 'Blended.' He also stars in the forthcoming Elizabeth Banks comedy 'Walk of Shame.'
Richard Kiel, Mr. Larson
Then: Richard Kiel, best known for playing the villain Jaws in the James Bond films 'The Spy Who Loved Me' and 'Moonraker,' played Mr. Larson, Happy's very tall former boss.
Now: Kiel also played Jaws in the 1999 'Inspector Gadget' film, and has starred in the recent B-movies 'The Awakened' and 'The Corpse of Albert Cradette.' In 2010, he lent his voice to the Disney animated film 'Tangled.' In addition to acting, Kiel co-authored a biography of abolitionist Cassius Marcellus Clay titled 'Kentucky Lion.'
Bob Barker, Himself
Then: Famous 'Price Is Right' game show host Bob Barker played an exaggerated version of himself in the film in a famous scene in which Happy attends a tournament where golfers are paired up with celebrities, and Happy and Bob Barker get into a fight.
Now: Barker hosted 'The Price Is Right' from 1972 to 2007. In his final year, during a primetime special on CBS commemorating his long career as a game show host, the scene from 'Happy Gilmore' was played and Adam Sandler made a surprise appearance to thank Barker for his contributions and read a poem in his honor. In addition to lending his voice to episodes of 'Futurama' and 'Family Guy,' Barker made cameo appearances on 'The Nanny,' 'Yes, Dear,' and 'How I Met Your Mother.' A longtime animal rights advocate, Barker continues to work with organizations and charities like PETA in his retirement.
Ben Stiller, Hal L.
Then: Ben Stiller played Hal L., the two-faced jerk who works at the nursing home where Happy's grandmother has to stay until Happy can raise the money to save her home. Stiller previously starred in 'Heavyweights' with Allen Covert, made his directorial debut with 'Reality Bites' (in which he also starred), and directed the Jim Carrey comedy 'The Cable Guy.'
Now: Stiller has since starred in the films 'There's Something About Mary,' 'Mystery Men,' 'The Royal Tenenbaums,' 'Zoolander,' 'Dodgeball,' and the 'Meet the Parents' and 'Night at the Museum' films, and lent his voice to the 'Madagascar' animated movies. He wrote and directed 'Tropic Thunder,' and recently appeared in 'Greenberg,' 'The Watch,' and reprised his voice role for 'Madagascar 3: Europe's Most Wanted.' In 2013, he directed and starred in 'The Secret Life of Walter Mitty,' and up next he'll reprise his leading role for 'Night at the Museum 3.' There's also been a lot of talk of a 'Zoolander' sequel...