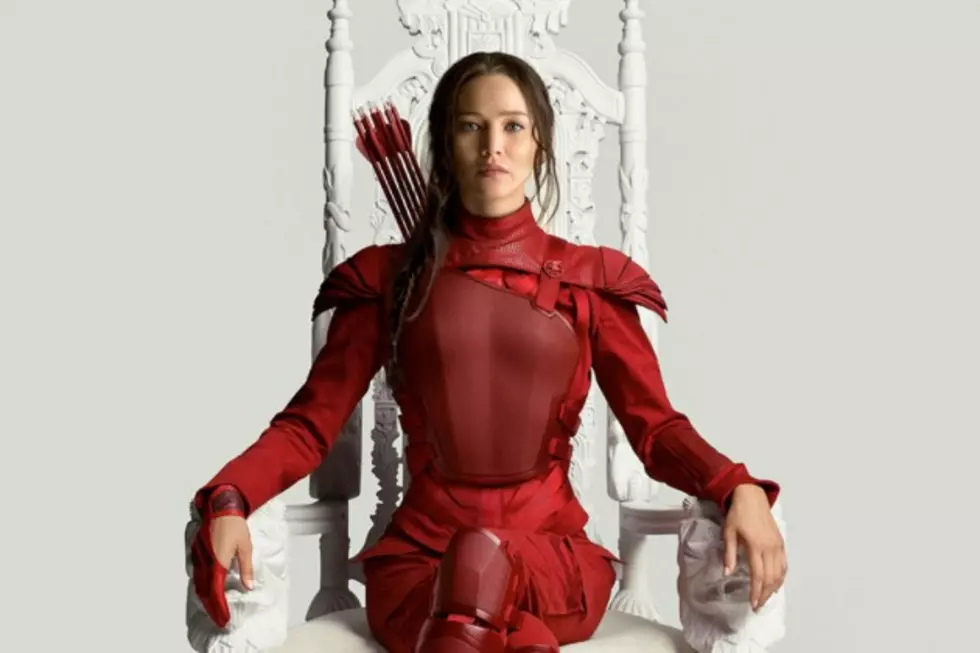 'The Hunger Games: Mockingjay – Part 2' Says Goodbye to Hall H at Comic-Con 2015
Lionsgate
For the last four years, one of the hottest tickets at every Comic-Con was The Hunger Games panel, spotlighting the hugely popular film franchise about the adventures of Katniss Everdeen and the people of Panem. On Thursday, the cast and crew of The Hunger Games franchise — director Francis Lawrence, producer Nina Jacobson, and stars Jennifer Lawrence, Josh Hutcherson, Liam Hemsworth, and Willow Shields — took the stage at Hall H one last time to discuss this fall's conclusion of the Hunger Games saga, Mockingjay — Part 2. 
(NOTE: This post will be updated live as more developments happen, so keep checking back for the latest news.)
After a battle cry introduction from a District 13 marching band (dressed all in white), there was a "special message from District 13" — with Lawrence's Katniss dressed all in red marching between soldiers. Next, panel host Conan O'Brien took the stage, quipping "My name is Conan O'Brien, and I'm not in The Hunger Games films." After declaring himself "Team Josh" (oh Conan, how could you?), he introduced the guests.
Next, the panel debuted a brand new Mockingjay — Part 2 trailer — and it was a good one, emphasizing the conclusion's impressive blockbuster action sequences. Conan asked Jennifer Lawrence what her favorite moment from the production was, and she struggled for several minutes to find an answer. (Eventually, audiences members helped her out by shouting suggestions.) At that point, Conan started making fun of the questions the studio had provided.
Conan then turned to Hutcherson and asked where Peeta is at the start of Mockingjay— Part 2. "We pick Peeta up inside 13 as he's trying to get himself back," Hutcherson replied. "In this movie it's Peeta trying to rehabilitate him so he can be used as a good guy." Next, Conan took issue with Prim's questionable decision to save a cat in the midst of a crazy war in the previous Hunger Games. ("The whole world is dying, and you're going to save a cat!") That one didn't get a response, just laughter. (He's not wrong.) Somewhere amidst all of this, Jennifer Lawrence wiped her nose on the cloth draped over the table on stage in Hall H.
12:37 PM: The next question concerned what the cast did after finally completing half a decade and four films worth of shooting. "That night," Lawrence responded, "we held each other and slept like puppies." What would Liam Hemsworth say to his eternally rejected character? "It's all right mate, there are plenty of fish in the sea."
What one costume from The Hunger Games saga would Jennifer Lawrence want to keep for herself? "Well I love the wedding dress from Catching Fire," she replied with a grin. "Because it's so understated. JLaw also corrected Conan when he called Katniss' weapon a crossbow. ("First, it's not a crossbow, it's a longbow. Crossbows are easy.") So remember folks, do not ask Jennifer Lawrence what it was like to fire a crossbow. There was also an attempt to whistle the Mockingjay theme. No one could quite get it right but then Josh Hutcherson started making cricket noises. "I hear that when I tell jokes sometimes," Conan noted.
12:45 PM: Have any of the actors' characters rubbed off on them in real life? "I would hope that a little bit of Katniss has rubbed off on me in a way," Jennifer Lawrence replied. "We're not really similar though because she's brave and I'm an actress. Something was bestowed on Katniss in the same way something was bestowed onto me."
12:51 PM: After some more questions, Jennifer Lawrence did a literal mic drop while talking about Katniss and how she inspires people. How did she say goodbye to Katniss? "I don't feel like it's happened yet. It's been such a huge part of my life. These movies changed my life. The people that are in my life are still here. These guys challenged me. I love you. The changes that happened in my life from doing these movies are still with me and so permanent so I'll never really say goodbye to her. she'll always be a part of me."
"When I signed on to these movies I was 20, now I'm 24," said Lawrence. "That's 40 in Hollywood actress years," joked Hutcherson. After a replay of the new Mockingjay — Part 2 trailer, and with time winding down, Hutcherson took a moment to thank the assembled Hall H fans. "Before we stop," he said, "we've been doing this for years and the fans are so insane and they have so much energy and support and we appreciate it more than anything. Thank you so much."