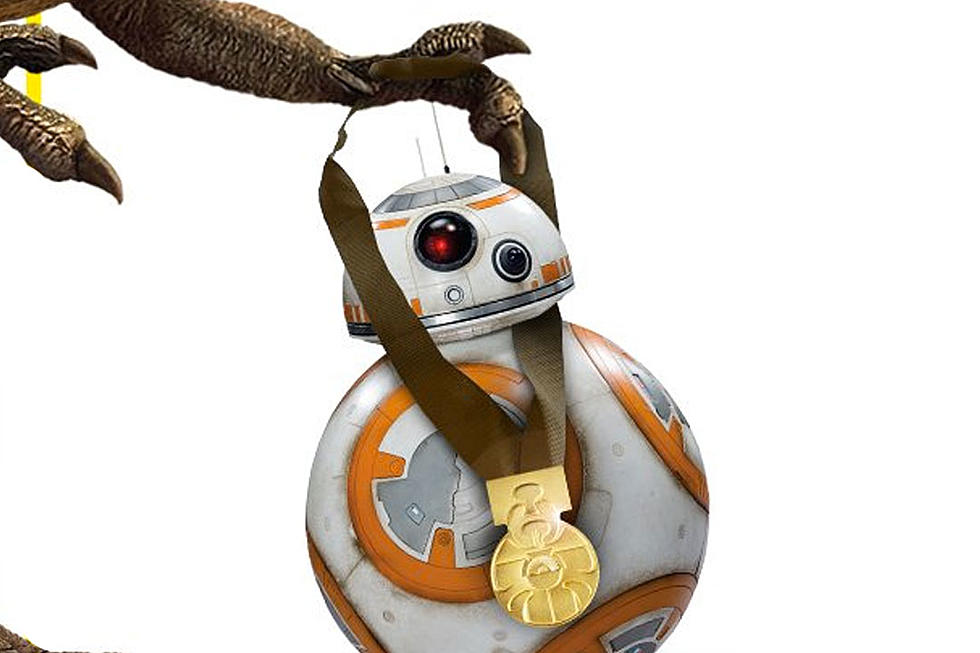 See How 'Jurassic World' Congratulated 'Star Wars' on Breaking the Box Office Record
Universal Pictures
It's become something of a tradition in Hollywood to publicly congratulate a film when it breaks the record for biggest opening weekend at the box office. Steven Spielberg congratulated Star Wars when it passed Jaws. George Lucas congratulated Titanic when it passed Star Wars. Marvel congratulated Jurassic World when it passed Avengers. And now, Universal Pictures has congratulated Star Wars: The Force Awakens on beating Jurassic World's record for the biggest opening weekend of all-time.
Jurassic World producer Frank Marshall posted the ad (which will also run in various Hollywood trade publications) on Twitter with the note, "Cheers to J.J., Kathy, the cast and crew, and DIS/LFL marketing teams!"
That's the T-rex presenting BB-8 with the Medal of Bravery, the same medal bestowed on Luke, Han and Chewbacca after destroying the Death Star.
It's an especially meaningful gesture considering a) Steven Spielberg is J.J. Abrams' idol, b) Lucasfilm president Kathy Kennedy was first hired as Spielberg's secretary, c) Kennedy is married to Marshall, and d) Jurassic World director Colin Trevorrow is directing Star Wars: Episode IX.
Star Wars: The Force Awakens made $238 million in its first weekend (a number that continues to grow as Disney still processes ticket sales) beating out the previous record of $208.8 million set by Jurassic World earlier this year. Star Wars: The Force Awakens now sets its sights on Avatar's all-time total box office record of $760 million, a number that seems almost unreachable (Jurassic World stalled at $652 million) until you realize that Star Wars has no significant genre competition until Deadpool opens in February.
As we mentioned, the congratulations have become a tradition in Hollywood. Earlier this year Marvel Studios president Kevin Feige tweeted out this poster created by in-house concept artist Andy Park:
Here's a December, 1977 Variety ad from Steven Spielberg to George Lucas congratulating him on the success of Star Wars.
George Lucas returned the favor as E.T. moved past Star Wars.
Then again as James Cameron's Titanic passed Star Wars.