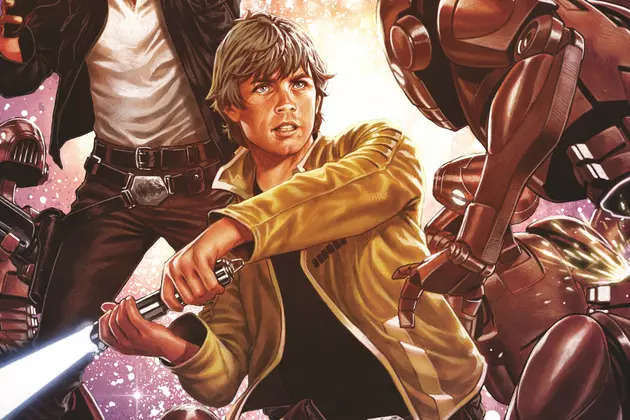 Mark Hamill on Why a Luke Skywalker Prequel Wouldn't Work
Marvel, 'Star Wars: Darth Vader,' #14
Sometimes I feel like we don't appreciate Mark Hamill enough. Oh, sure, we trot him out for any Star Wars or Batman events and allow him to shoot off bemused one-liners about his place in nerd culture, but that's only part of what makes his celebrity so fascinating. Hamill has spent the past 40+ years hearing about a series of movies he made at the beginning of his career, and somehow, he has avoided becoming either jaded or entitled about his celebrity. When you ask Hamill to talk about Luke Skywalker, he comes across as both blunt and self-effacing without ever doing a discredit to the character or his importance to many. Something tells me that isn't as easy as he makes it look.
[Han Solo] had a more colorful life prior to Star Wars than I did. [A Luke Skywalker movie] would be set on a moisture farm on a desert planet. [Han] was a rogue and a scoundrel and there's so much potential for his exploits, like how he got the Millennium Falcon from Lando, we have people on staff who are historians on it, who know every fact. And I'll tell you, I haven't seen the original movies since they were in theaters. I don't watch them on home video, so you can tell the fans know more about it than me.
It's worth taking a moment here to goggle over the fact that Hamill hasn't seen the original Star Wars movies since they were in theaters - I mean, why would you? I don't go back and read through a bunch of my old news items, so I know the feeling. That being said, Hamill is absolutely right, of course. Skywalker's life before Obi-Wan Kenobi was completely anonymous - that's kind of the whole point of the first movie - and trying to cram in some drama for the sake of having more Skywalker movies probably wouldn't go over particularly well. If they decide to do anything, maybe they could have a film set in the events between Return of the Jedi and Star Wars: The Force Awakens, but that's entirely dependent upon how much of that backstory is fleshed out in Star Wars: The Last Jedi. One way or the other, though, we probably haven't seen the last of Luke Skywalker, even if we have seen the last of Mark Hamill playing him.