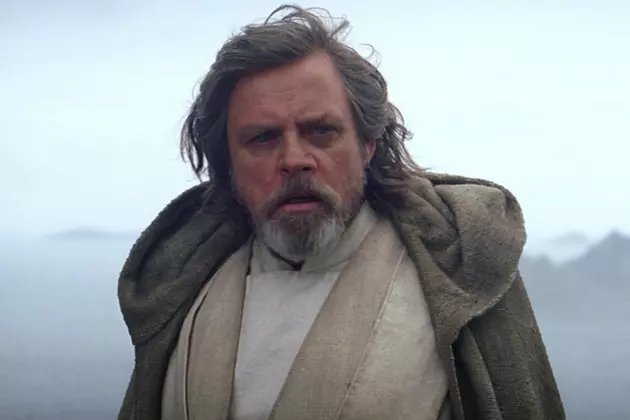 Mark Hamill Confirms He'll Have Dialogue in 'Star Wars: Episode VIII,' Says It's Full of New Catch Phrases
We don't know much about Luke Skywalker's scenes in Star Wars: Episode VIII, but we do know he'll have some dialogue.
Mark Hamill kicked off Star Wars Celebration Europe on Friday with an hour-long panel where he answered fan questions and shared anecdotes about his Star Wars costars. Even though Hamill told the audience he's forbidden from spilling any Episode VIII secrets, he let a few details slip. The actor officially confirmed Luke will have dialogue in the upcoming movie, and even more exciting, that dialogue is going to be really good. "I was looping Episode VIII yesterday and there's dialogue in there – I thought, 'Oh boy, I can already see this on a t-shirt," he said. "Seriously, Rian Johnson is amazing. He'll make you forget all about '"May the force be with you.' He's come up with so many new catch phrases." Our expectations are very high!
Hamill spent the rest of the hour reflecting on his work in Episodes IV - VII, recalling his screen test for A New Hope (he thought the movie was a "parody") and his first thoughts when he got the script for The Force Awakens. After reading through the script and making notes every time his name was mentioned, Hamill was waiting to discover when Luke would show up. While we don't see Luke until the final moments of the J.J. Abrams film, Hamill thought his grand entrance would be during the forest scene with Rey:
I'll tell you when I thought I came in – In the forest when the lightsaber flies off. I said, 'Oh, what a great entrance! Ray caught it?! She hasn't even been to Dagobah for training!'
The actor remained quiet on any other big Episode VIII news, but I'm sure this weekend will be full of big reveals. Stay tuned for more updates on Star Wars Celebration from ScreenCrush and be sure to follow us on Twitter, Facebook, and SnapChat (username "screencrush") to keep up to date with all the Episode VIII, Rogue One, and Han Solo movie news this weekend.