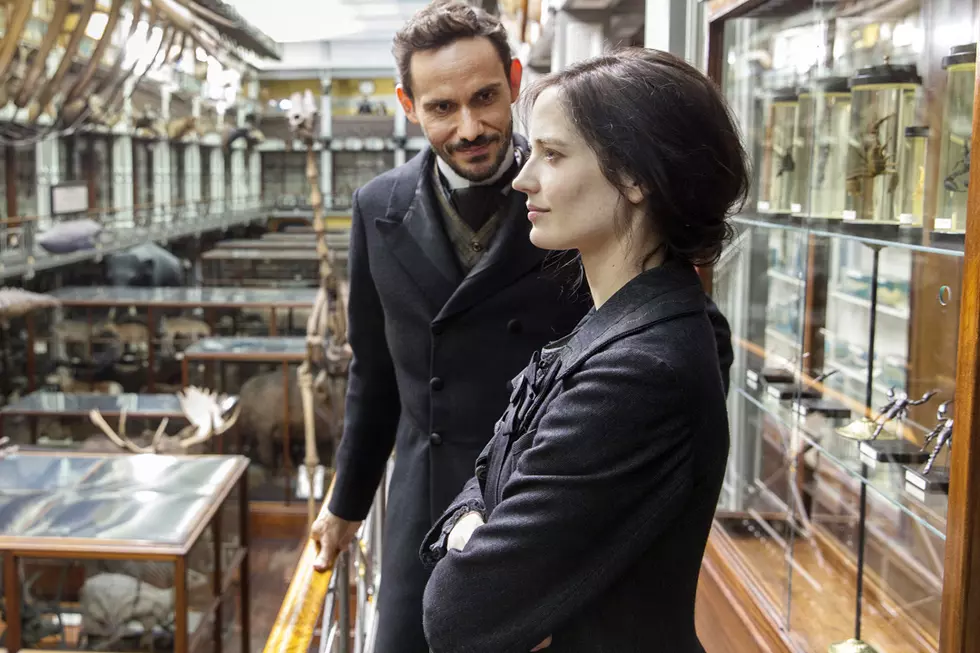 Watch 'Penny Dreadful' Season 3's Full Premiere Right Now
Showtime
Like Fear The Walking Dead found out the hard way last night, Sunday TV real estate faces some stiff competition against Game of Thrones Season 6, even in the 10:00 P.M. slot, though Showtime's Penny Dreadful may manage to scare back some live viewers for Season 3. How? Well, watch the full Season 3 premiere for yourself right now to find out!
Ahead of its May 1 premiere, showtime has released the full (albeit edited) premiere of Penny Dreadful Season 3, dubbed "The Day Tennyson Died." The hour is also available on Showtime streaming and on-demand services, while the full synopsis reads:
Feeling abandoned and alienated by her faith, a shattered and despondent Vanessa (Eva Green) seeks the help of Dr. Seward (Patti LuPone), an American therapist who has an unconventional way of treatment. Meanwhile, now a prisoner under the watchful eye of Scotland Yard Inspector Rusk (Douglas Hodge), Ethan Chandler (Josh Hartnett) is on a train speeding through the desert of the American West.

Halfway around the world, in Zanzibar, Sir Malcolm (Timothy Dalton) is confronted by a mysterious Native American man named Kaetenay (Wes Studi) who shares a deep connection with Ethan. Back in London, Dr. Frankenstein (Harry Treadway) seeks out his old friend Dr. Jekyll (Shazad Latif).

With all of her friends scattered around the world facing their own demons, Vanessa is left alone to battle a new evil that has emerged from the shadows.
And so reads the full synopsis for Season 3:
Season three includes a wealth of new and returning stars. Tony® Award winner LuPone (American Horror Story), who guest starred last season as the Cut-Wife, returns as a series regular in the new role of Dr. Seward, an American therapist who treats Vanessa with an unconventional new approach. Wes Studi (Hell On Wheels, A Million Ways to Die in the West) is a new series regular starring as Kaetenay, an intense, enigmatic Native American with a deep connection to Ethan (Josh Hartnett) who also becomes an ally to Sir Malcolm (Timothy Dalton).

Guest stars Sarah Greene (Hecate) and Simon Russell Beale (Ferdinand Lyle) return, along with new guest stars Shazad Latif (The Second Best Exotic Marigold Hotel, Spooks) as Dr. Henry Jekyll; Screen Actors Guild® Award nominee Christian Camargo (Dexter, The Hurt Locker) as zoologist Dr. Alexander Sweet; Sam Barnett (2012, Jupiter Ascending) as Dr. Seward's mysterious young secretary; Jessica Barden (The Outcast, Far from the Madding Crowd) as Justine, a young acolyte to Lily (Billie Piper) and Dorian Gray (Reeve Carney); and Perdita Weeks (The Tudors), as Catriona Hartdegan, a scholar with expert knowledge of the supernatural. Rory Kinnear (as The Creature) and Harry Treadaway (as Dr. Frankenstein) also star.
Penny Dreadful Season 3 will premiere on May 1, so check out the trailers again below.