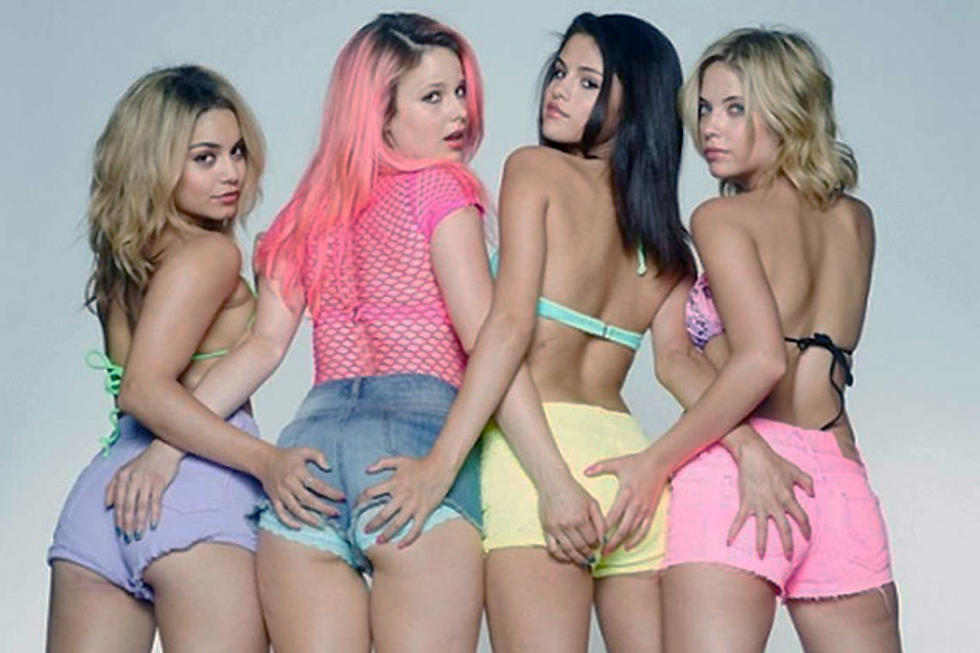 'Spring Breakers' Exclusive: The Cast Talks Their Favorite Scene That Didn't Make the Movie
A24
'Spring Breakers' can now be yours foreverrrrr as the film hits DVD and Blu-ray starting today. The disc includes a host of bonus features including a three-part documentary on the making of the film, an audio commentary with writer/director Harmony Korine and a host of deleted scenes.
Speaking of those deleted scenes, today we have an exclusive for you. 'Spring Breakers' stars Vanessa Hudgens, Ashley Benson, Selena Gomez and Rachel Korine are here talking about their favorite scene that didn't make it into the movie; that time they made this poor guy drop his pants on camera.
The scene in question is included on the 'Spring Breakers' DVD and Blu-ray and in this press day interview, the girls relive the moment they made this "poor kid" drop trou while they, um, size him up.
'Spring Breakers' is a movie that almost necessitates a second viewing, so even if you were able to catch the film during its theatrical release, we think you're going to want to watch it again on DVD. And, if you haven't seen it yet, just wait until you see what James Franco is up to in this movie. There's some Best Supporting Actor stuff going on here.
'Spring Breakers' is available on DVD and Blu-ray now and you can check out the exclusive interview with the girls below!
[onescreen item="5109555"]