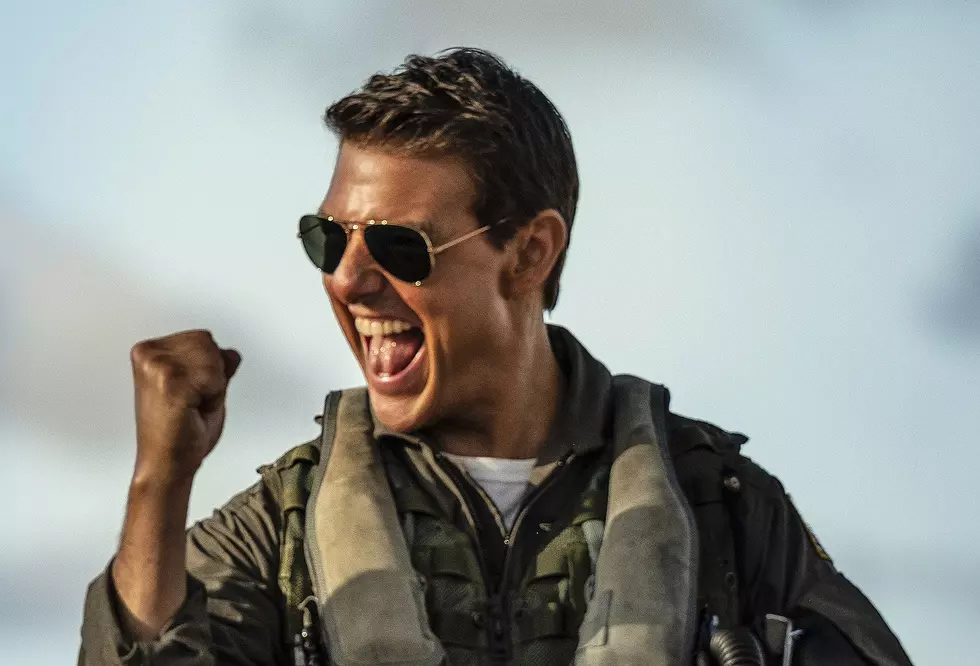 Steven Spielberg Says Tom Cruise 'Saved Hollywood's Ass'
Paramount
Steven Spielberg had a very fruitful collaboration in the 2000s with Tom Cruise. They worked together on two big sci-fi movies, Minority Report and War of the Worlds, that both became major hits. (Minority Report made $358 million worldwide, while War of the Worlds grossed more than $600 million.) Since then, they haven't teamed on another movie. But clearly their relationship is still pretty good. (Maybe Cruise has just been too busy cranking out Mission: Impossibles to do another Spielberg?)
Spielberg and Cruise bumped into one another at the annual Academy Luncheon for 2023, where all of the year's Oscar nominees get together for a big group photo. At the lunch, Spielberg was caught on camera telling Cruise "you saved Hollywood's ass" with his chart-topping 2022 hit Top Gun: Maverick.
Then Spielberg went even further. "You might have saved theatrical distribution," he added as Cruise gave him an incredulous nod. "Maverick might have saved the entire theatrical industry!"
Top Gun: Maverick wound up grossing $1.488 billion in theaters worldwide, including $718 million in the U.S. alone. (In domestic terms, it's the #5 movie in history.) The movie was basically completed before the Covid pandemic hit but rather than release it to Paramount+, or sell it to some huge streaming service like Netflix, Paramount sat on the film until theaters were back up and running.
Selling it as a spectacle that needed to be seen in a theater helped it become one of the biggest hits in history — and likely accounts for some of the credit that Spielberg is giving it as a boon to the entire theatrical experience. (Of course, Avatar: The Way of Water has already made more money in theaters than Maverick did, with worldwide grosses of $2.214 billion.)
Spielberg made his own big-screen movie last year, The Fabelmans, but he didn't have nearly the same degree of success at the box office; to date, his film has earned just $28 million worldwide. Spielberg may be overstating Top Gun's impact, but there's no denying the film was one of the few of the last five years that made a huge impact on broader popular culture.
Top Gun: Maverick is currently streaming on Paramount+.
The Best Movies of 2022
Here are ScreenCrush's picks for the top films of the year.