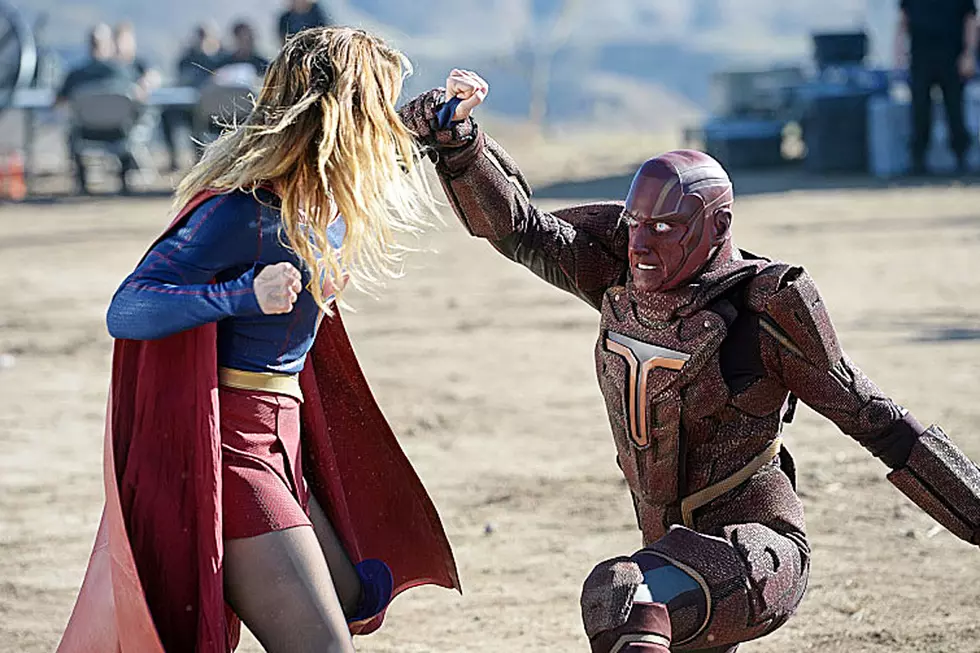 'Supergirl' Squares Off Against Red Tornado in New 'Red Faced' Photos
CBS
Before Supergirl took flight with her October premiere, CBS offered up a sneak peek of Salem star Iddo Goldberg in the role of notable DC android Red Tornado, to mixed reception at best. Now, with November 30 installment "Red Faced" inching closer, Supergirl shows off a much better look at the character in action with new photos, as well as a synopsis.
The full set of photos also show Jenna Dewan's Lucy Lane suited up as her father's daughter, namely that of Glenn Morshower's General Sam Lane, also present for the pictures. Supergirl seems to have the upper hand on the android (who looks at least somewhat less garish from the waist down), though the full (and somewhat spoilery) synopsis spells trouble ahead:
Personal and professional stress get the better of Kara when she goes too far during a training exercise against Red Tornado, a military cyborg commissioned by Lucy Lane's father, General Sam Lane. Also, Cat's tough exterior is shaken by a visit from her judgmental mother, Katherine, and Alex enlists Winn to look into her father's mysterious death.

Guest stars include Iddo Goldberg as Red Tornado and its creator, Dr. Morrow; Joan Juliet Buck as Katherine Grant, Cat's mother; and Glenn Morshower as General Sam Lane, Lucy's father.
You can check out the latest promos for Monday's "How Does She Do It?" below, but does Red Tornado look any better in motion? What other DC fixtures has Supergirl gotten right?