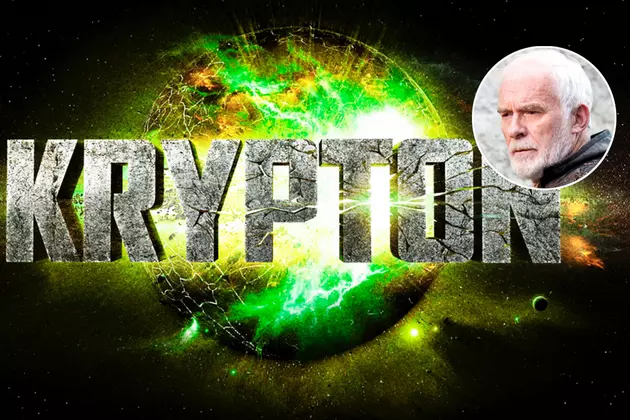 Syfy's 'Krypton' Casts 'Game of Thrones' Star and More
Syfy / HBO
We're at least mildly curious to see what Syfy can do with Krypton that two Super-stars can't, and the casting of some familiar faces should help. Not only is a lost Game of Thrones star coming to the rescue, but so too will we meet more from the House of El and Zod family.
Per Deadline, departed Game of Thrones star Ian McElhinney has joined the Super-prequel in the role of Val-El, grandfather of Seg-El (Cameron Cuffe). The character is identified as "a rogue genius who believes that space exploration is a basic form of self-defense, and he has tried, without success, to warn the Kryptonian elite about the arrival of an ancient threat."
Cowan is Daron Vex, the Chief Magistrate of Kandor. His real business is defending Krypton's established oligarchy against heretics and dissidents. Ogbomo will play Primus Alura Zod, Lyta Zod's mother and a leader of Krypton's military guild. She is an extremely tough and demanding training officer. Hardiker will portray the rankless Kem, is a brilliant engineer as well as Seg-El's best friend and partner in an underground tech-repair business. Day will play Nyssa Vex, a junior magistrate and the daughter of Daron Vex. Pierre is Dev-Em, a cadet under the command of Primus Alura Zod.
The new series will be executive produced by Man of Steel scribe David Goyer and directed by Peaky Blinders helmer Colm McCarthy, while Sleepy Hollow alum Damian Kindler recently joined as executive producer and showrunner. Goyer and Kindler will rewrite the original pilot teleplay, itself co-penned by Goyer and Ian Goldberg.
Set 200 years before (but not directly tied to) Man of Steel, so reads the Krypton synopsis:
Years before the Superman legend we know, the House of El was shamed and ostracized. This series follows The Man of Steel's grandfather as he brings hope and equality to Krypton, turning a planet in disarray into one worthy of giving birth to the greatest Super Hero ever known.
Krypton is likely to go before cameras in the near future, but is interest in Superman's ancestors picking up any more?