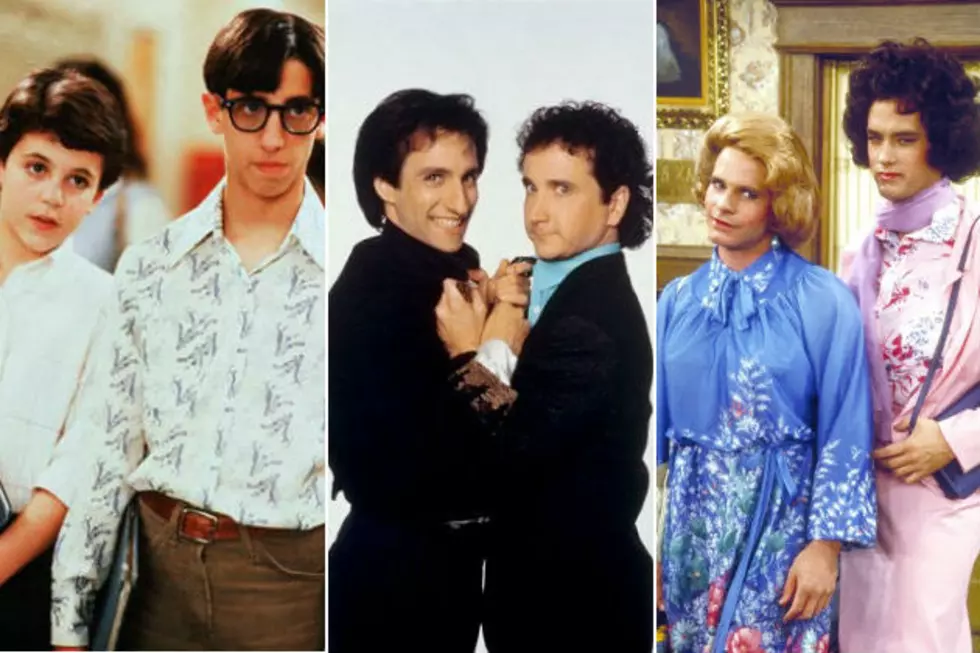 See Your Favorite TV Best Friends Then and Now
Warner Bros. Television/CBS
Ah, friendship -- it weathers any storm, helps heal broken hearts, and provides television with some of its most hilarious and touching moments. Friendship is equated with consistency, and helps provide an anchor for viewers. No matter what changes may come, friends are forever (most of the time). From 'Perfect Strangers' to 'Scrubs,' and everything in between, we take a look back at some of your favorite best friends from TV and see what they're up to now. 
Larry Appleton and Balki Bartokomous, 'Perfect Strangers'
Then: Larry Appleton (Mark Linn-Baker) moves to Chicago and is enjoying his first solo living situation when his distant European cousin Balki Bartokomous (Bronson Pinchot) shows up on his doorstep. Though their cultures and personalities clash, the pair become quite close.
Now: Linn-Baker continues to act on stage and screen, appearing in the film 'How Do You Know' and in Woody Allen's one-act play 'Relatively Speaking' on Broadway. Pinchot currently hosts the home restoration show 'The Bronson Pinchot Project' on the DIY Network.
Kevin Arnold and Paul Pfeiffer, 'The Wonder Years'
Then: Fred Savage played Kevin Arnold, the protagonist on the coming of age series 'The Wonder Years.' Josh Saviano played his nerdy best friend, Paul Pfeiffer.
Now: Savage is now a director whose credits include episodes of '2 Broke Girls,' the upcoming 'Best Friends Forever,' and 'Party Down' (which he also produced). Saviano is now a lawyer in New York who specializes in mergers and acquisitions and intellectual property law.
Zack Morris and Screech Powers, 'Saved by the Bell'
Then: Mark-Paul Gosselaar played Zack Morris, the preppy, trouble-making main character on the teen sitcom 'Saved by the Bell.' Dustin Diamond played Screech, Zack's longtime BFF who always gets roped into Zack's ill-advised schemes.
Now: Gosselaar currently stars on the TNT series 'Franklin and Bash' and has appeared on episodes of 'Don't Trust the B---- in Apartment 23' and 'Men at Work.' Diamond hasn't had as much fortune -- after making appearances on several reality programs, Diamond released a tell-all book titled 'Behind the Bell' in 2009. He is currently a housemate on the 12th season of 'Celebrity Big Brother.'
Karen Walker and Jack McFarland, 'Will & Grace'
Then: Megan Mullally and Sean Hayes played Karen and Jack, the bestest of best friends on the sitcom 'Will & Grace.' Jack was openly gay, while Karen was Grace's sassy assistant with a fondness of alcohol and prescription meds.
Now: Mullally recently appeared in 'The Kings of Summer' and has a recurring role on the Adult Swim show 'Children's Hospital.' She's married to Nick Offerman. Hayes returns to NBC this fall with the new sitcom 'Sean Saves the World.' He's lent his voice talents to 'American Dad' and 'Monsters University.'
J.D. and Turk, 'Scrubs'
Then: Zach Braff played J.D. (aka John Dorian), a doctor at Sacred Heart hospital who lives and works with his best friend, Chris Turk (Donald Faison). The pair are inseparable and eventually proclaimed their bromance in the musical episode with the song "Guy Love."
Now: Braff, who made his directorial debut with 'Garden State,' recently raised enough funds on Kickstarter to begin work on his next directing project, 'Wish I Was Here,' starring himself and his former 'Scrubs' buddy Donald Faison. Faison recently appeared in 'Kick-Ass 2.'
Jerry Seinfeld and George Costanza, 'Seinfeld'
Then: Jerry Seinfeld played a fictionalized version of himself on Larry David's hit NBC sitcom 'Seinfeld.' His closest friend was the highly neurotic George Costanza, played by Jason Alexander.
Now: Seinfeld continues to perform stand-up and hosts the web series 'Comedians in Cars Getting Coffee.' Alexander has appeared on 'Franklin and Bash' and 'Community,' and also directs -- his credits include episodes of 'Mike and Molly' and 'Criminal Minds.'
Kip Wilson and Henry Desmond, 'Bosom Buddies'
Then: Tom Hanks and Peter Scolari played Kip Wilson and Henry Desmond on 'Bosom Buddies,' a show about two guys in desperate need of a place to live -- when they find an all-girls hotel, the pair pretend to be ladies and must keep up the charade to keep a roof over their heads.
Now: Scolari plays Hannah's dad on the HBO series 'Girls,' and remains friends with Hanks in real life -- Scolari has appeared alongside Hanks in 'That Thing You Do!' and 'The Polar Express.' Hanks can be seen next as Walt Disney in 'Saving Mr. Banks' and in the pirate drama 'Captain Phillips.'
Chandler Bing and Joey Tribbiani, 'Friends'
Then: Matt LeBlanc and Matthew Perry gave us one of TV's greatest bromances of all time on 'Friends.' LeBlanc played Joey Tribbiani, the food-obsessed actor who lives with Perry's businessman Chandler Bing across the hall from friends (and later, romantic interests) Monica and Rachel.
Now: Though LeBlanc's 'Friends' spin-off 'Joey' was a flop, he's found success on television again with the series 'Episodes,' in which he plays a fictionalized version of himself. LeBlanc also sometimes produces, and was the executive producer on 'Jonah Hex.' Perry hasn't had much luck in post-'Friends' sitcoms -- both 'Mr. Sunshine' and 'Go On' were cancelled. He's also appeared on episodes of 'Hollywood Game Night' and 'The Good Wife.'
Laverne De Fazio and Shirley Feeney, 'Laverne & Shirley'
Then: Laverne (Penny Marshall) and Shirley (Cindy Williams) are single roommates who both work as bottlecappers as the fictional Shotz Brewery in 'Laverne & Shirley.'
Now: Penny Marshall, like her brother Gary, also directs, and her credits include 'Big,' 'A League of Their Own,' and 'Riding in Cars with Boys.' She recently appeared on an episode of 'Portlandia' on IFC. Williams has appeared on the shows 'Law and Order: Special Victims Unit' and 'Drive.' Both ladies will reprise their roles as Laverne and Shirley on an upcoming episode of the Nickelodeon series 'Sam and Cat.'
Cory Matthews and Shawn Hunter, 'Boy Meets World'
Then: Ben Savage, like his big brother Fred, also starred on a coming of age show. 'Boy Meets World' follows the life of Cory Matthews (Savage) as he navigates school, life, and love with his best friend, Shawn Hunter (Rider Strong). While Cory is a good suburban kid, Shawn is an orphan from the wrong side of the tracks, but their life lessons and struggles are the same.
Now: Savage and 'Boy Meets World' co-star Danielle Fishel will reprise the roles of Cory and Topanga for the new Disney series 'Girl Meets World,' in which the pair are raising a daughter. Strong declined to reprise the role of Shawn for the series, but continues to act, as well as direct, write, and produce -- mostly short films.