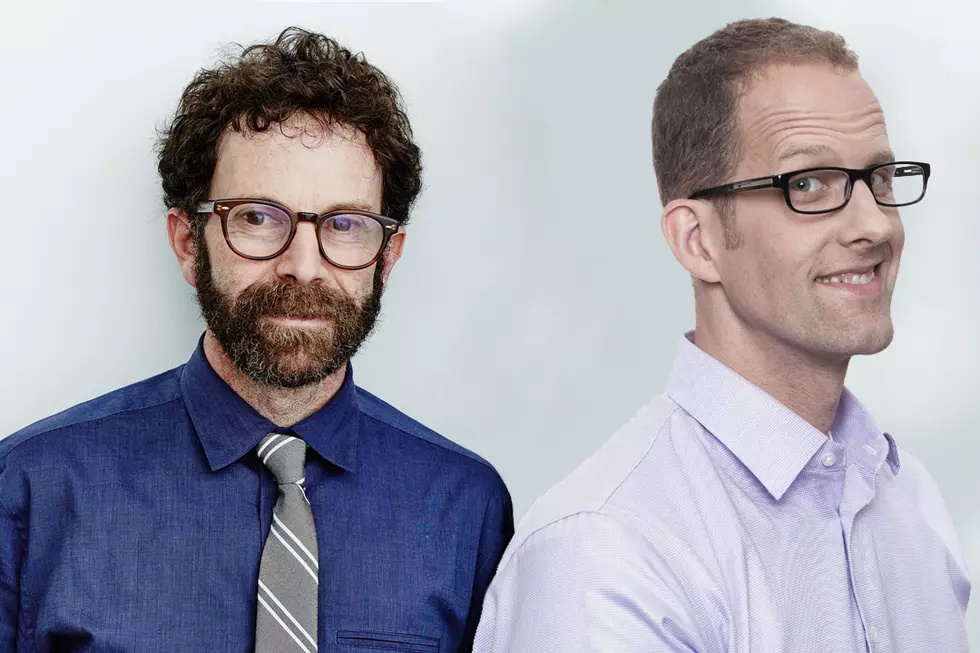 Why Can't an Animated Film Be Nominated For Best Director at the Oscars?
Getty Images
There's a director who has been nominated for six Oscars. He even won once. His 2015 film was a critical and commercial success. It made over $350 million and has a 98 percent on Rotten Tomatoes.
There's another director who has been nominated for three Oscars. He's won once. His 2015 film was also a critical success. It has a 96 percent on Rotten Tomatoes.
By most accounts, these men have made two of the best films of the year, and their effort deserves to be recognized with nominations for Best Director at the 88th Academy Awards.
Those directors are Pete Docter and Charlie Kaufman. They're about to get snubbed.
---
Pete Docter is not a Hollywood director. Yes, his movies get released by one of the biggest companies in Hollywood (Disney grossed over $2.2 billion and counting at the 2015 box office), but Docter himself is far removed from that world. He himself cops to this — his daughter's BFFs have little-to-no interest, or even knowledge, that he directed a film inspired by their friend's life — and with a Midwestern charm, politely shrugs off any talk of financial or critical accolades. Docter is so far from Hollywood, both literally and figuratively, that he lives in a treehouse; an honest-to-goodness treehouse that he had built on 15 acres of secluded land in northern California. (Briefly: The tree is artificial, a suspension bridge connects wings of the house and an elevator connects the home to the garage, located 25 feet below.)
Docter commands respect at Pixar — where he was the third employee ever hired and now serves as the Director and Vice President of Creative — not because of blustery tirades or a demanding style, but simply for his creative genius. Docter often walks around Pixar's sprawling Emeryville campus by himself, blending in with the countless other employees. He eats lunch alongside newbie animators and support staff at Cafe Luxo. That doesn't mean Docter deserves to be nominated as Best Director, but it partly explains why he isn't. While Disney/Pixar may seem omnipresent, Docter prefers to keep a low profile. He's not out politicking or campaigning. He's already back at work helping shape future Pixar movies like Finding Dory, Coco, and even Cars 3.
Charlie Kaufman and his Anomalisa co-director Duke Johnson are a slightly different case. While Kaufman is well-known and well-regarded in Hollywood circles (he won a Best Original Screenplay Oscar for Eternal Sunshine of the Spotless Mind), Johnson has never directed a feature film before; his only previous credit of note is a Christmas episode of Community. If Inside Out and Pixar get notoriety simply because of, well, being Pixar (and being one of the five biggest movies of the year doesn't hurt), Anomalisa is desperately scratching for attention. An R-rated dramedy featuring stop-motion animated puppets is not an easy sell. Paramount paid over $5 million for the film in September, but to date the film has made less than $500,000 since opening in theaters in late December. (By comparison, Star Wars: The Force Awakens made $12 million last Sunday, its 24th day in theaters.)
Paramount, Kaufman, and Johnson have been aggressively campaigning for the film, but it seems to be getting lost in the gulf between live-action films for adults and animated films for kids. Still, few of those who've seen it deny its singular genius. As Matt Singer put it in our review, "It is almost certainly the best film of the year." When Matt put together his year-end "Best Of" list, Anomalisa didn't quite make the #1 spot. It finished as the runner-up…to Inside Out.
So, why are the Oscar-winning directors of two of the best films of last year being shut out of the Academy Awards?
---
There are people, blogs, algorithms, and bookies all trying to predict who will win Oscars this year, but none are better at predicting Academy Award success than the Directors Guild of America's Award for Outstanding Directing. Since the DGA first started handing out awards in 1948, the Director's Guild and the Academy of Motion Picture Arts and Science have disagreed on the best filmmaker of the year only seven times (most recently in 2012, when Argo's Ben Affleck lost the Oscar to Ang Lee for Life of Pi). That's a startling 90 percent success rate over the past 67 years. And if the DGA can predict who will win an Oscar, they can also predict who won't win. Currently both Docter and Kaufman & Johnson are both listed at 100/1 odds to be nominated for an Oscar at GoldDerby.com, which seems generous.
Here's why this is important for Docter, Kaufman, and Johnson: Feature animation directors are not allowed membership in the DGA (Kaufman became a member after directing 2008's Synecdoche, New York). The exact reasoning remains unclear, though it appears to be a remnant of some archaic DGA contract. We reached out to the DGA multiple times for comment and clarification on their bylaws with no response. (On the DGA Award application, it simply states, "Animated films are not eligible.")
'I think these movies could change so much,' says Anomalisa producer Dan Harmon.
If this restriction is coming from the DGA, it certainly does not seem representative of the directors in the guild. We spoke to a group of feature directors, all members of the DGA, and all uniformly expressed their steadfast support of animation directors, hopeful that they would be recognized. As one prominent director of an upcoming blockbuster pointed out with a chuckle, someone has already won an Oscar for directing an animated film. "Alfonso Cuarón for Gravity."
---
An animated film can be nominated for Best Picture, and it does happen occasionally (Beauty and the Beast, Toy Story 3, and Up are all relatively recent examples). An animated film can also be nominated for Best Original Screenplay, which we've seen in the past with Finding Nemo, Up, Wall-E, and Toy Story. An animated film can be nominated for Best Original Score. So, why does it seem almost impossible for a director — the one responsible for pulling all these parts together — to be recognized? As live-action directors take on projects with increasing amounts of visual effects, what makes directing a traditionally animated film any different than helming a blockbuster?
While some may argue that animation is a more collaborative art form than a traditional live-action film, few could argue that Inside Out and Anomalisa come directly from the minds of two uniquely talented artists. While both Docter and Kaufman would likely dismiss this notion outright as deference to the many hands who helped create their movies, Inside Out is undeniably a Pete Docter Movie. Anomalisa could not be made by anyone other than Charlie Kaufman. Their creators' genius seeps through every frame of their films and trickles down through the hands of the individual animators. They are as much directors as their live-action counterparts— or more, if you factor in the extra amount of time and effort it takes to make an animated movie.
I spoke to a number of Pixar employees who privately expressed their frustration at the bias against animation directors. Many shared the excitement of Inside Out writer Meg LeFauve, who squealed "Wouldn't that be exciting?! Wouldn't that just be awesome?" at the potential of an animated director being nominated at the Oscars. Some, like The Good Dinosaur director Peter Sohn, were honest enough to admit they had never even explored that possibility themselves. "You know, I've never really thought about this. How shameful. Because Brad [Bird], Pete Docter, John Lasseter, Andrew [Stanton], they are incredible directors. They should be nominated and recognized."
Kelsey Mann, story supervisor on Monsters University and one of the credited writers on The Good Dinosaur, made this case for Docter: "From the ground up, directors at Pixar are in charge of everything from the story to the individual blades of grass. We start from nothing. Literally nothing. And it all has to be built from the ground up. And Pete is involved in every decision."
The "every decision" defense is one I hear often, from both camps. In Docter's office, there were walls and walls of doorknobs. Big ones, small ones, brass ones, wooden ones; all there for Docter's approval. As the director, he was responsible for selecting and approving every single doorknob for every single house in Inside Out. On a similar, but completely different note, Johnson was responsible for inserting every single body hair — head, armpit, chest and even, pubic — one by one.
"If you watch Duke Johnson's work," says Dan Harmon, who executive produced Anomalisa and is a partner at animation studio Starburns Industries, "you can really see his utmost goal is to take this childlike medium and look at it through a very cinematic, severe lens. And the effect is really phenomenal. And that is directing. It's directing that just takes longer."
Bill Hader, who worked on Inside Out and has sat inside Pixar story room meetings, says Docter is every bit the director as any other live-action director he's ever worked with. "[He's] very intuitive. Pete will always say, 'That doesn't feel right.' He's never saying, 'The Act 2 reversal is…' or 'the midpoint is on Page 60, so this needs to happen.' He's not like that. That's never part of it at all."
While it may be too late for Docter and Kaufman & Johnson for these films, they could be the bellwether of change.
"I think these movies could change so much," says Harmon. "If you look at [a director's] work and it looks like a movie, treat it like a movie. And I do think that's how people will start to treat it and I think [Anomalisa and Inside Out] could be gamechangers."
Adds Mann, "I hope to God that I live long enough to see that happen."
---
How that change happens remains to be seen. There is the potential for a Director's Guild Award for Best Directing on an Animated Feature, which would allow animated directors to be recognized, albeit in a different category. That would at least permit animation directors to become members and to receive the same benefits as their colleagues. Curiously enough, theatrical animation directors aren't currently allowed in the Animation Guild, I.A.T.S.E. Local 839, because they are considered "management."
Many years ago, when animated films were released more sparingly, there may have been some justification in the DGA and the Academy to keep animation and live-action separate. But as animation becomes a more dominant art form both critically and commercially (five of the 20 highest grossing films of 2015 were animated films), they deserve to be treated as equals. They speak to us, move us, and change our lives just like any other film out there.
"I have a new daughter," says Sohn, "and because of Inside Out, I feel like I have an entirely new way to communicate with her."
If audiences can recognize that, why can't the Academy?