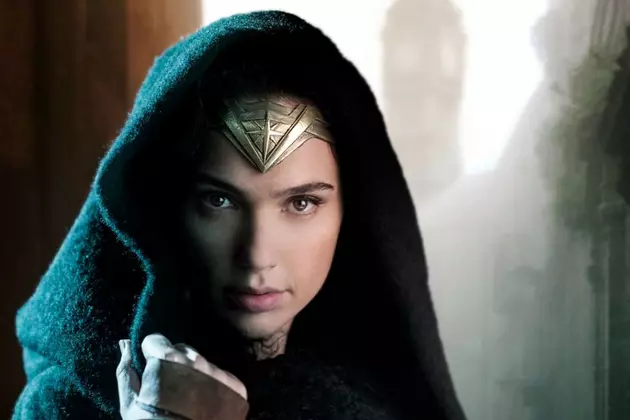 Rumor Has It This 'Harry Potter' Alum Will Play the 'Wonder Woman' Villain
Warner Bros.
There's just a few months left until Wonder Woman hits theaters, which means it's time for Warner Bros. to get down to the business of promoting the crap out of its movie. When I saw Batman v Superman: Dawn of Justice in theaters, the crowd greeted her character during the climactic fight scene with wild cheers and applause, suggesting to me that audiences are ready to embrace the first standalone superhero movie. We've had the first two rounds of movie trailers; now it's time to open the floodgates on teasers, TV spots, and production rumors. Let the games begin!
Earlier today, Batman News (via Heroic Hollywood) reported that actor David Thewlis will be playing the role of Ares in Wonder Woman. According to the piece, Ares will be "a mix of CGI and practical effects," which would  —  as the author notes  —  explain why we haven't seen him in any trailers as the post-production team finalizes its CGI work. As you'll remember, Ares was officially confirmed as the Wonder Woman villain last month thanks to a French film publication, but this is the first we've heard of an actor associated with the role.
(If you're a little fuzzy on how Ares fits into the Wonder Woman universe — or which iteration of the character Thewlis might play — be sure to check out this rundown of Diana's rogue's gallery by our friends at Comic Alliance.)
While most fans will recognize Thewlis from his role as Professor Not-A-Werewolf in the Harry Potter movies, the actor has actually been kicking around film and television since the mid-'80s. Thewlis has appeared in films as diverse as The Big Lebowski, Black Beauty, James and the Giant Peach, and The Island of Dr. Moreau; this is shaping up to be an especially good year for the actor as he has also been cast in the star-studded third season of Noah Hawley's Fargo anthology series. If you're one of those people who thinks the only good roles available to actors these days are superheroes and prestige television ensembles, well, that pretty much makes Thewlis your Exhibit A.
Here's the full plot synopsis for Wonder Woman:
Before she was Wonder Woman, she was Diana, princess of the Amazons, trained to be an unconquerable warrior. Raised on a sheltered island paradise, when an American pilot crashes on their shores and tells of a massive conflict raging in the outside world, Diana leaves her home, convinced she can stop the threat. Fighting alongside man in a war to end all wars, Diana will discover her full powers…and her true destiny.