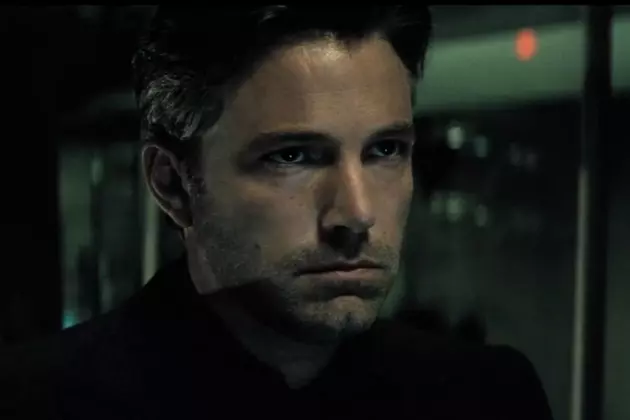 Ben Affleck Confirms His 'Batman' Movie Will Shoot in 2017, WB Teases 2018 Release
Warner Bros.
There seems to be a bit of conflicting information regarding Ben Affleck's standalone Batman movie: Last week, Zack Snyder set his next directing project as WB pushed back the release of Justice League 2, reportedly to make room for the Batman movie. Earlier this week, Affleck said he's taking his time with the project and making sure the script, which he's co-writing with Geoff Johns, is right before heading into production. But now, Affleck has confirmed that his Batman film will shoot next spring, while WB president Greg Silverman says it's on track for a 2018 release.
Recently, Affleck said he didn't like the whole "reverse-engineering" approach of building a film around a release date (ahem, like those other DC movies), but when asked if he still plans on shooting the Batman movie next spring, Affleck told Variety:
We're on the right track with that and everything is coming together. We're still finishing up a script. I'm very excited.
Meanwhile, when WB president Greg Silverman spoke with Deadline about the studio's upcoming schedule, he placed Affleck's Batman film in 2018:
Next year, Batman Lego looks like a monster, and King Kong looks like a global hit and we have Chris Nolan's Dunkirk, and King Arthur, and Wonder Woman, which is such a joy for the studio and fans. Zack Snyder's Justice League is a big film, and there are others like CHiPS, which feels like a real franchise for the studio. And Toby Emmerich's films are also really humming.

Then in 2018, there is a second Fantastic Beasts film, and Ready Player One feels like an ambitious movie by the world's best filmmaker, Steven Spielberg, that will set the world on fire. There is Aquaman with James Wan, and Scooby Doo will be a huge launch and then there is Lego Ninjago. And then there is Ben Affleck's Batman.
More than anything, the latest update kind of supports Affleck's previous comments. With no firm release date and a somewhat casual attitude about the standalone Batman movie, it seems that both studio and actor / director are on the same page — which is a good thing. So will the new Batman movie, rumored to be titled The Batman, begin filming in the spring? Most likely. Will it hit theaters in 2018? Maybe.
Justice League 2 was recently delayed from its November 1, 2019 release date, leaving a nice, Bat-sized spot on WB's schedule. But the studio also moved Aquaman from July 27, 2018 to October 5, 2018, giving Affleck's solo Batman movie another release option. Insert shrug emoji here.