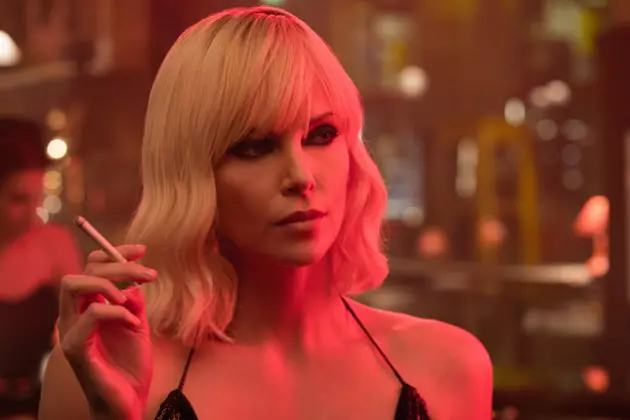 'Atomic Blonde' Review: More Bond Than 'Blonde Wick,' And That's Not a Knock
Focus Features
Atomic Blonde is an easy sell: It's Charlize Theron in a stylish thriller from one-half of the directing duo behind John Wick. But the first solo directorial effort from David Leitch is a little more James Bond than Blonde Wick — James Blonde, maybe, and that's not a bad thing. It's certainly more plot-driven (and at times, slightly convoluted) than John Wick, but no less enjoyable, and though the action scenes are every bit as awesome as you'd hope, it's not quite the film you might be expecting.
Between Atomic Blonde and John Wick: Chapter 2, it's pretty clear that Leitch and Chad Stahelski are every bit as talented apart as they are together — even still, comparisons between their intensely great directorial debut and subsequent projects are inevitable. Atomic Blonde holds up under such scrutiny, thanks in no small part to a game performance (and stunt work, of course, because that's what you're here for) from a charismatic Theron, who plays an elusive MI-6 spy sent to Berlin to retrieve a list which contains the names of several agents — including herself — that, if leaked, could compromise them all.
Set in the late '80s, Atomic Blonde opens with iconic footage of President Ronald Reagan calling for the demolition of the Berlin Wall. The opening title cards briefly explain the wall and the era's political turmoil before informing us, via punk-ish graffiti sprayed across the screen, "This is not that story."
In one of the most striking cinematic introductions in recent memory, we meet Theron's Lorraine Broughton, covered in bruises and soaking in an ice bath. She sits on the edge of the tub and plunks ice cubes from her bath into a glass, filling it with Stoli and gulping it down without the slightest wince. If you've been waiting for a female 007, she's here — and she might be even cooler than Bond with all his ridiculous gadgets.
This spy comes equipped with a gun, a tape recorder, her passport and her wits ... and a black-and-white wardrobe every bit as stylish as Jonathan Sela's cinematography, which elegantly combines the luxe neons of John Wick with the cold, steely feel of Cold War-era Berlin. Lorraine's mission is complicated by untrustworthy contacts (including a game and somewhat campy James McAvoy) who lead her down a bullet-riddled path that will ultimately uncover the identity of a treasonous agent — not that Lorraine's own motives seem entirely sound.
A seductively chic story of intrigue set to a fantastic '80s soundtrack, Atomic Blonde kicks all the requisite ass and then a little extra. Leitch ran Theron through the stunt gauntlet and it shows in the big action moments and close-combat fights. Rather than place form over function, Leitch (and Stahelski) use function to support form. All that practical stunt work serves to ground the film's strong visual style, almost as if reality is compensating for fantasy.
Kurt Johnstad's screenplay, based on Antony Johnston and Sam Hart's graphic novel The Coldest City, is the weakest element of Atomic Blonde. The spy stuff isn't too confusing, but it's still needlessly complicated, and it occasionally interferes with the visual momentum. It doesn't help that the film is intercut with a scene that takes place after the events in Berlin, as Lorraine is interrogated by high-ranking MI-6 and CIA operatives, played by Toby Jones and John Goodman. If Atomic Blonde isn't the franchise-starter that Focus Features hopes it will be, then it's a shame that Jones and Goodman received so little screen time.
Still, it's difficult to complain when this is the kind of film where, after watching a charmingly roguish female action hero spend two hours alternately navigating shady men and completely owning them in combat, the audience offers a congratulatory cheer for the bumbling male co-star when he finally gets his big action moment — an inversion of any other action film when the clueless, helpless wife / mom / daughter gets to knock a bad guy in the head with a frying pan. Atomic Blonde reverses these dynamics in simple, entertaining ways.
That kind of subversion extends to a brief affair with a French secret agent played by Sofia Boutella. There will be (and already are) complaints about the relationship between Lorraine and Delphine, and whether their sex scene is beholden to the male gaze. It's certainly nowhere near as graphic or exhaustive as other recent and notable sex scenes between two women, like The Handmaiden or Blue Is the Warmest Color. More than anything, it's kind of great to see an action film led by a woman with no clearly defined sexual orientation.
In a world where the only female-led action franchises are dumb, soapy, CGI-saturated affairs about vampires and werewolves and viral zombies, Charlize Theron is the hero we need right now: As devilishly self-serving and smooth as Bond, as physically dynamic and stoic as Wick, Lorraine is confidently equipped to join the legacy of great movie action heroes and she doesn't need your permission to do it.