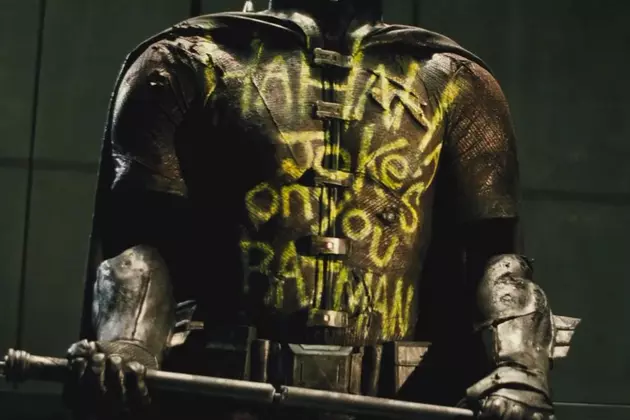 'Batman v Superman' Rumor Clarifies a Couple of Things About Robin
Warner Bros.
Even before we saw Robin's suit covered in graffiti in the trailer for Batman v Superman: Dawn of Justice, there had already been several rumors about the character's involvement in Zack Snyder's upcoming film — is Jason Todd dead? Is Dick Grayson dead? Will we see Carrie Kelley? All of these ideas are totally plausible, but if you're looking to find out what's really going on with the title given to Batman's frequent sidekick / Boy Wonder, a new rumor may clear things up a bit.
The report originates at Latino-Review, and although their sources tend to be fairly accurate, take this one with a pinch of salt. According to the latest intel on Batman v Superman, the Robin suit in the trailers belonged to Jason Todd, who was the second Robin to have worked with Ben Affleck's Bruce Wayne / Dark Knight. As indicated by the graffiti on his costume, he was killed by the Joker (played in the new DCU by Jared Leto), though it appears that Batman has yet to replace his sidekick.
Here's where it gets a little confusing — Batman has reportedly already had two incarnations of Robin, but Dick Grayson is still rumored to be alive in this universe. The report suggests that Grayson (aka Robin, aka Nightwing) will be mentioned in the film, though the reference will be more of an easter egg.
So it's unclear if Grayson has already worked with Batman or if Zack Snyder has fudged the Robin timeline a bit for this canon.
The new report also shoots down rumors of Jena Malone playing Carrie Kelley. Although Snyder was inspired by Frank Miller's The Dark Knight Returns, Malone will not be playing the female version of Robin who comes to work with Batman later in his life. Instead, Malone is reportedly playing Barbara Gordon…which leads to even more questions about what Snyder is planning for the future of the DCU, and Affleck's new solo Batman film(s) in particular.
We'll know more about this whole Robin / Batman / Joker situation in the months to come, and some of these rumors could very well be officially cleared up before Batman v Superman: Dawn of Justice hits theaters on March 25, 2016.
A Complete History of Batman On Screen, in Pictures