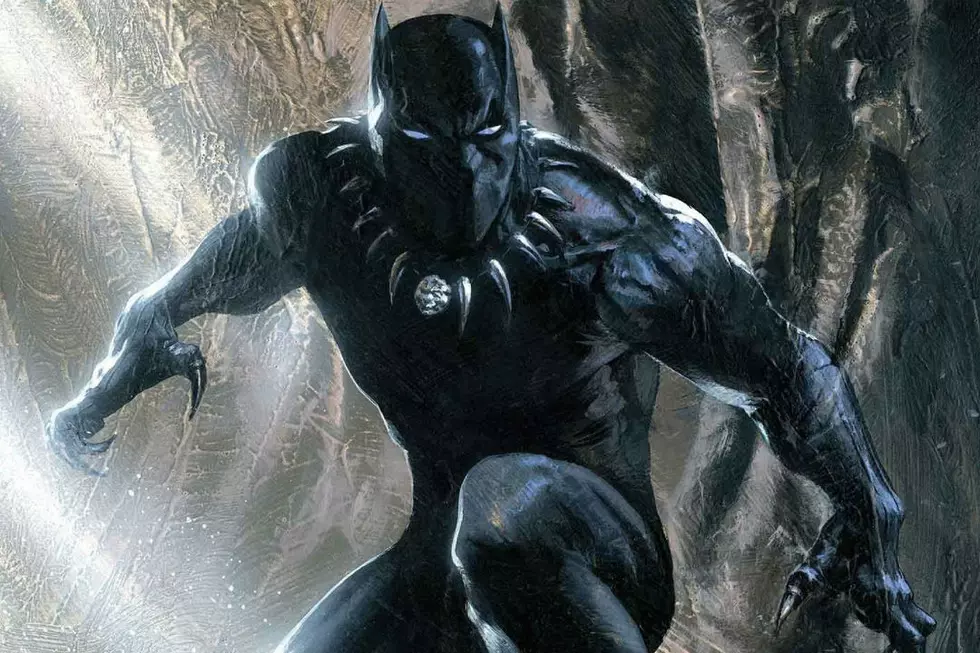 'Black Panther' Hasbro Action Figures Debut Erik Killmonger's Villainous Suit
Marvel
Black Panther is swiftly approaching, and with it a ton of marketing and merch for this gorgeous-looking movie. Wakanda is the technicolor afropunk future the MCU is desperately in need of, with tons of vibrant, eye-catching costumes that promise the most visually-pleasing Marvel movie yet. One character whose look we haven't seen in the trailers yet is Erik Killmonger, played by Michael B. Jordan, but according to one very cool Hasbro action figure he has a Black Panther suit of his own. With some added pizazz.
Hasbro debuted a bunch of their Black Panther toys today, from action figures to light-up vibranium Panther masks, but Killmonger's Panther suit stands out. It looks a lot like T'Challa's Black Panther getup, except Erik's cuffs and neckwear are golden. Unfortunately for Erik, there's only room for one Panther in this town.
Black Panther visits T'Challa's sovereign African nation of Wakanda, a marvel of futuristic technology that's home to the biggest stratum of indestructible metal vibranium in the world — and lot of people want control. It's up to T'Challa to become the ruler of the tribes of his nation, while also battling baddies like Killmonger, Ulysses Klaw, and managing being a member of the Avengers.
Black Panther, starring Chadwick Boseman, Lupita Nyong'o, Danai Gurira, Martin Freeman, Daniel Kaluuya, Angela Bassett, Forest Whitaker, and Andy Serkis, hits theaters February 16, 2018.