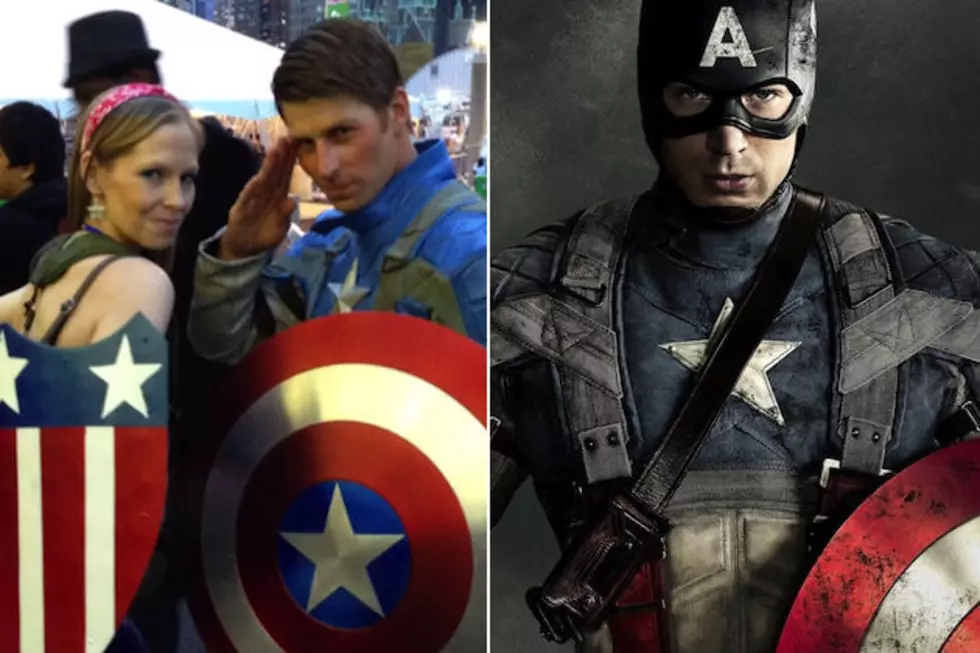 Cosplay of the Week: Captain America Has a New Woman in His Life, Lady Cap!
Courtesy of Amanda Herbert/Marvel Studios
As a superhero, Captain America has always been about being a symbol more than a man, so it's somehow appropriate that today's cosplay sees the first Avenger transformed into one kick-ass duo! If Captain America was actually Captains of America, we imagine they'd look something like cosplayers Amanda Herbert and Chris Murray.
Their getup was created for this year's New York Comic-Con (though Chris has been going as the Cap for far longer), but getting everything ready was not a short process. For Amanda's lady Cap, she ordered various components online and spent three weeks mixing paints and recoloring the entire costume so it had that proper patriotic feel. Chris' belt and backpack were found thanks to a visit to the Army Navy store in Salem, Massachusetts, but the main costume was acquired through UD Replicas.
Most impressively, Chris handmade both shields. Working with friends who had metalwork and leather experience, he was able to craft his shield and Amanda's "classic style" counterpart out of aluminum. As you can see in the images below, the results speak for themselves.
Although they attended high school together a decade ago, this awesome duo recently reconnected and have been dating since February. After seeing Chris' Captain America cosplay, Amanda just knew she had to create her own companion outfit and join him for New York Comic Con! As Amanda tells us:
I feel Chris absolutely embodies Captain America, he looks the part, and he shares so many of those classic gentlemen qualities. I had such a great time with him in New York this weekend!
The Chris/Amanda Captain America team will be heading to the Rhode Island Comic-Con next, so keep your eyes open, attendees! These two aren't afraid to pose for pictures, even if you're cosplaying as a character from outside of the Marvel universe.