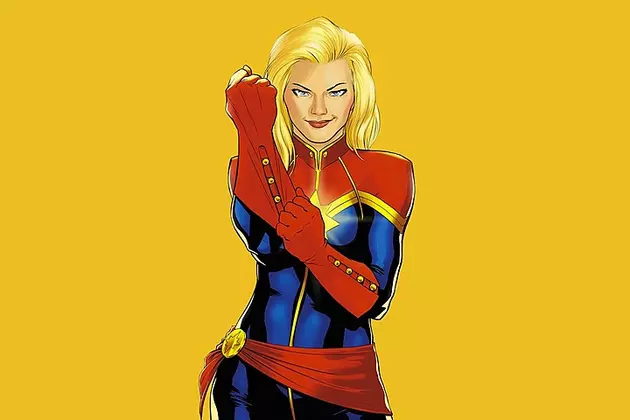 'Captain Marvel' Will Have a New Origin Story to Avoid 'Green Lantern' Comparisons
Marvel
It's not uncommon for superheroes (even ones in separate comic book universes) to share similar origins and powers — Arrow and Hawkeye, Thanos and Darkseid, Sif and Wonder Woman, Avengers and Justice League, etc. Fans of Captain Marvel can tell you that the Marvel hero shares a few things in common with DC hero Green Lantern, and while the two characters aren't really all that comparable, the origin story of the former will undergo a little tweaking for her highly-anticipated solo film.
Marvel Studios has yet to announce a director for the Captain Marvel film, but they still have a bit of time since her movie doesn't hit theaters until 2019. It does have a pair of writers, however, who are already hard at work developing a screenplay worthy of Marvel's first female superhero film, to be led by Brie Larson.
I don't think I've ever had a project where I've been more mindful about the impact that it could have and the importance of it. She's obviously such an incredibly kick-ass character and Kelly Sue DeConnick did a great run with her story arc recently. But here's the thing, if you were just going to do a straight adaptation of the comics, her origin story is very similar to Green Lantern. And obviously, that's not what we want to do. There's a lot of reinvention that needs to happen. And also, she's her own person and she's a great character. We have to be aware of what's happened in other Marvel films and make sure that her particular storyline is unique and fun and also fits in within this world that's going on at the same time. It's a little bit of an interesting story gauntlet. It's been good to have a partner. It's been an incredible experience. If we can pull it off it could be an incredibly important but also really fun and kick-ass superhero film.
As Perlman says, writing the Captain Marvel screenplay is a complex challenge for a few reasons, one of which is the similarities between Danvers' origins and those of Hal Jordan, aka Green Lantern. In the comics, Danvers was an Air Force pilot who became friends with the original Captain Marvel, a super-powered Kree who tried to protect her from an exploding Kree device — the radiation from that blast resulted in Danvers' super-powered transformation, and she became Ms. Marvel, later taking up the Captain Marvel mantle.
Hal Jordan's origins are similar: He was also a pilot who underwent a heroic transformation following a crucial encounter with an alien.
It'll be interesting to see how Perlman and LeFauve reinvent Captain Marvel's origins for her solo film, which hits theaters on March 8, 2019. Thankfully, we won't have to wait that long to see Brie Larson as the beloved hero, as she's been confirmed to appear Avengers: Infinity War in 2018 — hopefully she gets to make her big MCU debut before then.